Ginger gets his own Talking Friends app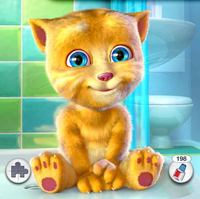 After appearing in last year's Talking Santa app and becoming a fan favorite on Disney's new Talking Friends web series, Ginger the kitten now has his own app, Talking Ginger from Outfit 7.
The app, which is aimed for kids ages four and up and is now available for iOS devices in the iTunes App Store, lets users help Ginger get ready for bed and is the first Talking Friends app to teach and assist specific skill building.
Using a special timer and assistance from parents, kids can help Ginger go to the bathroom, brush his teeth, shower, and dry off.
Additional features allow kids to earn prizes by unlocking pieces of Ginger's dreams (50 in all) which appear as hand-drawn puzzles, and like all Talking Friends apps, the character can repeat everything a user says and the user can tickle, poke and pet Ginger.
The latest app further expands the Talking Friends universe which now spans consumer products including toys, plush, apparel and accessories, footwear, sleepwear, home décor, and collectibles.
To date, the Talking Friends apps have been downloaded more than 400 million times less than two years after launching, with more than 750,000 user-generated videos uploaded and over 355 million total YouTube views. The new Talking Friends web series has also been viewed more than 50 million times in less than two months.
Magazine
Check out our latest issue of iKids Digital! We've got the scoop on the latest social media marketing tactics, the tablets that kids and parents can't put down, and new insights on how youth are using social networking sites.
Kidscreen on Instagram