Kids television is about to become a lot more action-packed.
A growing number of creators are developing series inspired by the high-flying sport of lucha libre (a.k.a. Mexican freestyle wrestling). And major broadcasters, including Disney Channel and Cartoon Network, are leaping into the ring to support them.
For its part, the House of Mouse is producing a new live-action superhero comedy called Ultra Violet & Blue Demon with a mostly Latin American cast and production team. The series stars famous Mexican luchador Blue Demon as a superhero-in-disguise who must train his teenage niece (Scarlett Estevez) to fight crime after a magical lucha libre mask picks her to become his superhero successor.
Meanwhile, Cartoon Network Latin America is developing a new animated series starring World Wrestling Entertainment (WWE) superstar Rey Mysterio (real name Óscar Gutiérrez Rubio). Featuring a mix of mystery, mythology and the supernatural, the self-titled toon (pictured) finds the legendary luchador on a mission to save the world from an unimaginable threat.
In other lucha libre activity, Oscar-nominated French prodco Vivement Lundi! is making a stop-motion/2D-animated preschool series entitled Super-Lucha (pictured below); LA-based Bridge Works Entertainment is adapting a Chido Comics title into a sci-fi mini-series called All-Star Champions; and Mexico's Demente Animation is developing a series for six- to 12-year-olds based on a yet-to-be-announced original IP from San Diego-based entertainment company Masked Republic.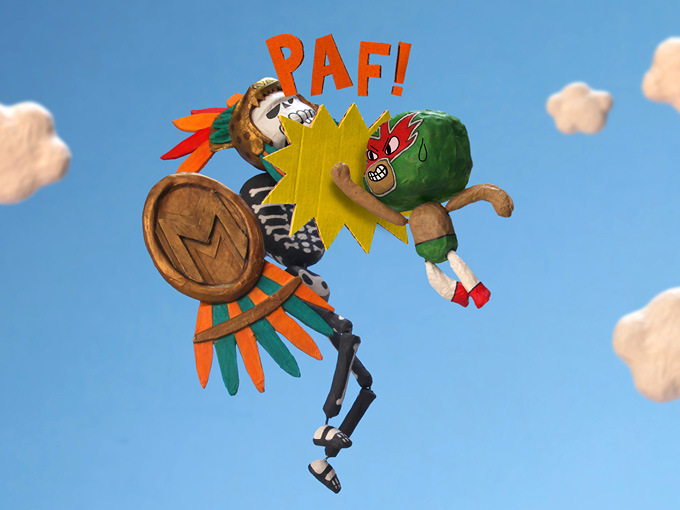 So why are so many studios tapping into this iconic sport all of a sudden? Jason Ruiz, an associate professor of American Studies at the University of Notre Dame whose research interests include Latino studies, race and representation and popular culture, breaks down why lucha libre is trending with kids and broadcasters right now.
The cool factor
According to Ruiz, broadcasters and production companies clamoring for fresh kids content may find lucha libre intriguing not only because it plays to kids' perennial love of sports, but also because it's loaded with vibrant characters, both heroes and heels (villains are called heels in pro wrestling, or rudo in lucha libre).  
"With its colorful masks and interesting storylines, the sport is a quirky, cool aspect of Mexican culture," says Ruiz. "There's a reason I've bought luchador masks for friends and have figurines floating around my office," adds Ruiz. "They're cool and distinctly Mexican." 
Also known for its death-defying aerial maneuvers and brightly-hued spandex costumes, lucha libre originated in Mexico in the middle of the 19th century, but the male-dominated art form didn't flourish nationally until the 1930s/1940s. It has since become a global pop culture phenomenon with a growing presence in sports, TV, movies, consumer products and video games.
Today, more women are getting into the sport, which should give producers greater incentive to make girl-led lucha libre shows like Disney's Ultra Violet & Blue Demon (pictured below).
"If I approach lucha libre content with my Latina nieces, my guess is they would be drawn to a show about a little girl being mentored into luchador(a) culture or success," says Ruiz.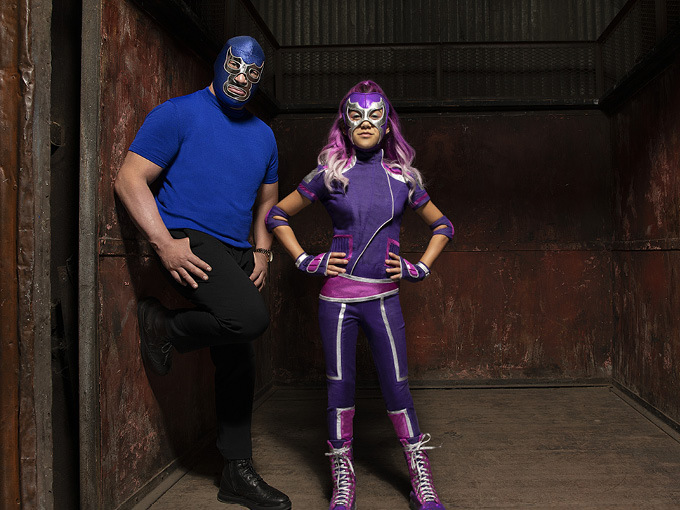 Diverse shows in demand
The fact that there's been a push for better representation in kids media of Latino stories and characters, which have historically been underrepresented, may also be a key factor propelling the lucha libre trend says Ruiz.
"We're seeing a rush to create kids content that is more inclusive and diverse because there's demand for it," he says.
According to research from the Center for Scholars & Storytellers out of UCLA and Ryerson University in Toronto, the majority of human characters in kids TV shows are white (65% in the US, and 74% in Canada). Meanwhile, Latinos make up the largest minority group in the US, accounting for 18.5% of the population, and more than one in four newborns in the US are Latino, according to the Pew Research Center. 
This Latino population explosion could bode well for lucha libre shows for preschoolers, in particular. Not only is this age group already familiar with colorful masked characters from successful global shows like PJ Masks, but luchadores stories put a fun new twist on the superhero genre, with a rich world of untold stories. (For example, luchadores must never remove their masks unless they are forced to. Therefore, a luchador's persona is inherently connected to their mask.)
Handling tropes
Though Ruiz foresees many growth opportunities around the lucha libre trend, he cautions the industry in its use of easily identifiable Mexican tropes. He challenges creators to develop more nuanced Latino stories in the vein of Netflix comedy-drama series On My Block, which has been praised by critics for how it blends topics including racial injustice, LGBTQ+ themes and poverty with comedy, romance and friendship into its teen-targeted storylines.
"Mexico is a complex country, and Latin America is a complex region in terms of racial, class and gender dynamics," Ruiz says. "I want more nuanced content for kids, and if it's going to have a Latin flavor, I hope the next generation of shows is going to go beyond luchadores."