Originally published April 18, 2019
Kids content creators are still not measuring up in terms of diversity and representation, according to a new international report for creators, producers and broadcasters in children's TV published by the Center for Scholars & Storytellers out of UCLA and Ryerson University in Toronto.
The report looks at what key players should be striving for in terms of characterization and staffing, and pinpoints a number of key gaps in the market where more work needs to be done. For instance, male characters—especially non-human characters—are still dominant in children's television. Despite an increase of 5% from 2007, only 38% of main characters from shows airing in the US were female in 2017. Meanwhile in Canada, female representation remained constant at 35%.
With a mandate to help the kids TV biz offer authentic and inclusive content for the two-to-20 audience, the study analyzed hundreds of TV shows for kids up to age 12 that aired on traditional linear broadcasters in fall 2017. Stateside, 476 programs from Cartoon Network, Disney Channel, Disney Jr., Nick Jr., Nickelodeon, Universal Kids and PBS KIDS were sampled, while series from CBC Kids, TVO Kids, Family Jr., The Family Channel, Teletoon, Treehouse and YTV were examined north of the border. (Some findings from the Landscape of Children's Television in the US & Canada report were also correlated with outcomes from a previous study conducted in 2007.)
Among all the kidsnets, Disney Channel featured the most female characters at 51%.
Looking at the percentage of females by character type, the ratio of males to females for human characters is almost equal, but is unbalanced for non-human characters. In Canada, 32% of animal characters are female, while in the US that number is only 27%. Creators appear to be defaulting to male characters even more with robots. Only 10% of this character type is female in the US, while in Canada it's 15%. Males are also dominating voice narration—solo male narration was three times more prevalent than female narration in the US, and eight times more prevalent in Canada.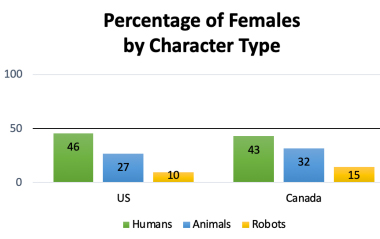 The study notes that it should be particularly easy for creators and writers to deliver a 50/50 gender balance for anthropomorphic animated characters like animals and robots because no major appearance changes are required.
In terms of race, the majority of human characters in children's TV programs are Caucasian (65% in the US, 74% in Canada), and females are nearly twice as likely to be portrayed as persons of color or racially ambiguous as males. This suggests, according to the researchers, that some shows might be attempting to "check two boxes" with one casting.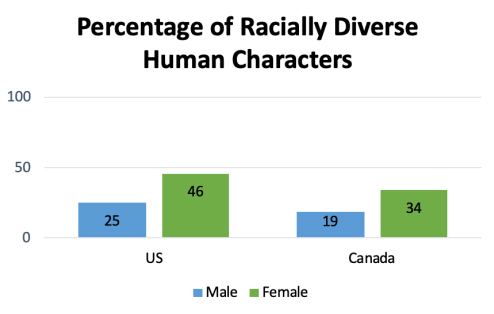 Characters with obvious physical disabilities, meanwhile, are almost completely absent among human characters—1% in the US, and 0% in Canada. And no human character from either sample was shown to have an obvious serious chronic illness. The report stresses the importance of portraying physical disabilities as part of normal life, given that nearly 20% of the US population lives with a disability, according to the World Health Organization.
As for character traits, stereotypes are still a major problem in children's TV. Despite the fact that the majority of human characters are portrayed as having equal roles (81% in US, 77% in Canada), males in both countries are twice as likely to be depicted as leaders and around three times as likely to be portrayed as loners. Females, on the other hand, are twice as likely to use magic to solve problems, while males are more inclined to use STEM skills and resort to physical power. It is worth noting that public TV in both countries has been doing a better job than commercial TV in presenting children's shows with female leaders.
It's not just in front of the screen that's the problem, though—males are also dominant behind the camera in the kids TV industry. Only 6% of episodes sampled in the US were directed by women, and 10% in Canada. Meanwhile, just 15% of shows in the US were created by women, and only 18% in Canada.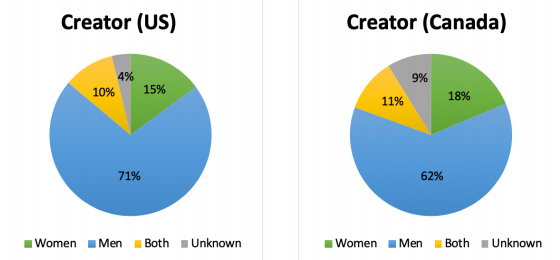 The majority of episodes in both countries are also written by men. Representation for women did improve on the producing side, in that the majority of sampled episodes consisted of a mixed-gender production team with at least one female (64% in the US, 57% in Canada).
Landscape of Children's Television in the US & Canada is available in its entirety at the Center for Scholars & Storytellers website. Overseen by Dr. Maya Götz at the International Central Institute for Youth and Educational Television (ICI), the report's US data collection was led by Dr. Dafna Lemish at Rutgers University, while the Canadian data was lead by Dr. Colleen Russo Johnson at Ryerson. Lemish and Johnson are the report's co-writers.