The gig Creator and executive producer of Disney Junior's Miles from Tomorrowland (pictured below), with writing and producing credits on popular kids shows including Henry Hugglemonster, Ni Hao, Kai-lan, Doc McStuffins, Team Umizoomi, The Wonder Pets!, Winx Club, Tickety Toc, Blue's Clues and Sid the Science Kid.
Artistic beginnings Growing up in Manhattan, Sascha Paladino says he was always exposed to different types of arts and culture. His father and brothers were all musicians, and his mother was a writer. "I was very lucky, and knew I wanted to be involved in the arts in one way or the other," Paladino says.
Opportunity soon came knocking in the form of an acceptance letter from New York's prestigious The High School of Performing Arts (aka the "Fame" school) .
"I focused on drama, but I knew I didn't want to be an actor," he says. "I was always making movies as a kid, so I thought going to the school would be great because I could learn how to work with actors. I knew I wanted to be involved in telling stories behind the scenes in some way."
After high school, Paladino graduated from Connecticut's Wesleyan University and spent some time directing off-Broadway shows and teaching acting and art classes.
"There was something about working with kids and seeing their openness to performing that really inspired me and led to my work in children's TV," he says. "I learned I could make things for kids that worked to both entertain and inspire."
For his first job, Paladino landed a script coordinator role on Nickelodeon's Blue's Clues, and show creator Angela Santomero made a big impression on him. "She was really inspiring to me in terms of how she synthesized both storytelling and her work in children's education," says Paladino.
He also credits Little Airplane founder Josh Selig for his mentorship when Paladino worked on The Wonder Pets! "I learned a lot from the way he approached creating each episode as a little work of art that deserves a lot of care."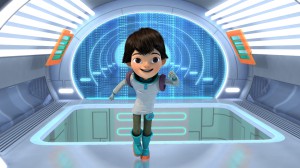 Move to showrunning According to Paladino, he never had a specific career-making moment, but rather a career that unfolded organically.
"It's about putting in the time and hard work. I've been very lucky, that it's been a steady incline of getting more responsibility and creative control," he says. "The biggest steps forward have come from the shows that have challenged me the most because they force me to work in a different way."
As a first-time showrunner, Paladino says it's critical to step back and look at the big picture while also remembering that every detail matters.
"In the past I might have thought, 'It's OK if the smoke coming out of that rocket plunging towards a planet doesn't look quite right,' whereas now it's like, 'We're working with NASA scientists, so we have a responsibility to get it right,'" he says.
Accessible science Despite being really interested in science, Paladino says he was never good at it in school.
He and his childhood friend and fellow High School of Performing Arts classmate Adrian Grenier (of Entourage fame and the voice of Captain Joe on Miles) used to make films together instead of writing papers for science class.
"We made a fun movie about the brain using Play-Doh, where we took out our friend's 'brain' and explored it. Because it was art school, you could get away with stuff like that," he says.
"In a way, that was the beginning of Miles—making science accessible by slipping in some knowledge while you're being entertained."