Rainbow and Tsumanga to create Winx Club virtual world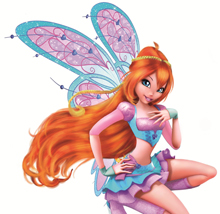 Italian producer, distributor and licensor Rainbow has paired up with Glasgow, Scotland-based social gaming company Tsumanga Studios to develop a new multi-platform virtual world based on its Winx Club property.
Both companies will design and co-produce the free-to-play interactive online world for girls ages seven to 10 and make it accessible across mobile phones, tablets and web browsers. It will first be available in English, Italian, Russian and French languages.
The world will include fan favorite characters, educational, offline, craft and ecological elements, as well as bonus content and gameplay via premium subscription.
Plans are set to launch the first Winx Club app for spring 2013 before the complete multiplayer virtual world is released in fall 2013.
To date, five seasons totalling 130 animated episodes of Winx Club have been produced, and the brand's expanding licensing program includes feature films, DVDs, toys, clothing, books and video games.
Magazine
Check out our latest issue of iKids Digital! We've got the scoop on the latest social media marketing tactics, the tablets that kids and parents can't put down, and new insights on how youth are using social networking sites.
Kidscreen on Instagram