Penguin acquires film rights to The Snowman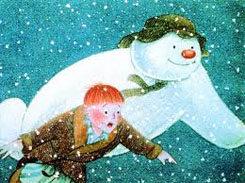 Penguin has expanded its portfolio of children's properties by acquiring publishing, film, TV, digital and merchandise rights to author/illustrator Raymond Briggs' classic kids brand The Snowman.
Originally published in 1978, The Snowman has gone on to sell more than 8.5 million copies worldwide. Three million of these were sold in the UK through Penguin imprint Puffin.
The story was turned into an Oscar-nominated Christmas TV special in 1982 that launched on Channel 4 and the channel will launch a new sequel, The Snowman and the Snowdog, this month.
Puffin is also set to release an audio eBook of The Snowman and the Snowdog narrated by English actor Benedict Cumberbatch and new print and digital publishing formats  based on the IP are in the works for 2013.
Magazine
Our fall edition of iKids Digital is now available! We're taking a look at the migration of virtual worlds to mobile, how to find success in the mobile education space, wearable tech for kids and much more.
Kidscreen on Instagram