Common Sense launches new Kids Media app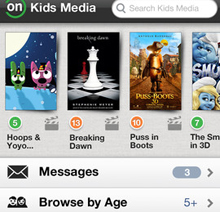 Nonprofit  Common Sense Media has released a new free app that helps parents choose the best age-appropriate games, TV shows, movies, apps, music, websites and books for their kids.
The Kids Media app, which is available now on the Apple App Store, lets parents build personal profiles of their children and receive customized recommendations based on age and media type.
Additional features include access to more than 17,000 Common Sense ratings and reviews including video reviews, the ability to buy iTunes media from within the app, barcode scanning, weekly notifications when new products are reviewed, and sharing functions for Facebook and Twitter.
Common Sense Media rates media based on age appropriateness, quality, and learning potential, and every review looks objectively at violence, language, positive role models and messages providing a rating of ON, OFF, or PAUSE and an age recommendation.
Kids Media will also be available for Android devices on November 1.
Magazine
Check out our latest issue of iKids Digital! We've got the scoop on the latest social media marketing tactics, the tablets that kids and parents can't put down, and new insights on how youth are using social networking sites.
Kidscreen on Instagram