Ameba to stream myKaZootv music videos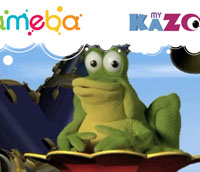 Winnipeg, Canada-based kid and parent-targeted video streaming service Ameba has added free, interactive, multi-channel video platform myKaZootv to its children's programming lineup.
myKaZootv features hundreds of animated and live-concert music videos by kid-centric artists for kids ages two to nine. The platform, which can be accessed via smartphone, tablet and cable television, also features kid hosts, and comedic and educational interstitials organized by topic and artist.
Ameba is currently available through subscription across platforms including Google TV, Roku and LG Smart TV.
The deals comes on the heels of myKaZootv partnering with MobiTV, Kabillion TV on Demand and Kidtoon Films.
Magazine
Our fall edition of iKids Digital is now available! We're taking a look at the migration of virtual worlds to mobile, how to find success in the mobile education space, wearable tech for kids and much more.
Kidscreen on Instagram