Auryn releases first kids app by Jamie Lee Curtis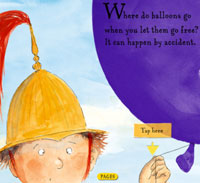 L.A.-based digital publisher Auryn has launched a new interactive storybook app for the iPad based on the children's book Where Do Balloons Go? by bestselling author and actress Jamie Lee Curtis.
The release of Where Do Balloons Go? An Uplifting Mystery, which is currently available on the Apple App Store, marks Curtis's first venture into the digital app space.
The humorous interactive story, illustrated by Laura Cornell, follows the magical adventure of a little boy who accidentally lets his balloon go.
Features included in the storybook app include a physics engine that simulates how balloons are blown up, recordable helium balloon voices, sharable customizable postcards, character creation, and an animal balloon game that let kids make their own balloon creations by blowing onto the iPad.
To date, Curtis has written nine children's books and is set to publish her tenth title this fall.
Magazine
Check out our latest issue of iKids Digital! We've got the scoop on the latest social media marketing tactics, the tablets that kids and parents can't put down, and new insights on how youth are using social networking sites.
Kidscreen on Instagram