Ameba heads to Google TV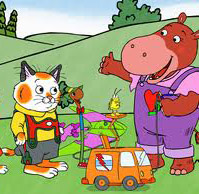 In a new deal that expands its on-demand reach across internet-connected devices, Winnipeg, Canada-based kid and parent-targeted video streaming service Ameba is now available on Google TV's web-connected platform via the Ameba app.
The deal sees Ameba's ad-free library of shows and videos for kids ages two to 12 now reach more than five million internet-connected devices (for US$3.99 per month), which also includes Roku and LGE Smart TV.
The app, which Google TV users can access for free, is also available on iPhone, iPad and iPod touch.
Newly additions to Ameba's library include WordWorld, Bunny Bop, BusyTown Mysteries, Hunky Dorey's Ruffus the Dog, A World of Wonders and Ruby Skye P.I.
Magazine
Check out our latest issue of iKids Digital! We've got the scoop on the latest social media marketing tactics, the tablets that kids and parents can't put down, and new insights on how youth are using social networking sites.
Kidscreen on Instagram