Discovery Kids Latin America makes Pocoyo renewal/pick up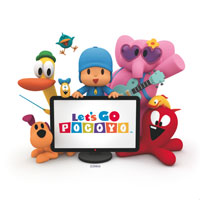 The third season of Zinkia Entertainment's s hit animated preschool series Pocoyo, titled Let's Go Pocoyo, has been acquired by Discovery Kids Latin America for its pan regional cable platform, and the kids cablenet also renewed Pocoyo seasons one and two.
Let's Go Pocoyo (52 x seven minutes) debuted this week in Mexico and Brazil.
Meanwhile, in other Pocoyo news, the English narrator for the television series, acclaimed UK actor/writer/presenter Stephen Fry, joins Pocoyo in this month's "Get Caught Reading" campaign, an annual initiative by the Association of American Publishers that encourages the joy of reading for young people.
In addition, Random House Children's Books is set to publish its first English language Pocoyo books in August 2012 (storybooks, leveled reader books, coloring and activity books, board/novelty books, e-books).
Four books will initially launch at retail in August (Picture This, Pocoyo Dance, Pocoyo's Big Lift-and-Look Book, and Surprise for Pocoyo) with new titles set to roll out in spring next year. E-books for Pocoyo Dance and Surprise for Pocoyo will also debut in August 2012.
Magazine
Check out our latest issue of iKids Digital! We've got the scoop on the latest social media marketing tactics, the tablets that kids and parents can't put down, and new insights on how youth are using social networking sites.
Kidscreen on Instagram