Moshi Monsters get physical at Toys 'R' Us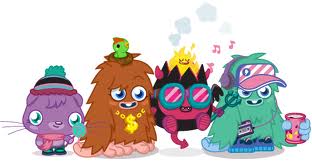 Online social game Moshi Monsters is officially heading offline in the US via a new toy line that will be available exclusively at Toys 'R' Us stores and online at Toysrus.com. The assortment of products, based on the characters found on the online social networking platform that boasts more than 50 million young users worldwide, will include six plush characters as well as 32 Moshling minifigures manufactured by Toronto, Canada-based Spin Master.
Naturally, the toys will include secret codes that can be used to retrieve virtual items for adopted Moshi Monsters as well as special online trial memberships. Additional categories will include trading cards produced by Topps and books from Scholastic.
The US product launch in July is timed with a recent surge in North American brand traction that has resulted in more than 15 million registered users. In the UK, where brand-owner Mind Candy is based, the Moshi Monsters licensing program launched in January with ranges of toys from Vivid and books from Penguin Publishing. Mind Candy is currently in discussions regarding TV, music, live tours and a Moshi movie.
For more information in the Contact directory:
Mind Candy, Toys R Us Inc
Magazine
Check out our latest issue of iKids Digital! We've got the scoop on the latest social media marketing tactics, the tablets that kids and parents can't put down, and new insights on how youth are using social networking sites.
Kidscreen on Instagram