Cartoon Forum is saying "Hola!" to Spain this year, spotlighting the region at its annual pitchfest. Eight Spanish projects have been selected to present, all of them aimed at kids.
Why Spain? With a population of around 50 million people who watch linear TV for four hours a day on average, it offers an opportunity to reach a lot of eyeballs, according to regional trade org Animation from Spain. And if you want to make your shows there, financial incentives including a 30% tax rebate for in-country production spends up to US$1.1 million (and 25% thereafter) are very appealing.
As a Cartoon Forum appetizer, here are three series that embody Spain's whimsical take on kids animation. And check out yesterday's showcase of six more exciting concepts heading to the event.
Bertie's Brainwaves (pictured, above)
Demo: Six to nine
Co-producers: In Efecto Atlantis (Spain), Flickerpix (UK)
Style: 2D/3D CG animation
Format: 52 x 11 minutes
Budget: US$105,000 per episode
Status: A bible and two scripts are completed, with a teaser coming in August. The team is seeking broadcasters and distributors.
Delivery: 18 months after greenlight
Based on the Dirty Bertie book series from David Roberts, this comedy-adventure series revolves around a kid whose imagination is so powerful, it can shape the world around him. From turning his parents into kids, to creating a pterodactyl, whatever 10-year-old Bertie thinks about comes to life, and then wild adventures ensue. Things only go back to normal after he learns some valuable lessons about empathy, teamwork and friendship. Matt Baker (Dennis and Gnasher Unleashed!) is writing the scripts.
My Brother is a T-Rez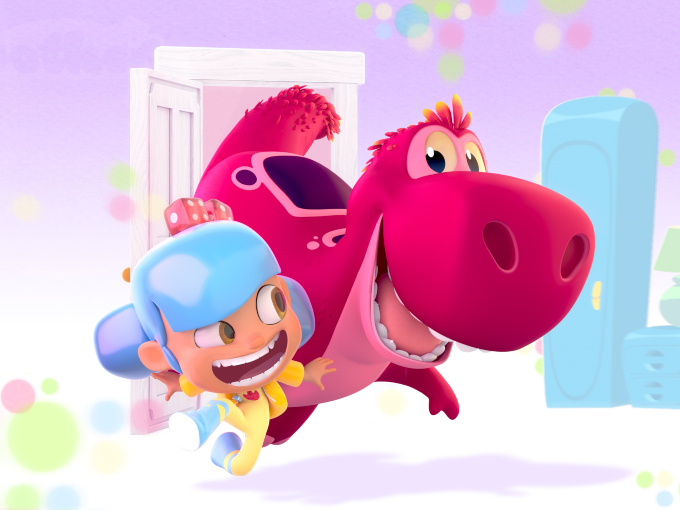 Demo: Five to six
Co-producers: Mr. Klaus Studio (Spain), Lusco Fusco Animation (Portugal)
Style: 2D animation/CG animation
Format: 52 x seven minutes
Budget: US$4.2 million
Status: A bible, three scripts, several synopses and a teaser are completed. A full-episode animatic will be ready for Cartoon Forum. Spanish broadcaster RTVE is already attached as a broadcaster, and the producers are seeking additional broadcasters and co-pro partners.
Delivery: TBD
Coco is an average six-year-old girl, with one big difference—her little brother Rez is a pink Tyrannosaurus. In every episode of this educational adventure series, Coco encourages Rez (who is prone to making messes and being impatient) to think creatively and solve the problems he encounters. The pair take on imaginary adventures as Rez learns how to overcome challenges and Coco learns how to be a better older sibling.
Best Friends Forever… Stranded!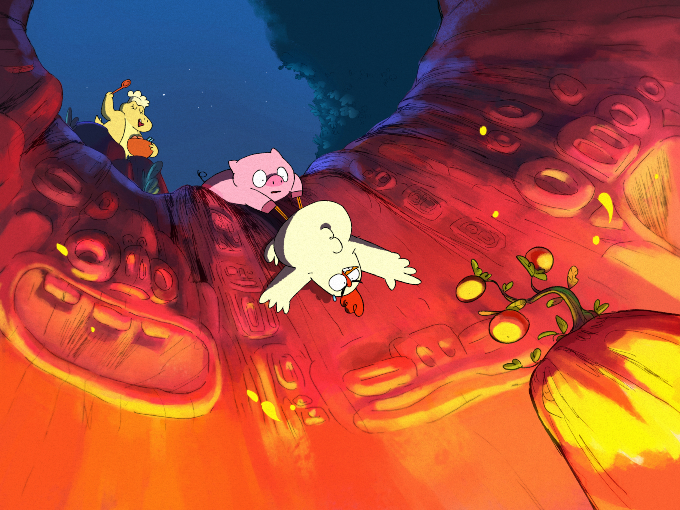 Demo: Six to nine
Producer: Peekaboo Animation (Spain)
Style: 2D animation
Format: 40 x 11 minutes
Budget: US$6.1 million
Status: A bible and teaser trailer are completed, and Peekaboo is aiming to start production in 2023.
Delivery: 2025
In this action-comedy, a rooster and a pig get stranded on an island, where they meet up with a vegan crocodile. The trio solves problems while dealing with unusual obstacles like suspicious boars and a mysterious old shaman. Jose Balbuena Heredia, a Spanish senior layout artist who worked on Cartoon Saloon's Wolfwalkers, is the creator and showrunner.