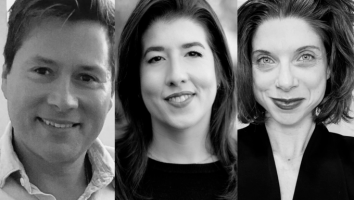 Following their merger last year, Wattpad and WEBTOON Studios have announced a new dedicated department for animation, along with naming the trio of execs who will head up film, TV and animation projects coming out of it.
Although the structure has been in place for a while, this is the first time since Naver's acquisition of Wattpad in 2021 that Wattpad WEBTOON has talked meaningfully about the division and the strategy underpinning it.
The unit is set up to tap into the potential of WEBTOON's archive of DIY IPs, established fan bases and fledgling franchises, bolstered by the studio capabilities of both companies. And the three execs who will lead the charge—one new hire and a promotion—are now in place.
Sera Tabb (pictured center) has joined as head of global television to oversee the studio's development slate and adapt content from its UGC portfolio of web comics and web novels. She previously served as SVP of development at Picture Perfect Federation.
Former Webtoon Studios head Taylor Grant (pictured left) has been tapped to head up the company's new animation division and is tasked with overseeing IP development in this genre. He is also serving as an executive producer on Wattpad WEBTOON's upcoming animated series co-pro Lore Olympus (based on Rachel Smythe's webtoon) with The Jim Henson Company. A creator himself, Grant previously worked as a development exec at Stan Lee Media, and also as director of West coast operations for Miramax.
Lindsey Weems Ramey (pictured right) will take on an expanded remit as head of global film, a position she has held for the past year. Before that, she served as Wattpad's senior director of content development and production since 2018, helping to build the studio's pipeline. Weems Ramey recently worked on upcoming teen movie Float, which is based on a same-name Wattpad story authored by Kate Marchant. The live-action pic is a co-pro between Wattpad WEBTOON, Toronto's Collective Pictures and Vancouver-based Brightlight Pictures.
Ramey, Tabb and Grant all report to David Madden, head of global entertainment at Wattpad WEBTOON Studios.
In addition to Float, Wattpad WEBTOON is also developing teen-skewing projects Perfect Addiction and The QB Bad Boy and Me. And according to a release, the studio currently has more than 100 projects in various stages of development and production.