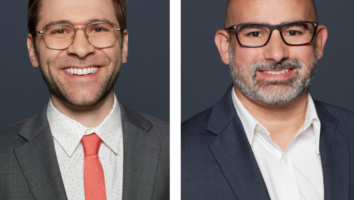 Douglas Bensimon (pictured left) and Edward Mejia (pictured right) have been elevated to VP of current series at Disney TV Animation, the animation studio within Disney Branded TV.
The duo most recently served as executive directors of Disney TV Animation, which Bensimon and Mejia were appointed to in 2021 and 2020, respectively. They will both continue reporting to SVP of current series Khaki Jones.
Bensimon is tasked with leading a team focused on serialized properties for both linear and streaming. He will also work on Marvel branded content aimed at younger audiences (ages six to 14) and families.
He has spent a decade working at Disney TV Animation, rising through the ranks in the current series department. He has overseen projects such as Disney Channel's The Ghost and Molly McGee and the upcoming Disney+ series Marvel's Moon Girl and Devil Dinosaur.
Mejia brings longtime Disney experience to the role and will lead a team handling projects with Disney heritage characters, once again for both linear and streaming.
He started at the House of Mouse in 2005 and served in the roles of coordinator, manager and director through the years at Disney TV Animation. He has overseen the Disney+ series Monsters at Work as well as upcoming Disney Channel shows such as Kiff and Primos.