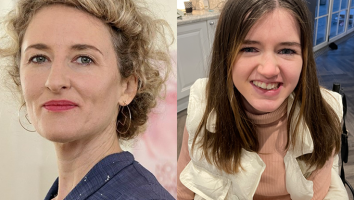 Disney+ is prepping a feature film adaptation of bestselling novel Out of My Mind by children's author Sharon Draper, and the live-action project will be a collab between Disney Branded TV, Participant, Big Beach and EveryWhere Studios.
Out of My Mind tells the story of Melody Brooks, a sharp-witted girl with cerebral palsy. Despite not being given the same academic opportunities as her peers, she's encouraged by a young teacher who takes notice of her untapped potential. Phoebe-Rae Taylor (pictured right) has been cast to play the lead, with Amber Sealey (pictured left) on board to direct.
The team behind the movie's development and production includes talent from the cerebral palsy and AAC (augmentative and alternative communication device) communities.
In other House of Mouse news, Disney+ premiered Sketchbook last week, a documentary series that uncovers the artistic process behind iconic animated characters from Walt Disney Animation movies. Each episode provides a drawing tutorial from a Disney animator, featuring fan-favorite characters like Simba (The Lion King), the Genie (Aladdin) and Olaf (Frozen).
The streamer also expanded its Marvel content lineup in March with the addition of several  live-action series (Daredevil, Jessica Jones, Luke Cage, Iron Fist, The Punisher and The Defenders) that had ended their runs on Netflix.
And Lucasfilm recently launched a mindfulness short-form series called Star Wars Mindful Matters in collaboration with Citrone 33 and actor Ashley Eckstein (Star Wars: The Clone Wars). Two videos are available so far on the Star Wars Kids YouTube channel and website. And Eckstein serves as the show's host, teaching a new mindfulness exercise in each ep that's inspired by the franchise and also clinically based. This component of the project was supported with resources provided by On Our Sleeves, a US advocacy organization for kids mental health.