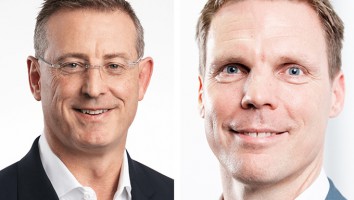 As it prepares to increase toy prices in Q2 in response to higher freight and inventory costs caused by ongoing global manufacturing and shipping disruptions, Hasbro has appointed Shane Azzi (pictured left) as its new chief supply chain officer.
Azzi will head up supply planning, sourcing and procurement, logistics and fulfillment, and quality assurance and security for the toyco. He most recently served in the same role at US personal care company Kimberly-Clark, and was a global supply chain VP at Mars Incorporated before that.
Azzi's first day at Hasbro will be May 4, and his appointment precedes EVP and chief global operations officer Tom Courtney's upcoming retirement at the end of the year, following a 30-year career at the toyco. Courtney shifted into an advisory role on April 1.
Hasbro has also upped Matt Austin (pictured right) to chief commercial officer; he replaces Michael Hogg, who retired at the end of March. In his new role, Austin will drive the toymaker's profitability and growth by leveraging data-driven consumer insights and strategic partnerships across various Hasbro business channels, including e-commerce and direct fan experiences. He previously served as president of Hasbro Europe and Asia, a role the toyco will announce a successor for in the coming months.
Yesterday, Hasbro announced in its Q1 financial results that it plans raise toy prices this quarter in order to absorb climbing freight costs. It also warned that the company could take a potential revenue hit of US$100 million this year due to its decision to halt toy shipments to Russia.