By: Jeremy Dickson and Megan Haynes 
Every day this week, we have been sharing findings from our 2021 Kids Industry Survey, covering what's top of mind for the kids TV sector. We've already looked at year-over-year trends, discoverability, preschool and production trends and budgets. To cap off the series, we're exploring how executives feel about working from home and their work/life balance. 
Everybody's working for the weekend – when they can take one  
For the second year in a row, our survey respondents said work/life balance is their greatest job stressor.
The situation is not unique to entertainment. More than half (52%) of US employees across all industries, age groups and experience levels are reporting burnout, according to a 2021 report from job search site Indeed. And this is up by 9% from a pre-COVID survey.
However, in kids entertainment, it's even more challenging, due to the ongoing talent shortage that higher demand for animation has caused, says Denis Doré, co-founder and CEO of Canada's Squeeze Animation Studios (Cracké).
"Talent has a lot of options at the moment. So we need to take care of our people, keep our teams happy, [and] make sure new talent will want to stay long term," says Doré. "Yes, everybody asks about salaries. But at the end of the day, work/life balance is the key. It's something people are rediscovering even more now that they can work partly from home."
Since the beginning of the pandemic, Squeeze has ramped up efforts to provide a more flexible working environment for teams at both its Montréal and Québec City studios, and the strategy will continue into 2022 in order for it to stay competitive.
"We give the power to the staff to organize their weeks the way they want, whether it's working from home five days a week or two," says Doré. "Our supervisors also have the responsibility to ask that staff come in if, for example, we need to figure out a big problem, or for onboarding new team members."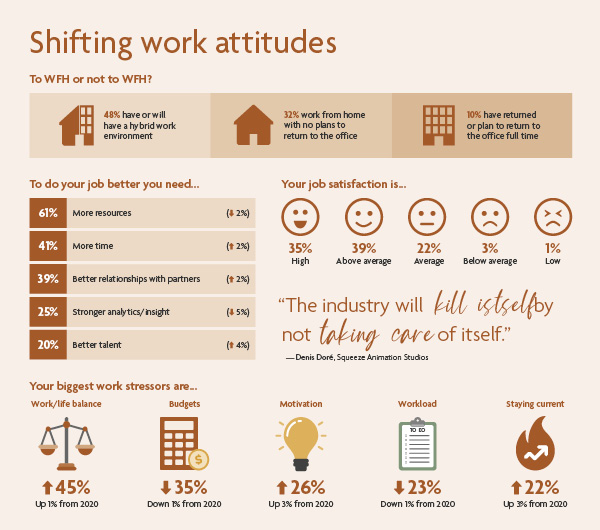 This piece originally appeared in Kidscreen's February/March 2022 magazine issue.