By: Jeremy Dickson and Megan Haynes
Every day this week, we are sharing findings from our 2021 Kids Industry Survey, covering what's top of mind for the kids TV sector. We've already looked at year-over-year trends and discoverability, and today's focus is all about preschool and production trends. 
Preschool pivot
When Cartoon Network and HBO Max launched their new Cartoonito preschool block last fall, parentco WarnerMedia Kids and Family sent a message to the rest of the industry about the importance of investing in content for today's youngest audience.
The block featured 20 original titles at launch—including Bugs Bunny Builders (Warner Bros. Animation), Jessica's Big Little World (CNS) and Ladybird Lu (9 Story Media Group)—with an additional 50 more slated to join the lineup within two years.
It's a space many other companies are focusing on too: 72% of respondents said their primary audience is two to fives, an 8% increase compared to 2020. The six to 11 set is still the most-targeted audience at 76%, with families (51%), tweens (38%) and teens (32%) rounding out the list. The rapid growth of streaming has been a big reason for the rise in younger-skewing content, says Amy Friedman, head of kids and family programming at Warner Bros.
"The ascension of streaming opens up the need to serve everybody in the household," she says. "And if you are not serving the youngest person in the household, you are missing out."
Going forward, Friedman says some of the key themes and formats that will resonate with preschoolers next year include music as an avenue to different types of diversity; multi-levelled humor; joyful, meaningful stories and characters; live action; and CG and 3D animation.
"Beauty is also important from a visual perspective," she adds. "There are some incredible artists around the world who not only know and love the preschool [demographic], but have also been experimenting in the space. It's all about delivering visually stunning content that's both meaningful and joyful."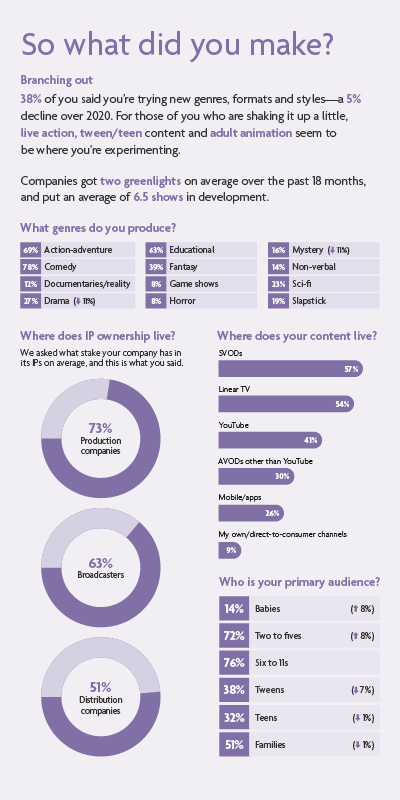 In tomorrow's installment, we'll dive deep into a topic on the minds of many producers and buyers: budgets.
This piece originally appeared in Kidscreen's February/March 2022 magazine issue.