By: Jeremy Dickson and Megan Haynes
Every day this week, we will share findings from our 2021 Kids Industry Survey, covering what's top of mind for the kids TV sector. We're starting off with an overview of year-over-year trends and a snapshot of industry demographics.
For a second year running, Kidscreen checked in with more than 480 creators, producers, distributors and buyers about the state of the kids entertainment market and attitudes towards work life in general. And using 2020′s survey results as a benchmark, we were able to start tracking changes for the first time.
Topline trends saw discoverability, understanding consumption habits and getting face-time with buyers all ranking higher than last year's chief concern, which was decreasing budgets. And the unpredictability of COVID-19 didn't even make the top-five list this year, getting edged out by finding and keeping talent.
Over three-quarters of kids content buyers said their 2021 budgets stayed the same or increased over 2020 and the most common production budget range was US$500,000 to US$1 million. On an individual level,  job satisfaction remained pretty high, with 74% of respondents putting it at high or above average. And entry-level salaries seem to be going up, with 8% fewer respondents in the "less than US$40,000″ bucket than in 2020.
Another interesting trend saw target demographics for kids programming aging down somewhat. When we asked respondents to ID their primary audience this year, babies and two- to five-year-olds were up by a combined 16% compared to 2020, while six to 11s, tweens, teens and families were steady or down year over year.
We kick off the detailed breakdown of survey results with a demographic snapshot of our almost-500 respondents, seen here: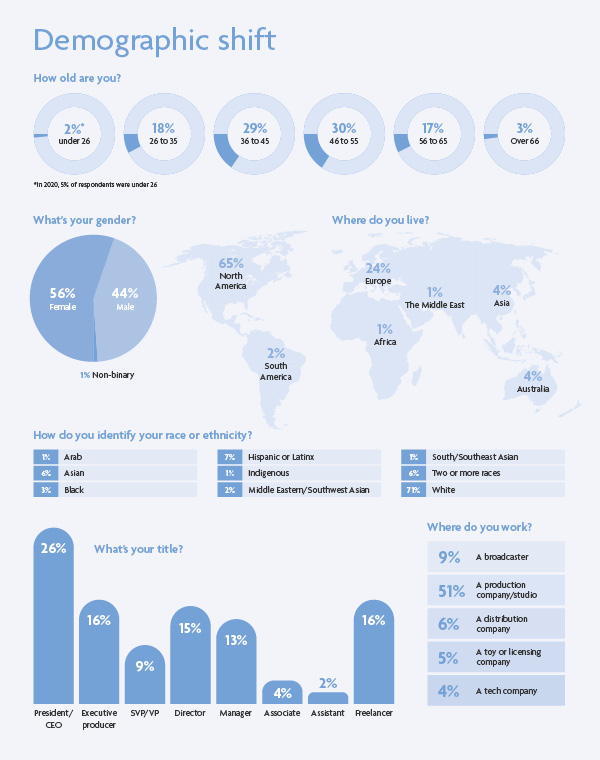 Tune in tomorrow for insights into an issue on many executive's minds: discoverability.
This piece originally appeared in Kidscreen's February/March 2022 magazine issue.