After nearly two years of lockdowns, social distancing measures and worrying statistics around anxiety and mental health, kids are looking for things that make them happy. In this new three-part series, Kidscreen is exploring the concept of joy—who's demanding it, and how producers are delivering it. Kicking things off, we look at this opportunity from the audience's POV. 
Feel-good family shows that focus on joy and make kids happy are more in demand globally right now than other types of content, according to exclusive new research from Parrot Analytics.
Of the shows it analyzed, Parrot found that feel-good shows were 1.93 times more in demand than the average kids show.
Parrot tracks demand by measuring social media interactions, video views, online research and piracy numbers, and uses a weighted algorithm to determine the demand of the average show. Working with a list of "Feel-Good Family TV Shows" curated by Common Sense Media, Parrot then compared 18 of these series against the rest of its database to determine how much more in-demand the feel-good titles werel. It's important to note that some of the most in-demand shows globally are joyful titles that aren't included on Common Sense's list, such as SpongeBob SquarePants (76.8 times more in demand) and Sesame Street (44.0 times more in demand), which have both outpaced the average show over the past few weeks, according to Parrot.
Children's worries about the future, loneliness and increased anxiety have all combined to drive a surge in viewership for content that can help them forget and feel good, according to Parrot's findings.
And this was true across all demos—from preschool all the way up to tweens and families.
Digging into which joyful shows were most in demand by each demo, preschoolers flocked to JibJab Bros.' musical series Storybots Super Songs (pictured above), which was four times more in demand than the average title worldwide. Forky Asks A Question (2.12 times) and True and the Rainbow Kingdom (2.08 times) followed close behind with their light-hearted mix of action and comedy. 
Kids ages five to seven tuned to fun adventures and co-viewing options such as Kipo and the Age of the Wonderbeasts (2.79 times) and Kids Baking Championship (1.42 times). They also sought out Pick of the Litter and Pup Academy, which were 0.46 and 0.47 times more in-demand, respectively.
Eight to 12s (see chart below) turned to skill- and knowledge-focused fare such as The Great British Bake Off (8.89 times) and Mythbusters (7.22 times), as well as shows that made them laugh; Summer Camp Island was 1.83 times more demand with this group than the average show. 
As the pandemic continues and kids face new challenges related to coping with a world in flux, it seems likely that this surge in demand for feel-good escapes will be around for awhile.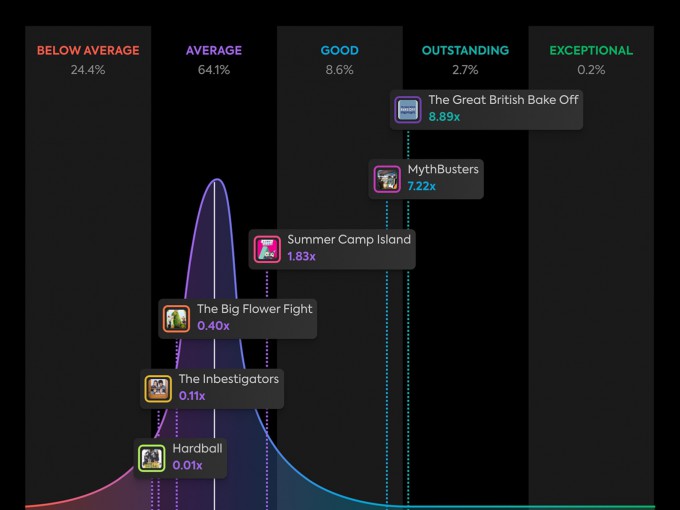 Tune in tomorrow to find out how the creators of shows such as First Day and Obki approached bringing joy to heavier topics like climate change and gender identity.