For most of his adult life, emerging creator/animator Jeremiah Cortez has wanted to own a corgi. But since it wasn't financially possible, he created a story about one instead. Now, his animated series Dogs in Space is headed to Netflix for a worldwide premiere on November 18.
The adventure-comedy for kids ages seven and up follows a group of genetically enhanced canines—led by corgi captain Garbage—on an intergalactic mission to find a new home for the human race. The 10 x 19-minute 2D-animated series is produced in partnership with Atomic Cartoons (The Last Kids on Earth), with Cortez and Adam Henry (She-Ra and the Princesses of Power) showrunning and executive producing along with three EPs from Atomic (Jennifer Twiner McCarron, Matthew Berkowitz and Kristin Cummings).
Originally conceived as a sketchbook comic, Dogs in Space focuses on the random adventures of a well-meaning but accident-prone astronaut dog and his canine crew. The idea was inspired not only by Cortez's love of corgis and dogs in general, but also by his affection for sitcoms such as Frasier and 30 Rock, and the iconic sci-fi franchise Star Trek.
"I love when certain personalities meet for the first time in sitcoms, and you get to see how the characters both stand out from and complement each other," says Cortez.
His own career aspirations at the time also informed his corgi hero's drive for success and yearning to be taken seriously by his superiors, he says.
"I was about to graduate [from California's Laguna College of Art and Design in 2016], and was facing the daunting next step of breaking into the industry," says Cortez. "The likelihood of me finding work was one thing, but getting to make a series, which is something I've always wanted, was almost unheard of. So a lot of what I was going through—this underdog feeling of I might not make it, but I'm going to try—went into Garbage."
After showing the comic to his friends and family, Cortez built a small, devoted audience that kept demanding more pages. At this point, he knew the story could be developed further and pitched to a network. And since he wasn't landing any animation or storyboarding jobs, he spent the better part of two and half years writing a pitch bible and pilot script, drawing character designs, and creating animatics and animated clips.
To make ends meet, Cortez worked at Starbucks and drove a forklift at a factory. "It was a challenging period," he says.
He eventually landed a meeting with Netflix's director of original animated series Megan Casey in November 2018. Just two weeks later, the SVOD bought his concept, moving the project into an eight-month development phase in early 2019 that culminated in a 10-episode order earlier this year.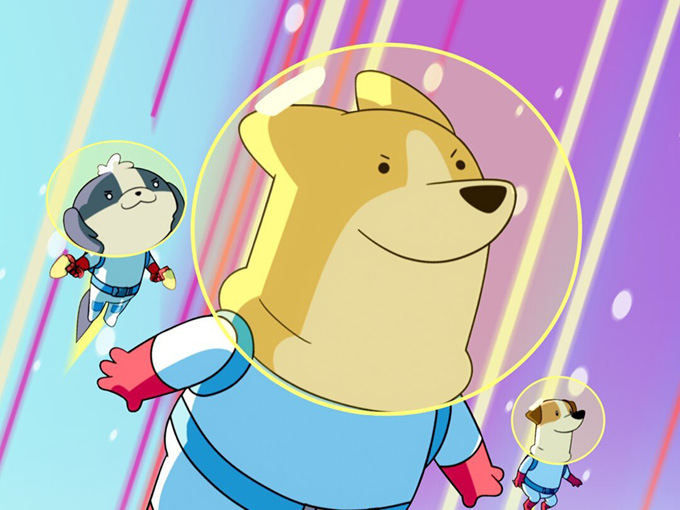 Casey was particularly drawn to the dynamic ensemble of characters in Dogs in Space, says Cortez. Featuring a wide variety of canine breeds, the show is made to appeal to a broad audience of dog lovers. "I purposely have different breeds popping up in every episode so people will watch hoping to see their favorite."
Surrounding the first-time showrunner with the right talent was key for the production. Cortez is grateful Netflix included his director/producer friend Henry on its list of potential co-showrunners. The pair share the same agent and met while Netflix was working on the contract to pick up the show. "We hit it off immediately," says Cortez. "He saw the passion and the amount of story we could tell with the project, so when the opportunity came, he was my guy." Netflix then paired the showrunners with Atomic to do the animation production.
Looking ahead to the future, Cortez hopes there will be more seasons of Dogs in Space, and he has a few other show ideas percolating. In the meantime, he's currently teaching a course on writing for animation at California's Chapman University.
"Through teaching and the process of making the show, I've learned that a lot of my joy comes from helping others pursue their dreams," he says. "If I can continue doing that, it's all I need."