Monsters may be a Halloween staple, but the only thing The Ghost and Molly McGee plans to scare up is a massive audience for Disney.
Targeting kids ages six to 11, the series centers around tween optimist Molly and the grumpy ghost she's cursed to spend the rest of her life with. It premiered on Disney Channel on October 1, and season one will feature 20 episodes, each containing two 11-minute stories.
And after more than a decade at Disney focusing on preschool—most recently as VP of original programming for Disney Junior—Emily Hart  joined Disney Television Animation as VP of original programming in 2019. (She's since been promoted to SVP of development.) The Ghost and Molly McGee is the first series project Hart has shepherded from greenlight to screen since switching teams.
It was created by writing/producing duo Bill Motz and Bob Roth (LEGO Star Wars: The Freemaker Adventures), who also serve as executive producers. And according to Hart, Motz and Roth's own personalities—and the dynamic that's created when a ray of sunshine and a storm cloud become best friends—inspired the main characters. "It's not just a hook; it actually stems from them. Bill and Bob are Molly and Scratch [the ghost]," she explains.
That deep understanding of the relationship between the main characters was part of what made the show feel so instantly relatable. When she first saw the pitch in 2018 (the series order came in 2019), Hart immediately envisioned hundreds of different storylines playing with that dynamic.
In fact, the scene where optimist Molly decides the curse is actually a blessing—seeing a new BFF in Scratch, rather than a grumpy ghost she has to endure for eternity—was such a perfect representation of the spirit of the show that the development team used it in animation tests with kids. And the test scene proved so popular with kids, Disney is now using it to promote the show.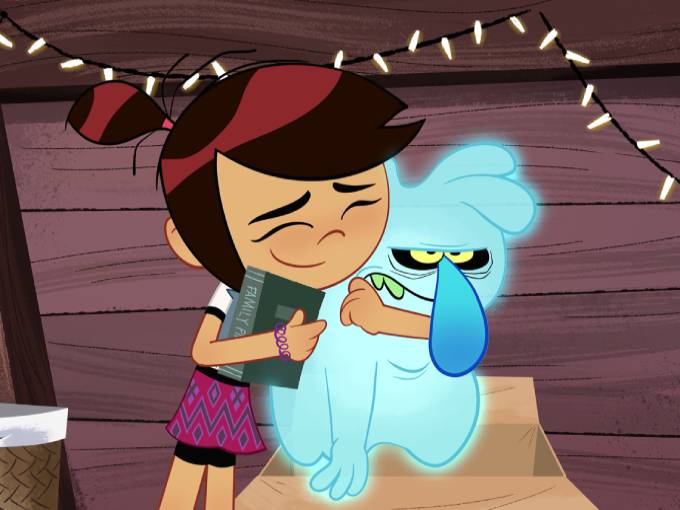 As the project's development exec, Hart not only provided high-level creative feedback; she also  helped the producers build their creative team, supplying resources, making introductions and creating connections.
Motz and Roth are showrunning with Steve Loter (Kim Possible), who is also an executive producer. Rounding out the creative team are producer Britta Reitman (Star vs. The Forces of Evil), story editor Madison Bateman (DuckTales), songwriter Rob Cantor, and directors Stephen Heneveld and Sam King.
And sometimes, team-building is fortuitous. Ashly Burch was originally brought in to contribute to the early writing room before it was discovered she is also a voice actor who proved to be the perfect fit for the voice of Molly.
"You try out different things, but you really feel like a project is meant to be when the partnerships fall into place like that," says Hart. "I love bringing teams together."
In March 2020, Hart was promoted to SVP of development at Disney Television Animation, and she now oversees creative and artistic development of animated content for Disney+ and Disney Channels. The addition of creative oversight for streaming content to her remit allowed Hart to go beyond the core six-to-11 demo to appeal to a family audience as well, she says.
And while the streaming platform is providing significant data on what is connecting with fans and how viewers are engaging with content, Hart says serving families hasn't changed her approach to development.
"Every single show is a snowflake; they're all a little different," she says. Much more important than what platform a series airs on is who's behind it. "It has to do with the talent, what their expertise is, and how you build that team. And I love what we're bringing to the world. That's especially true with Molly, this optimistic character who wants to bring joy to everyone around her. I love that that's what Disney represents right now."