Movies and series inspired by toys haven't always had the best reputation. The term "glorified commercial" might come to mind. And after several years of influencer-focused unboxing videos on platforms like YouTube and TikTok, many in the larger entertainment industry still might consider toy-focused content to be distinctly lowbrow. Today, however, toymakers are focusing on high-quality, family-friendly content that attracts an audience far beyond the target demographics of their products.
Mattel, for one, is launching a slate of new series that appeal to parents just as much as children. The LA-based toyco has a long history of launching content based on hit toy brands such as Barbie and Hot Wheels. But moving forward, Mattel is looking to lesser-known properties for inspiration, and focusing on unscripted formats to attract a larger audience.
Case in point: Mattel is developing a reality show based on the classic carnival and arcade game Whac-A-Mole. The series will see opposing teams fight to eliminate each other in challenges that feature life-sized Whac-A-Moles, races and obstacles courses. Another unscripted series from the toymaker is inspired by its card game UNO—this reality competition show pits four teams against each other in rounds of physical challenges and trivia.
While Barbie naturally suggests a focus on fashion and the racing theme of Hot Wheels easily translates on screen, games like UNO and Whac-A-Mole don't have such obvious storylines. As a result, the Mattel team was free to explore a variety of different themes and styles in its upcoming slate. The decision to focus on live-action content, meanwhile, signals a shift away from solely kid-focused fare and a concentration on formats that encourage co-viewing.
But these new content offerings also open up possibilities for connected consumer products programs featuring categories that might not traditionally be considered a natural fit for, say, a board game brand. Turning UNO into a competition series, for example, could help the property expand into activity or outdoor items. This is especially important because, while market research firm The NPD Group reported that US toy sales grew by 16% to US$25.1 billion in 2020, licensed toys underperformed during that same period. US toy industry dollar volume for the heavily licensed action figures category, for example, increased by 9.2% in 2019, but dropped by 3.2% in 2020.
MGA Entertainment, for one, is leveraging its upcoming feature film L.O.L. Surprise! The Movie to expand its hit collectibles range into new categories. The 45-minute, mixed-media adventure movie stars a live-action girl who finds herself in the dolls' CG-animated world. It's set to hit Netflix in English- speaking territories in October before rolling out more broadly in November.
"This is the first time the dolls have personalities and talk," says Anne Parducci, MGA's chief content officer. "I don't know if people realize, but L.O.L. launched with unboxing videos, and then we moved into stop-motion content, and those characters spoke through emojis. We've done voiceover before, but we've never given the characters a voice in this way."
Previous L.O.L. content was designed strictly to spotlight the newest available products, but the film is a traditional movie with a full-fledged story, complex characters and genuine conflicts with real stakes. The animation is being handled by Pixel Zoo, an Australian studio that has also done work for Sesame Street and previously partnered with MGA on short-form content.
By focusing on building an elaborate plot rather than simply showing off new SKUs, the movie will actually help the collectibles brand explore new themes and expand into additional categories. For example, L.O.L. Surprise! The Movie is all about the making of a movie—a film within a film—and that inspired an upcoming movie set playset.
"The entertainment and the upcoming product line are all very integrated," Parducci says.
The target age demo for the L.O.L. toy line is six to 11, but the film is aging up to reach the six to 14 range. Bringing in these new fans will further bolster the toymaker's efforts to expand into new categories that appeal to older kids.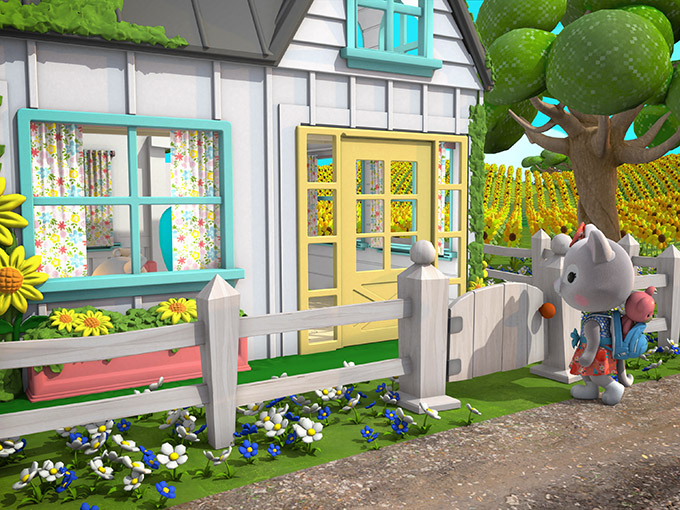 Similarly, South Carolina-headquartered Sunny Days Entertainment is looking to leverage new content in an effort to grow its audience.
The toyco developed a 3D-animated series inspired by its new Honey Bee Acres (pictured above) brand in an effort to build a fanbase beyond the initial toy range's preschool focus. The Honey Bee Acres collectibles line—which hits shelves this month—targets kids ages three and older, and features small dolls, playsets and vehicles. Moving forward, Sunny Days plans to expand the brand into additional categories that will appeal to older kids—including plush and DIY.
Before that happens, though, the toymaker is launching a family-friendly YouTube series (eight x two minutes) inspired by the products. The first episodes will focus on introducing characters and highlighting the first toy offerings, but brand manager Lori Rotter says the rest of the episodes focus on world-building and will include more complicated themes like family dynamics and the importance of community. The long-term strategy is to pull in older children and encourage co-viewing with parents.
"Traditionally, content comes out before products. A show becomes popular and then inspires a consumer products range, and that means there's awareness of who these characters are before products hit the shelves," Rotter says. "Alternatively, toys would come out and then, once the brand was entrenched in the market, content would follow."
But Sunny Days worked to produce episodes that will launch in September—just weeks after the Honey Bee Acres toys hit shelves—in the hopes that each branch will feed off the other. For example, one episode sees the power go out at the Honey Bee Acres farmhouse, forcing the heroes to use a jar of fireflies as a flashlight.
Fireflies in a jar would make for an adorable toy, Rotter says, and that could be a SKU that would help expand the product line beyond the range's initial focus on small doll collectibles into categories that will attract older kids. The plan is for the series to continue to grow, and eventually, Sunny Days has hopes for full-length episodes with a broadcast partner.
This is a first for the toyco and its production and animation partner Rotter Creative Group, which in the past has focused on advertising and integrated marketing. But high demand for new shows and heightened expectations from both kids and parents means toymakers need to step up their game when it comes to content. And Rotter says Sunny Days is looking to companies like Mattel for inspiration as it works to build its entertainment business.
But even for toymakers with a long history of launching content—both on TV and in theaters—this recent wave of content inspired by consumer products brands feels like a new endeavor.
Hasbro is famous for its toy-inspired content, with decades worth of TV shows and movies based on brands like G.I. Joe, Transformers and My Little Pony. In fact, each of these properties currently boasts a new content offering— the newest G.I. Joe movie Snake Eyes hit theaters in July; there are two animated Transformers shows in the works; and Netflix recently picked up global rights to premiere the movie My Little Pony: A New Generation (pictured at top) in September.
While the original G.I. Joe series was created specifically to target kids and highlight new toy offerings, Hasbro's modern entertainment business has been distinctly family-focused. And in 2019, the toymaker acquired Entertainment One to deepen its commitment to this strategy, appointing the team as its global entertainment arm with responsibility for content and distribution. The company's film and television teams are focused on building entire universes for brands with rich narratives and beloved characters, says Olivier Dumont, eOne's president of family brands.
For example, eOne is partnering with Nickelodeon to co-produce an action-focused animated series that will intro- duce new Transformers species, while simultaneously working with Netflix on a comedy toon inspired by the Transformers offshoot BotBots. Both shows will contribute to the brand's overall content strategy and will pull in different subsets of the property's fanbase, as will upcoming films like Transformers: Rise of the Beasts and the Bumblebee sequel. The fantasy- focused tabletop roleplaying game Dungeons & Dragons is set to get a similar treatment after it posted significant growth in fiscal 2020.
In addition to launching new content based on evergreen brands, Hasbro is also working to take advantage of toy properties that haven't traditionally inspired series or movies. eOne is currently developing non-scripted shows based on Easy Bake, Operation, Life, Monopoly, Battleship, Snakes and Ladders, Play-Doh, Lincoln Logs, Mouse Trap and Trivial Pursuit. The majority of these projects already have a network on board, though Dumont declined to identify these partners or share details about the timing of the launches.
With more than 200 film and television projects in development spanning 30 different brands, Hasbro announced plans earlier this year to produce two or three major motion pictures and three or four TV series by 2023.
The announcement came just before the toyco's Q1 2021 fiscal report, which revealed that its entertainment segment had declined by 32% to US$218.7 million during the quarter as many theaters continued to be affected by shutdowns related to the pandemic. The US has since reported strong box-office returns for several films, though, and focusing on family-friendly content is a sure way to pack cinemas with more customers.
"We are continuing to lean into our omni-channel story-telling strategy in 2021 and 2022," Dumont says. And whether the content in question is destined for YouTube, a broadcaster or the big screen, toymakers are striving to create shows and films that will appeal to as wide an audience as possible. That means multiple takes on the same property, unscripted content, and a focus on stories over selling specific SKUs, he says. And in the end, "it all comes back to storytelling."