Twende (pictured above)
Producers: Braintrust (UK), Mind's Eye Creative (South Africa)
Target: six to 11
Style: 2D animation
Format: 13 x 11 minutes
Budget: US$1.8 million
Status: A bible and pilot episode are complete. The producers are looking for broadcast presales and global distribution. Negotiations with buyers are underway.
Delivery: TBD
Set in a fictional East African city, this adventure-comedy tags along with a laidback boda boda driver who happens to be a pangolin—the slowest-moving animal on the savanna. In a job that requires speed, the show's titular hero often requires help from his best friend, a speedy bird. The project is executive produced by creators Charlie and Regan Maas, along with Braintrust's Sam Bank and Hélène Sifre. South African animation directors Mike Scott and Kayla Archer have been enlisted as co-creators, and they brought on Kenyan Kwame Nyong'o to co-executive produce and Mind's Eye to do the animation.
Beat World: Legend of the Beat Master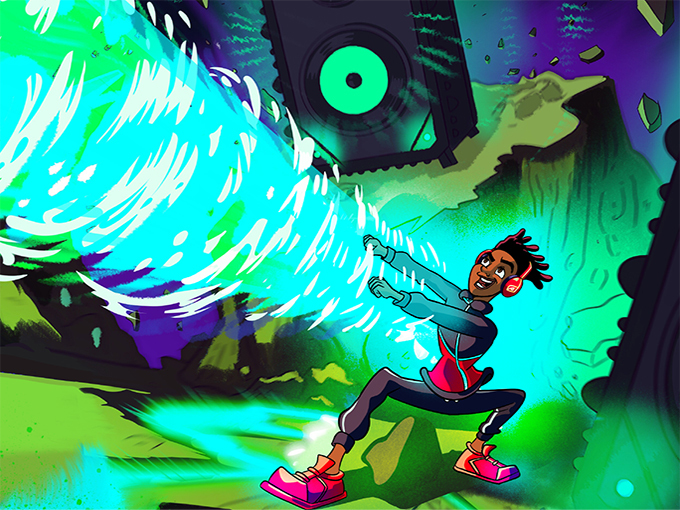 Producer: Confidential Creative (US)
Target: six to 12
Style: 2D animation
Format: 52 x 11 minutes
Budget: US$1 million per episode
Status: A pitch deck is completed. The producers are looking to bring in a high-level writer or showrunner of color, as well as setting up a diverse writers room.
Delivery: 2023
With creative musical direction from American musician, producer and former American Idol judge Randy Jackson, this series inspires kids to broaden their musical interests, and features everything from K-Pop to Latin tunes. Hero Dre embarks on a mission to become the youngest-ever champion of the prestigious Beat World competition in this project created and produced by Andrew Seth Cohen and Ryan Kieffer of Confidential Creative. Additional producers include Jackson, Kate Schumaecker and Lucas Banker.