In high school, Megan Nicole Dong had a seminal experience that has shaped her new 2D-animated series Centaurworld. Much like the main character in her new Netflix adventure show, Dong was pulled out of her "normal" life of AP classes and studying, and—through unfortunate scheduling conflicts—forced to take show choir. But it was in this class that she found her voice and decided she needed to pursue a career in the arts. The pivot ultimately led Dong to a career in animation—and to the July 30 premiere of the quirky Netflix series she created and executive produced.
"That experience changed a lot of things for me, so I wanted to tell the story of a character who is a little more serious and wound up in a completely different environment," says Dong.
Centaurworld (20 x half hours) is aimed at kids ages eight and up and revolves around a warhorse who is transported from her embattled world into one inhabited by singing centaurs of all different species. The 10-ep first season follows along as the equine protagonist explores this strange land looking for a way home. Dong describes the series as an "action-adventure/road trip/musical series with elements of comedy and a big arcing narrative."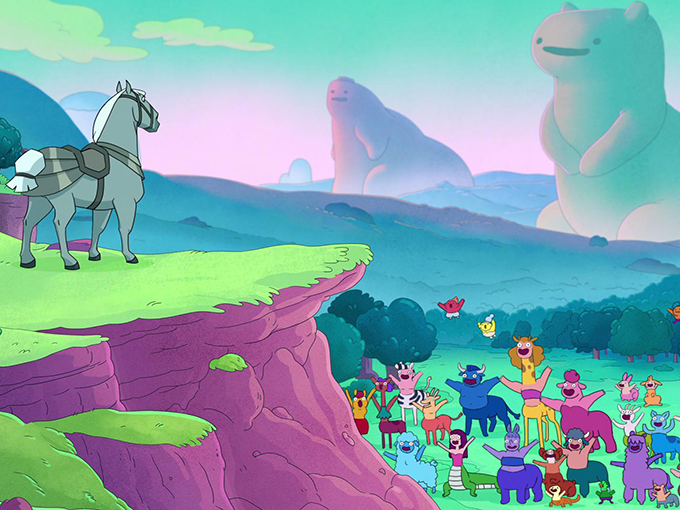 When Dong pitched the show to Netflix in spring 2018, she only had a logline and some drawings, and was given development funding and invited to work at the animation studio Netflix was building at the time.
To get the idea past the development stage, she presented the SVOD with a bible, early art, scripts and a storyboard. But it was her singalong to piano tracks, which she wrote and played on her phone, that really sold the idea, she says.
"It very much felt like going back to show choir class," says Dong. "I really wanted to capture the essence of what musical theater is—and live performance is an important part of that. I think it was the best way I could have pitched it to executives and creative partners."
Her pitch was ultimately successful. Netflix gave the series a 20-episode order, though the second season isn't scheduled yet.
Dong's experience working on movies also heavily influenced the series. She got her start in the industry working as a storyboard trainee on How To Train Your Dragon 2, and it was there that she learned about tracking characters and their emotional journeys, and how to create a larger story arc, which she later applied to Centaurworld. Dong wanted Centaurworld to feel more like a movie, so the story was mapped out from beginning to end, and written all at once to create a cohesive cinematic feel.
Dong was also a storyboard artist on Pac-Man and the Ghostly Adventures, Captain Underpants: The First Epic Movie and The Adventure of Puss in Boots. And she later worked as a supervising director and director on Netflix's Pinky Malinky's second season, learning how to manage a team, how the pipeline works, and how to make a whole series.
These were lessons Dong applied to her own project, and she was actively involved throughout the entire production process, from the writers room to the composing table, co-writing all 37 songs with her co-EP Dominic Bisignano and composer Toby Chu. She also made a few storyboards, finessed animatics and even stepped in to do some voice acting.
Looking ahead to the future, Dong is hyper-focused on Centaurworld's release, but has some long-term plans as well. "I really loved working on a musical series, and I would love to continue to do music-based projects," she says. "I love anything that bends genre, and that's really exciting and different."