Films often get all the glory on the festival circuit, but the annual Annecy International Animation Film Festival carves out a space to honor television projects. More than 160 shorts and TV episodes were submitted to this year's event, running from June 14 to 19.
Just 26 "Official Selections" (Annecy terminology for nominees) will compete for a variety of prizes, including the Cristal Award for a TV Production and the Jury Award for a TV Series. For some producers, the Official Selection is a prelude to Emmy consideration, while for others it's a chance to reach a global audience and attract future partners.
And though the only criteria for submission is that the work in question must have been produced or copyrighted in 2020/2021, entering a single episode takes some thought—how do you pick just one to represent an entire series? Here are several standout choices that manage to capture unique moments and still stay true to the canon.
Mush-Mush and the Mushables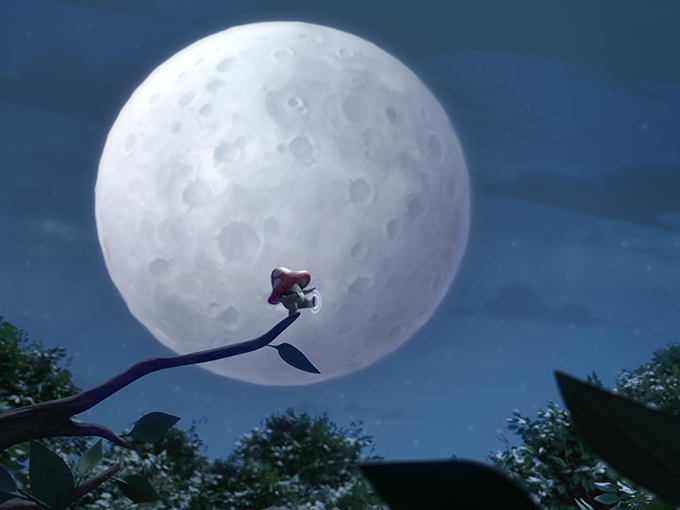 Episode: "The Guardian of the Forest"
Demo: Preschool
Produced by: La Cabane Productions (France), Thuristar (Belgium), and co-produced with CAKE
Episode plot: In this episode of the 52 x 11-minute (which includes two x 22-minute eps) comedy series about gifted mushrooms guarding a forest, lead character Mush-Mush must exercise patience when his attempts to show off his own talents don't work out as planned.
What makes this episode special: Working with a double-episode format, the writers had an opportunity to play around with the story structure and theme. They had explored the idea that the mushrooms each have unique magical gifts in other episodes, but they used the longer run time of this one to really dig into Mush-Mush's journey in tackling the issue of boasting.
Why submit to Annecy: The team was really pleased with this story—it's one of their favorites, according to director and co-writer Joeri Christiaen—and they were all convinced it could win at Annecy.
Next up: The episode is being released theatrically this fall as part of a program for young  audiences and schools. Mush-Mush has sold well worldwide and is rolling out in 150 territories on WarnerMedia channels; it started  in the UK this February. The priority now is to get a second season greenlit, and several partners (including Canal+) have already come on board.
Kenda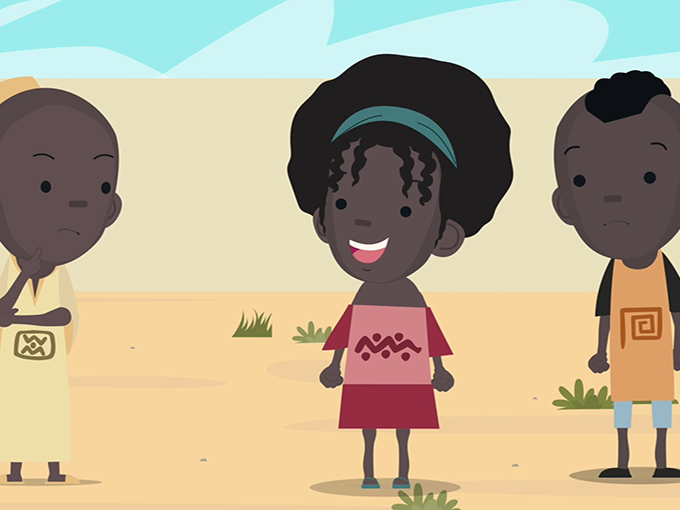 Episode: "Le Candidat Idéal"
Demo: Preschool
Produced by: IMOTION (Ivory Coast), Trace Studios (France)
Episode plot: Young Kenda moves through life and school with the help of a magical book that guides her through tough situations. In this episode, Kenda uses the book to help her classmates understand the democratic process for a class election. What makes this episode special: IMOTION and Trace Studios wanted to educate kids from an early age on the principles of democracy, so the prodcos worked with Open Society Initiative for West Africa to weave serious subjects like free elections into the storyline.
Why submit to Annecy: The goal with the festival submission is to bring to light what Africa has to offer creatively, while supporting productions and talent from the region, says Betty Sulty Johnson, Trace Studios' VP of content distribution.
Next up: TV5Monde and Gulli Africa have come on board to air the 15 x six-minute series, and the producers are looking for more international channel partners to reach a wider audience.
Labuntina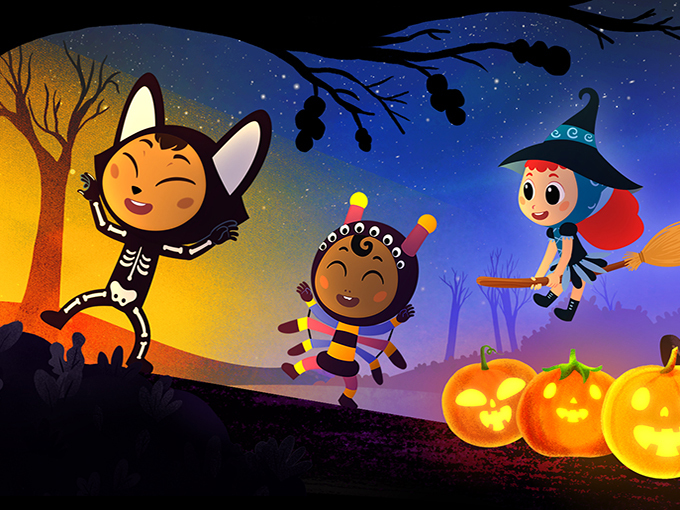 Episode: "Halloween"
Demo: Preschool
Produced by: Labuntina and Sky Kids (UK)
Episode plot: As the sun sets on October 31, three kids prepare for Halloween in this three-minute musical short (pictured, above). To better understand the holiday, they go on a magical adventure to meet silly monsters—who are actually just children in disguise.
What makes this episode special: The short aims to give kids an iconic song to sing on Halloween, and features a spooky tune that creator and director Valentina Ventimiglia has had stuck in her head for some time.
Why submit to Annecy: "Halloween" is Ventimiglia's favorite episode of the series, and she hopes to build on her previous Annecy success—her graduation film was recognized by the 2006 festival—as she continues her 15-year career in the industry.
Next up: The Labuntina shorts, which revolve around three children who dress up like animals and sing original songs, currently air on Sky Kids in the UK. Ventimiglia says the natural next step is to expand into longer six- or seven-minute episodes and tell bigger stories. She also hopes to turn the characters into toys.
Konigiri-Kun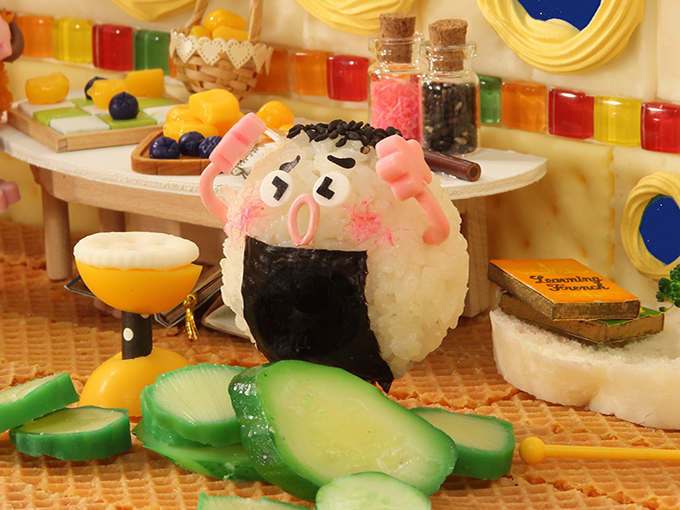 Episode: "Concert"
Demo: Preschool
Produced by: NHK Enterprises and Izumi Nakazawa (Japan)
Episode plot: Focusing on a group of sentient bento box foods traveling in space, this episode (pictured, above) sees the titular rice ball trying to fix a broken chair using materials from the spaceship.
What makes this episode special: Sustainability is very important to Konigiri-Kun's writer/director Mari Miyazawa, but she wanted to break the concept down as an easily digestible story for younger kids. For this episode, Miyazawa introduces the idea that everything is a finite resource, and you can't always buy new things to fix old problems.
Why submit to Annecy: Miyazawa hopes to go global with the mes- sage that we have to take care of all things on the planet.
Next up: Konigiri-Kun currently focuses on bento box characters to subtly spark children's interest in Japanese food. The producers would eventually like to explore cuisines from other countries.
Stillwater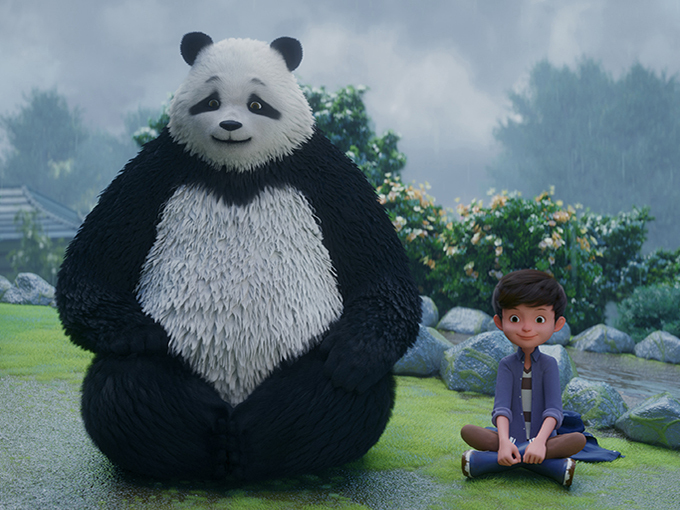 Episode: "The Impossible Dream"
Demo: Preschool
Produced by: Gaumont, Scholastic Entertainment and Apple TV+ (US)
Episode plot: A precocious five-year-old dreams of building a space-ship, but his siblings aren't convinced he can pull it off. With the help of a meditative panda living next door, Karl learns that nothing is impossible when you spend time talking about your emotions.
What makes this episode special: It delivers on the show's central theme of mindfulness, and explores the idea that emotions don't necessarily need to be solved, but should be examined and understood.
Why submit to Annecy: After seeing the beautifully artistic CG water and rain elements created by Polygon Pictures in Japan and Folivari's Fost Studio in Paris, Gaumont felt the episode would stand out aesthetically from its competitors.
Next up: Stillwater is available exclusively on Apple TV+, and Gaumont hopes to grow the show's reach as the platform expands. The producers are also chasing an Emmy, and will be shopping Stillwater around during awards season.