Since she works out of a tiny full-service studio in the basement of her remote western Washington home, stop-motion animator Andrea Love is accustomed to working long hours, mostly alone. But her solitary production life is about to become a lot more collaborative.
Commercial/prodco collective Hornet recently discovered Love's unique wool-based animation portfolio, and has added her to its growing roster of directors, which includes the creator of Cartoon Network series Summer Camp Island, Julia Pott. Based in New York, Hornet focuses primarily on advertising spots for clients such as LEGO, Netflix and Warner Bros.
Love also secured UK and European representation with Curate Films, whose talent roster includes the likes of Harry Potter director Chris Columbus and Toy Story animator Guionne.
Like her uncommon craft, Love's path to Hornet was not traditional. As a kid growing up in North Carolina, she wasn't an avid cartoon watcher. She also didn't develop an interest in animation until after high school, and then was only interested in experimental stop-motion rather than the more popular 2D or CG techniques. "Films like Wes Anderson's Fantastic Mr. Fox and the work of Czech animator Jan Svankmajer got me excited about the artistry," says Love. 
Taking the road less traveled, Love learned stop-motion on her own while studying video production and film studies at Hampshire College in Massachusetts. "There were no stop-motion courses [available] when I went to college, so I had to teach myself," she says.
After graduating in 2010, Love moved to Port Townsend, Washington for a change of scenery and reinvented herself by working on an organic farm. Despite the pivot, she continued to experiment with stop-motion and developed a passion for wool as a puppet-building material.
"There weren't any sheep on the farm where I worked, but the area has a lot of fiber farms for processing and dyeing wool," she says. "One day at a farmer's market, I stumbled upon some little felted animals at a fiber booth. They looked perfect for stop-motion, so I went to work."
Through online videos and a lot of trial and error, Love taught herself how to needle felt characters, props and entire environments out of wool. Needle felting is a rare and intricate craft that involves repeatedly stabbing a special barb-tipped needle into a piece of wool to stiffen and shape it into a form. (Love also incorporates paper maché, hand painting and woodworking into her set designs.)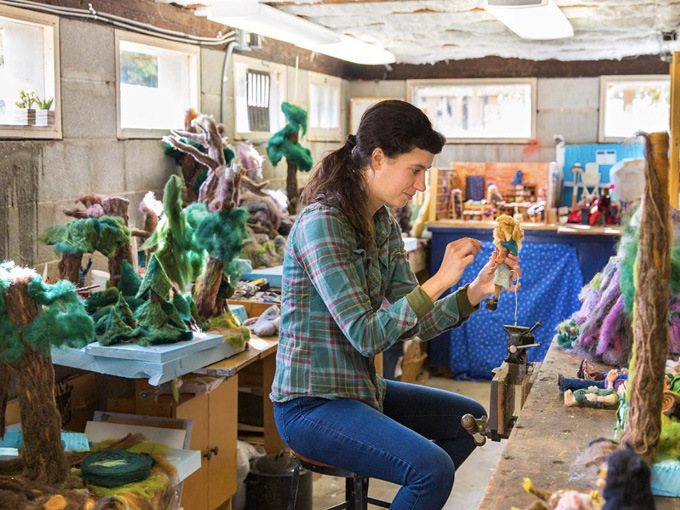 Love began securing short film, documentary and commercial work from local businesses and nonprofits. "The jobs weren't huge money-makers, but they helped me build up my portfolio and practice my techniques," she says.
She started an Instagram and YouTube series called Cooking with Wool and Painting with Wool. The videos are available on her personal IG account, which has nearly 700,000 followers, as well as her YouTube channel. She says growing an audience online won't necessarily bring in money, but it gives animators credibility and proof of concept. "My following is the reason why I've been contacted by brands and picked up by production companies," she says.
Her wide reach also helped Love achieve a US$60,000 Kickstarter goal in March 2020 that completed the financing for her original kids and family stop-motion short Tulip (pictured below). Co-directed by Love and children's book author/illustrator Phoebe Wahl, the eight-minute film is a reimagining of the classic fairytale Thumbelina. After a year in production, Tulip quickly garnered attention on the 2021 festival circuit, earning a coveted selection and screening at Annecy International Animation Festival in France next month, and winning an audience award at the New York International Children's Film Festival.  
Love hopes to build on the momentum.
"Now that I'm with Hornet, it gives me access to a larger stop-motion studio and bigger budgets and talent that I didn't have before," she says. "I'm interested in being on projects where I'm not the only animator, or maybe where I'm directing the animators."
As projects percolate at Hornet, Love is also keen to collaborate with Wahl again, but this time on a kids and family series or feature film. She also hopes to be a showrunner her own kids series, much like Pott did at Cartoon Network. "I'd love to bring my wooly aesthetics into the mainstream via a show or feature at some point," she says.