While Georgina and Rennata López are clearly identical twins, up until recently they've had very divergent career paths: Georgina was focused on production management, while Rennata worked primarily in casting. But the sisters joined forces to launch Lopii Productions in 2018, and their early work together has just earned them a Youth Media Alliance Emerging Talent award that they'll collect on May 26.
"It's really extra special because it comes from our peers and the people we have always admired," says Rennata.
Based in Toronto, the sisters' three-year-old studio already has four series in the financed development stage, and two shows on air.
One of those development projects is, fittingly, Twin World. This live-action/animated series stars identical twin sisters Reina and Gia, whose wild imaginations transport them into a strange animated world where they must solve local problems.
"We wanted to share the experience of what being a twin is like," says Rennata. "You do see twins on TV, but they're talking at the same time and dressing alike. We wanted to create a show that would give people the opportunity to see what twins are really like."
The story is also a little bit autobiographical. Reina and Gia are Mexican immigrants, just like the López sisters, who moved to Canada when they were six. That immigrant experience is a key thread in the series.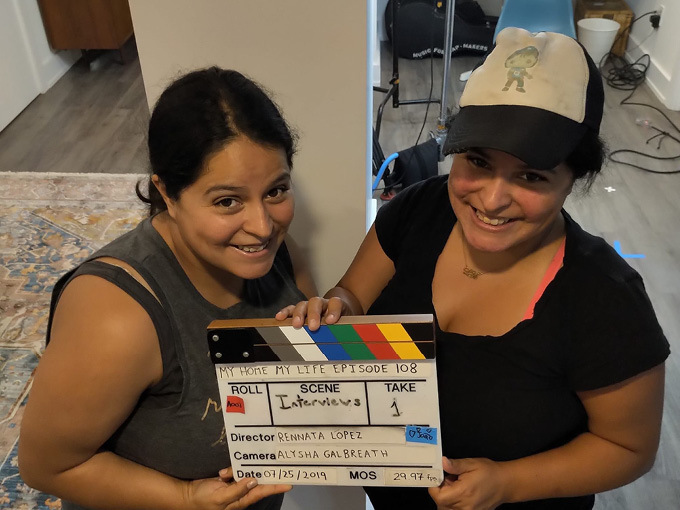 Doubling down on the twin theme, Rennata and Georgina made a point of hiring fellow twins behind the camera—production supervisor Shaun Day, for example, is a twin. The sisters also put together their own "Twin Twin Summit," inviting identical and fraternal siblings to share their experiences with writer/showrunner Laurie Elliott (not a twin) to better inform the show's storylines. Their plan, if the project gets picked up, is to hire a few of these consultants to work on the production full time.
Having proper representation on their teams is important to the López sisters; they've often been the only women or only people of color in a room, and they don't want their sets to be places where people feel singled out or isolated. So they've focused on staffing differently. For example, on My Home, My Life every single person on staff was a woman—even the composer, which was not an easy task because most composers are men.
The fact that the sisters took different career paths to get to Lopii means they bring a lot more diverse experience to running the company.
Georgina went to film school to pursue her dream of being the next Steven Spielberg, and then went on to work  in production manager roles on live-action TV series at Sinking Ship, Little Engine Moving Pictures and Bristow Global Media. Meanwhile, Rennata's plan was to be a host on Entertainment Tonight. She studied journalism, but ended up in casting and writing on lifestyle and reality TV programs.
Their jobs did overlap occasionally—they both worked at Sinking Ship for awhile (where colleagues mistook Rennata for Georgina when Georgina was on maternity leave). And though they once vowed to never work together, while chatting on a break in the summer of 2018, they came up with the idea for My Home, My Life, which invites real kids to talk about their experiences at home.
They shot a pilot, but then went their separate ways in pursuit of other work—until public broadcaster TVO expressed interest in putting the series into production. That was the impetus for launching Lopii (a plural of their last name López, inspired by a high school teacher who couldn't be bothered to learn how to identify each sister).
My Home, My Life was adapted during the pandemic and became My Stay-at-Home Diary, which has since won a Kidscreen Award and been nominated for a YMA Award, in addition to being nominated for a Rockie Award and a Canadian Screen Award.
Next up, the sisters are working on a French-language series for Canadian pubcaster TFO—although neither of them actually speaks French. Nevertheless, they're executive producing #Couleurs du Nord, a 26 x 11-minute live-action series for eight to 13s about issues faced by Indigenous communities in Northern Canada. Each ep sees the show's host work with the residents of different community to create a mural that reflects their culture and life.
They're also developing The Bestest Day Ever, which challenges kids to give their pets the best day ever—for example a custom miniature playground complete with swings, slides and climbers for two hamsters. Lopii is currently looking for a partner to help get this 26 x seven-minute live-action series for family audiences off the ground.
And finally, The Fay & Fluffy Show is heading into production as a live-action series that invites preschool audiences to come along on a fabulous storytime-driven drag cabaret show.
Georgina and Rennata are sticking to live-action kids content for now because that's where they have the most experience. But the space is a challenge, and not just because of pandemic-related issues to do with filming.
While plenty of broadcasters say they're actively looking for exciting live-action concepts from new voices, they often have caveats that they don't take unsolicited pitches, or they only work with teams they have existing relationships with, says Georgina.
"There are lots of great companies that are making shows and just need the opportunity [to get a foot in the door]," she says. "I'd ask people, do you think you might meet more diverse voices and people if you weren't so closed off?"
Still though, the López sisters are going to keep knocking on doors, and hopefully get them to open up for other creators as well.