Tom Rogers doesn't often look back, but there's one thing the Emmy-winning Disney writer wishes he had done differently as a first-time showrunner: "I wish I had done it sooner."
Rogers cut his teeth writing screenplays for Disney movies like Kronk's New Groove and Secret of the Wings. More recently, he added series work to his resumé, including The 7D, Sofia the First and Elena of Avalor. Now Rogers is making the leap to showrunner on Disney Junior's upcoming animated series The Chicken Squad.
Inspired by Doreen Cronin's popular children's book series of the same name, this 29 x 22-minute comedy-adventure for preschoolers will hatch on Disney Junior and DisneyNOW on May 14. It focuses on a trio of young chicks who team up with a search and rescue dog to solve problems in their backyard neighborhood. LA-based animation studio Wild Canary (Mira Royal Detective, Puppy Dog Pals) produced the show.
Rogers says he landed the gig while he was working as a staff writer on Elena of Avalor. In talking with Disney Junior's development team about upcoming projects, he was asked to check out Cronin's book series to see if it could be turned into a series.
"The books are super-fun and silly, but they also reminded me of some mystery books I loved as a child, where the kids are investigators and solve mysteries in their neighborhood," he says.
Once he received Disney's full support to develop the series, Rogers went to work making sure the storytelling had the right blend of fun, action and heart. Another key aspect he wanted to get right in the preparation was the artistic design of the characters and the world.
In assembling his team, Rogers put a lot of focus on hiring talent that was newer to the industry. "When I was coming up, I had a lot of hands helping me up the ladder, so I wanted to do the same thing," he says.
When it came time to bring in an art director, Rogers says he took a chance on Tony Trujillo, who comes from the gaming world and lacked experience in TV animation. In the end, the gamble paid off. "He was a cold submission, but his portfolio looked amazing, and he really wanted to make the transition into animation," says Rogers.
He adds that Trujillo's barnyard animal and farm designs as a principal artist on Zynga's agriculture-themed social network game Farmville 2 (pictured below on top) were only partly responsible for getting him the gig on The Chicken Squad (pictured below on bottom).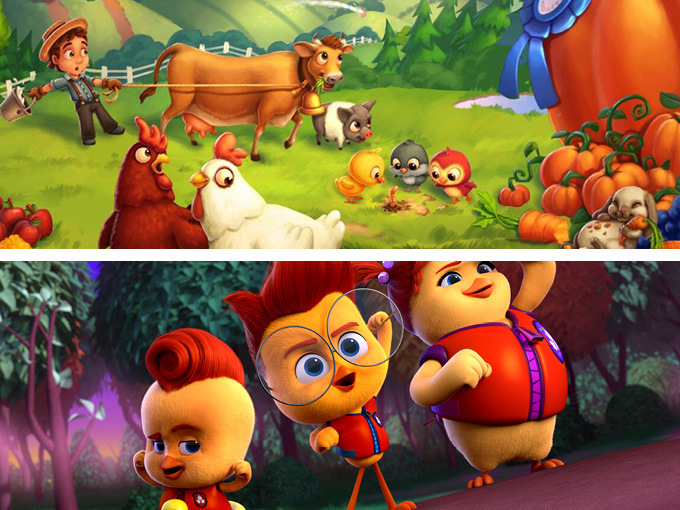 "He does great work in a variety of styles, so his entire portfolio really helped him land the job," says Rogers.
Along with providing playful designs that read quickly, one of the important aesthetic themes Trujillo brought to the show was the "wonk" in everything. "By 'wonk,' we mean everything is a little off-kilter," says Rogers. "There aren't very many right angles in the show, roofs don't quite sit straight, and windows aren't exactly square. It makes everything seem a little bit goofy, which was exactly the feeling we wanted."
In the writer's room, Rogers' first hire was Karissa Valencia, whom he previously worked with in the Women In Animation mentorship program. He says she was just coming off Vampirina as a script coordinator when he and his Chicken Squad co-producer and story editor Rachel Ruderman offered her the writer job. Valencia contributed on the show's first 22 episodes, and has since become a first-time showrunner herself as creator, EP and story editor on Netflix's upcoming animated series Spirit Rangers.  
The Chicken Squad team also brought in Elena of Avalor production coordinator James Eason-Garcia, who was trying to transition onto the creative side. He was initially a script coordinator, but after excelling on some writing assignments, Eason-Garcia was promoted to writer. "He's done some amazing work, especially on an episode later in the season that's related to his experience feeling like an outsider and getting picked on," says Rogers.
In the spirit of providing new experiences for creative people, Rogers also tapped into a lesson he learned from Sofia the First creator Craig Gerber—letting writers pen song lyrics on shows instead of hired musicians or professional songwriters. "[Gerber] did this because the songs should be integral to the storytelling, which is something Rachel [Ruderman] and I both understood," says Rogers. "The practice is not very common, and it's an aspect of screenwriting a lot of writers don't get to experience, but it's been a lot of fun for our writers."
Looking ahead to the future, Rogers says he has some new kids concepts percolating, but because showrunning has been all-consuming, he's focused on wrapping production and getting Chicken Squad delivered. As for a second season and a Disney+ premiere, he says it's too early to tell.
When asked about what advice he has for first-time showrunners or writers looking to make the jump, Rogers stresses the importance of not pretending to know things you don't know. It's impossible, he says, to truly understand all aspects of a production cycle. "I told my team early on that I would ask stupid questions because it would be more stupid to pretend I know something and fumble forward," he says. Rogers likens showrunning to being an orchestra conductor. "The conductor doesn't need to play every instrument; they need to bring all the instruments together and let the expert players make beautiful music."