The next Year of the Rooster is 2029 in the Chinese zodiac calendar, but if the number of new animated chicken projects flooding the market is any indication, it may be coming a little sooner than that.
Heavy-hitters Disney, DreamWorks and Peacock all have poultry-inspired kids toons currently in the works; stop-motion house Aardman is starting production on its long-awaited Chicken Run movie sequel this year with Netflix; YouTube Originals snapped up GoldieBlox's new animated STEM series The Eggventurers last month; and Puerto Rico's Mana-T (Elenita The Chicken Whisperer, pictured below) and Canada's Sardine Productions (Hatch) are among several other studios incubating new chook-centric shows.
But why are the chickens coming home to roost now? Griffin Quasebarth, director at entertainment research firm MarketCast Kids, looks at why these feathered friends may resonate with kids right now.
Relatable animals are in demand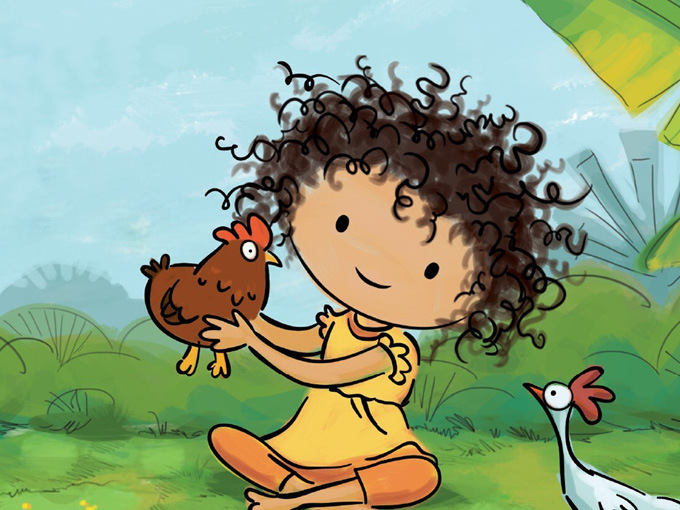 Familiarity may be a key factor driving the hen-aissance (as coined by writer Monique Hall). With so many puppies and kittens on screen, "there is a need for [other] types of anthropomorphic animal characters that kids can instantly relate to," says Quasebarth.
What makes chickens interesting or different from, say, furry pets, is that they aren't perfect. "Chickens don't have traits like the loyalty of a dog or the grace of a cat," he says. A little awkward and chaotic, "they are pretty close to what kids are going to be like in the real world."
But Quasebarth points out that poultry might not be the perfect species for educational shows. Preschoolers don't immediately think of chickens as the type of animal that could teach them their ABCs, or help them solve problems. They are more accustomed to seeing dogs, cats or tigers in these roles (think PAW Patrol or Daniel Tiger's Neighborhood).
Chickens can be heroes, too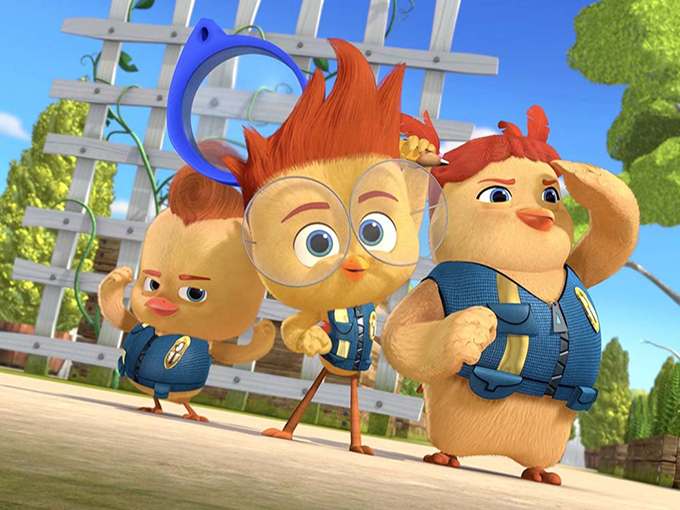 According to Quasebarth, kids are also used to seeing animals like tigers or dogs in hero roles, which could explain why writers are mixing it up with chicken characters that are much more than non-verbal, clumsy chaos-makers.
Disney Junior's upcoming series Chicken Squad (pictured above) is a good example of a show that presents more non-traditional chicken protagonists that are not only funny, but brave as well. The series features an unlikely team of problem-solving young chicks and their mentor, a retired police dog, as they keep the peace in their backyard.
Finding a balance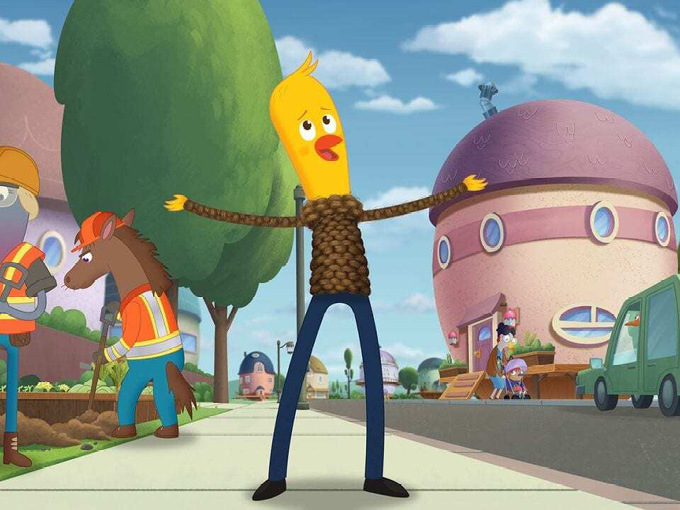 With a whole flock of fowl-focused fare about to hit the airwaves, Quasebarth says writers should find fresh ways of integrating chicken traits into their kids shows. He points to an example set by Tony Hale-led DreamWorks Animation series Archibald's Next Big Thing (pictured above and at top), which uses a lot of understated oval design motifs to drive home its chicken themes.
"Whether it's the use of the egg-shaped suburban homes in Archibald, an egg that pops out, or a 'clucking' noise, kids love to see subtle references to the animal qualities of chickens, so it's important to include some of these elements," he says.
To help stave off chicken fatigue, Quasebarth adds that writers should strike a balance between unconventional and recognizable when it comes to developing chicken characters and stories.
As for how long the chicken trend will continue, Quasebarth isn't sure, but he says it has the potential to last. "It's hard for me to think of other farm animals that can provide the breadth of content that chickens offer," he says. "There are so many permutations of what you can do with chickens and eggs."