Elizabeth Ito is blending her Japanese-American heritage, childhood experiences and love of home video to make her first series City of Ghosts a unique one.
The new Netflix original premiered on March 5 and marks Ito's first time as a showrunner. Also serving as executive producer on the six x 20-minute animated series she created, Ito is an Emmy-winner who has previously worked on Adventure Time, Phineas and Ferb and a host of films, including The Angry Birds Movie 2.
Although it's a scripted show, City of Ghosts is made to look like a documentary that's following a group of kids as they explore LA and communicate with different neighborhood ghosts. Ito drew on her experience as a fourth-generation Japanese American who lived in a number of multicultural communities in LA to create the storyline. She expects City of Ghosts to appeal to introverted kids who want a slower, less action-packed entertainment experience. 
"I wanted something gentler to watch with my young son, compared to a lot of kids TV," says Ito. "And I saw a space for softer, more relaxing programming."
City of Ghosts is a hybrid CG-animated series with live-action backgrounds—and a few animated drawings of LA locations layered on top to blend the styles together. LA-based Chromosphere (Carmen Sandiego) and France's TeamTO (Mighty Mike) produced the animation. To achieve a visual style that's different from other CG, Chromosphere composited the footage to give it an early-VR-meets-anime look.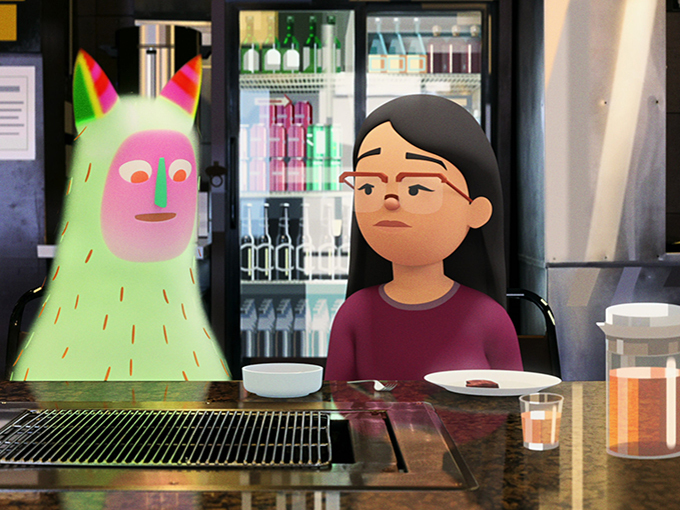 The show's unique visual style was driven by a desire to stand out from Netflix's other animated kids properties, Ito says. She wanted City of Ghosts to look like something that kids could actually make with whatever they had laying around. So Ito had Chromosphere add in effects when compositing the animation to give some shots a shaky look that would make it look like it was being filmed by a hand-held camera.
She originally looked into shooting the series in VR, but to save on costs Ito opted for compositing the animation instead. Also a money-saving technique that yielded a unique backdrop, Chromosphere produced 2D-animated characters to appear in the background of shots—a cheaper option than making them all CG-animated. It's also different from other shows that reuse character art for backgrounds, which would have taken away from the unique look Ito wanted to give to each different neighborhood the characters visit.
The made-by-kids tone also filters into how the characters speak, with pauses between words and dialogue that feels like it's being spoken by real people. "I feel like some of the videos on places like YouTube are edited way too much, and you lose a lot of people's personality because of that," says Ito. "I wanted to keep this show real, so beyond the look of it all, we let the adults improvise their dialogue. And with the kids, we kept the writing super-simple so it felt like something they would say."
Ito has worked in the animation industry for 15 years. She's perhaps best-known for her work as a supervising director on Adventure Time; she won an Emmy in 2017 for directing the episode "Islands Part 4: Imaginary Resources." Ito was also a feature storyboard artist on Hotel Transylvania, Astroboy and The SpongeBob Movie: Sponge Out of Water.
She first tried her hand as a creator when she made original Cartoon Network animated short Welcome to my Life, which launched on YouTube in 2017. The nine-minute short is shot as a documentary about a monster who wants to fit in at his high school. It has racked up more than five million views on YouTube, and Ito was able to leverage that into job at Netflix's then-new in-house animation studio creating her own project.
Welcome to My Life is an allegory about fitting in when you're different—a theme she's now exploring again with City of Ghosts.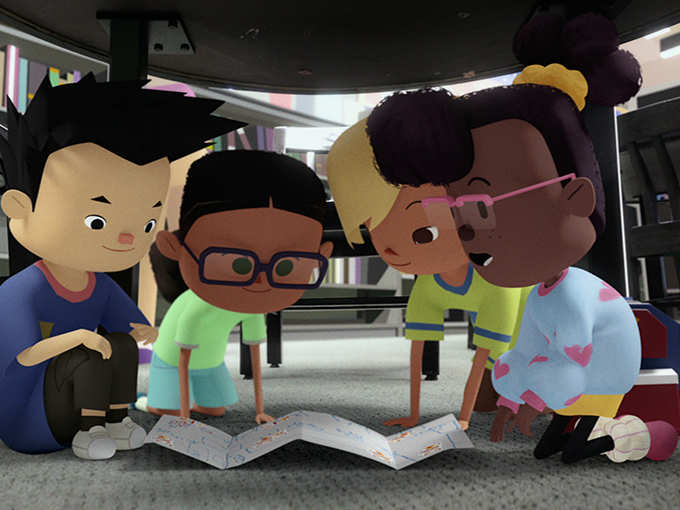 Ito has a few other show concepts that she wants to develop, and she's hopeful that City of Ghosts will be a springboard for her to tell more personal stories, she says.
"Working on this project, I learned that I was capable of leading my own show, as well as how to be confident in my vision," says Ito. "I'd love to carry that with me and keep making small and meaningful shows like this one."