Powerpuff Girls creator Craig McCracken is flying back into the kids industry spotlight with his new 2D-animated series Kid Cosmic. The 10 x 22-minute adventure launched on Netflix February 2, and the streamer has already committed to two more seasons, says McCracken.
Kid Cosmic is produced by Netflix's in-house animation team and animated by Canada's Mercury Filmworks. It follows a young boy and his friends as they gain superpowers and fight evil aliens.
McCracken—who created also created Foster's Home for Imaginary Friends for Cartoon Network and Disney Channel's Wander over Yonder—has made a name for himself making content for linear, but was eager to try his hand at serialized storytelling, which fits well with Netflix's binge-watching strategy. In particular, he's been keen to develop a show with characters who grow and learn, which can be more difficult in an episodic series that's meant to be consumed in any order, he says.
The idea for Kid Cosmic has been floating around in McCracken's mind since 2009, but at the time, he says linear kidsnets weren't interested in anything serialized. It wasn't until shows like Steven Universe and Gravity Falls hit the air that demand for linked stories increased and opened up an opportunity for Kid Cosmic.
"Netflix isn't looking for an evergreen property that it can milk for hundreds of episodes. It's looking for good and unique ideas that are well-executed," says McCracken. "Here, I feel like I have the freedom to pitch new content—like something that could work as a movie, or something with a darker tone—that TV networks might shy away from."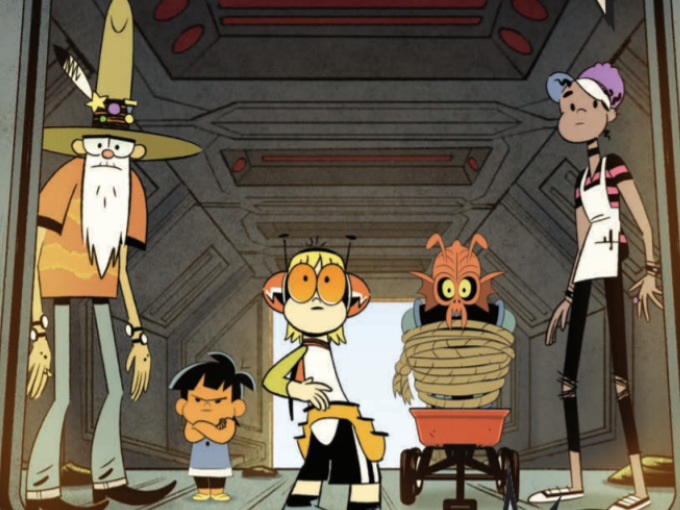 Inspired by McCracken's love of retro comics such as Dennis the Menace and Tintin, Kid Cosmic has an old-school 2D art style. This was his first time making a show with this kind of look, and it suits both the superhero theme and the protagonist's own love of comics. It also helps the series stand out in a market that's currently selling lot of CG-animated fare, he adds.
McCracken opted for a 22-minute episode length for Kid Cosmic (despite the lack of commercial breaks) so he could take his time with the story, have moments of quiet, and use the music and art to move the plot long without needing to rush from frame to frame. By slowing down the action, he's been able to create a more realistic treatment for his heroes, compared to slapstick cartoons where characters rush around getting squished or smashed up.
"I want to push the boundaries of what networks are looking for with unique concepts," says McCracken. "Kid Cosmic was an idea I've had for a while—I'm so glad it's finally out there. There are many stories I've been dreaming of telling, and I feel like now—with so many unique projects coming down the line—is the best time to do that."