Cryptix: The Stuff of Legends (pictured above)
Producer: Pink Kong Studios (Ireland)
Target: 9 to 11
Style: 2D animation
Format: 13 x 22 minutes
Budget: US$5.5 million
Status: In development, with a bible, scripts and a trailer to be completed in Q1 2021. Looking for co-producers, distributors and broadcasters.
Delivery: 2022
When uncoordinated 13-year-old Danni discovers a magical bracelet, she suddenly finds herself thrust into the role of defender of mythical creatures like unicorns, the Loch Ness Monster and yetis. Together with her new fantastical friends, the young heroine trains to become a martial arts master so she can protect the realm from a villainous dragon and his robot army. Created by Pink Kong founders Aoife Doyle and Niamh Herrity, this underdog series focuses on the importance of believing in yourself.
Amy & the Afterlife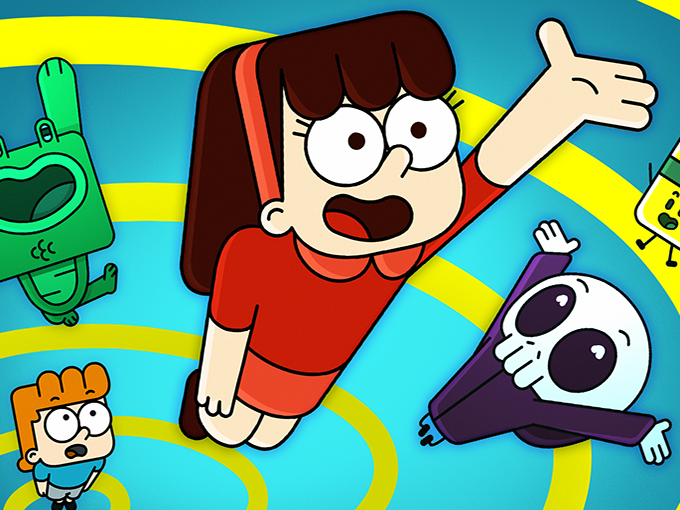 Producer: Omens Studios (UK)
Target: 13 and up
Style: 2D and 3D animation
Format: 26 x 11 minutes
Budget: US$4 million to US$5 million
Status: In development, with a focus on creating scripts for season one. Omens is seeking broadcasters, co-production partners and investors.
Delivery: Q1 2022
Created by Paul Nicholson and exec produced by Silas Hickey, this tween/teen comedy puts a paranormal twist on the high school experience. After a young girl comes back from the dead, she must navigate both high school and the afterlife with help from the student who summoned her. The young heroine brings new life to the school with her supernatural powers and slapstick adventures, while a relationship with her summoner blossoms.