After attending the North American premiere of Baobab Studio's latest immersive short film experience, Baba Yaga, I was left with a feeling of awe…and a bit of nausea.
Yesterday's event—hosted by Baobab and the Tribeca Film Festival—was billed as the first-ever live virtual-reality red carpet premiere for a movie. As a fan of VR, and because in-person premieres and conferences have been on hold since COVID-19 hit, the invite-only event sounded much more intriguing than your usual Zoom call, so I jumped at the chance to participate.
In this virtual day and age, I ditched the dress shirt in favor of a loaner Oculus Quest headset (that had been freshly sanitized, of course) and embarked on my journey.
The first step was creating and customizing an avatar (pictured) in Microsoft's free online social hub AltspaceVR, where the premiere was held. Both AltspaceVR and the Baba Yaga app came pre-loaded on the headset, so I was able to get accustomed to the event platform's functionality and experience the film ahead of its January 14 premiere and exclusive launch on Oculus Quest.
At this point, I began to wonder how the event would resemble an in-person premiere: How many people would be there? Would we actually watch the film? Do I walk a digital red carpet? And perhaps most importantly, would I be able to get a virtual glass of rosé?
On a more serious note, I also had to ask myself, after so much isolation, was I ready for a lot of close interaction with other people's avatars, or would I need to turn on the app's space bubble option for a more isolated experience?
Entering the world
As it turned out, the premiere was an intimate affair—I spotted approximately 30 avatars—which eased my social anxiety. It kicked off in an expansive theater lobby setting complete with red carpet, a step-and-repeat and a "staff photographer" (although Altspace avatars are also equipped with camera, selfie and emoji functions).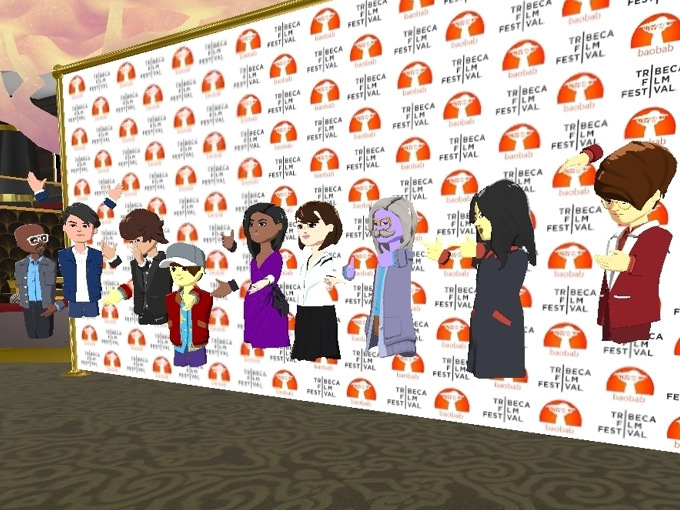 Once inside the lobby, I hung out with my PR contact and we talked in our real voices about what we were seeing and experiencing as other attendees arrived. The guestlist included Baba Yaga director and writer Eric Darnell (Madagascar, Antz), the premiere's Oscar-winning director co-host Glen Keane (Over the Moon) and Baba Yaga stars Daisy Ridley (Star Wars: The Rise of Skywalker, Ophelia) and Oscar- and Grammy-winner Jennifer Hudson (Dreamgirls), who also served as an executive producer on the film.
Based in Redwood City, California, Baobab is an interactive animation studio that was co-founded by Maureen Fan, Darnell and Larry Cutler in 2015. It has won multiple Emmy, Annie and Kidscreen Awards with its portfolio of kid- and family-friendly VR films, including Invasion!, Asteroids!, Crow: The Legend and Bonfire.
As for Baba Yaga, it's a modern take on the Eastern European legend, executive produced by Fan, Cutler and Baobab head of content Kane Lee. The film is made with 2D pop-up animation, as well as hand-drawn and stop-motion styles, and it lets the viewer experience the fairytale as main character Sacha. In terms of interactive elements, Baba Yaga features multiple alternate endings the viewer can choose from, as well as objects like lanterns and staffs that can be picked up and brandished in key moments of the story using the Oculus Touch controllers and hand-tracking capabilities.
The premiere recreated this film's world, which began to take form as we were ushered down a long, mysterious passageway. It eventually revealed an animated rainforest created specifically for the event, complete with interactive elements from the film, an art gallery, selfie opps with key character models and a theater with giant mushroom seats that was used for Q&A, a viewing of the film's trailer and pre-recorded video messages.
And much like a "real" premiere, the talent wranglers for avatar Ridley and avatar Hudson ensured the actors stuck to a tight schedule before whisking them away behind a stage-side restricted area.
Where do we go from here?
The premiere was a fascinating experience, but what will virtual reality events mean to the entertainment industry and to consumers in the future? Besides gaming and education, will the medium fuel new social experiences for kids and families?
According to Toronto-based digital experience consultant and agency leader Cameron Wykes, VR is currently shining in the social capacity for people who can't physically be together.
"People need that greater sense of connection," says Wykes. "Whether you have a low- or high-res avatar, if it's looking around at you and talking, that is as close to the real thing as someone needs to have [right now]."
The learning curve for Altspace is also pretty easy, according to Wykes. "In its tutorial, the app actually does a really good job of showing how to use buttons to jump, move and interact, and their interface is nice and simple," he says. "It's a long way from where VR has been."
Wykes adds that he'll actually be attending his first CES AltspaceVR event this week after COVID caused the cancellation of the physical iteration of the popular tech event. "I've been to CES in person, and oftentimes the best way to experience it is to not go [at all] because it's so massive and overwhelming."
Whether or not CES succeeds at simulating its event online remains to be seen. Wykes says not everyone gets it right, pointing to the automotive industry, where many companies are struggling to re-create cancelled auto shows in a VR space.
"If a company is considering VR and wants to recreate the reality of a show where people walk around for long periods of time, they need to factor in the fact that walking around [in a] VR [environment] can be disorienting for some, and nauseating for others," he says.
On the pro side, another way VR is helping to make social experiences easier for kids is through apps like Big Screen VR. During COVID lockdowns, Wykes says he bought Oculus Go headsets for his daughters so they could watch 2D movies in a 3D space together with friends who also owned the headsets. "They were always on the phone with their friends trying to start movies at the same time, which is why I got them the headsets," says Wykes. "Now they can all watch at the same time, throw virtual popcorn at each other, and have that [social] presence that is a bit greater than being on the phone or on Facetime together."
But at US$149 for Oculus Go and US$399 a pop for Oculus Quest, the high cost of headsets continues to be a hurdle. "The price of entry is like buying a PS5 or an Xbox console," says Wykes. "It's a commitment. Units don't cost US$79. And if it gets to that [lower price point], VR could be seen as more of a throwaway technology."
Making VR approachable
Baobab head of product and marketing David Kahn is hoping to do more VR premieres in the coming months. "What's great about creating a virtual world is that unlike real-world events, you can reuse the space over and over again and make changes to fit the audience," Kahn says. "Even after lockdowns end, there will be a place going forward for unique virtual events like ours."
To grow awareness, the event space from the Baba Yaga premiere will be made public for audiences to explore starting on January 14.
Though Kahn won't reveal how much the premiere cost, he says Baobab started working on the project last fall, when everyone was stuck at home with Zoom fatigue. "We wanted to come up with a unique way to tell our story," he says. "It was important to us to capture as much as possible the feel of Baba Yaga for the premiere, and also welcome everyone knowing that for many, this was their first time experiencing virtual reality."
Kahn adds that education has been the biggest challenge in launching a virtual reality premiere or any VR experience for that matter. "Once someone enters the space for the first time, they are blown away. Trying to explain it with pictures and text does not fully capture the immersive experience."
Getting back to my avatar-driven adventure, it was something I'll never forget, even if it did make me queasy. If there's a lesson learned, spending nearly two hours in a VR headset isn't great for your equilibrium—even for someone who doesn't ever get motion sickness. I now fully understand why studies and optometrists recommend kids keep their sessions to about 15 minutes at a time.
But was it worth it? Absolutely.