Now that government bodies in Canada and the UK are providing new short-term COVID-19 insurance funding for the TV and film sector, many  camera-ready live-action kids productions that were stalled by the pandemic have either applied or plan to apply to the schemes. 
But will the funding be enough as more productions get back on schedule in an unusually busy late fall/early winter filming season? And will the deadlines need to be extended?
A lack of affordable insurance coverage for delays, stoppages and cancellations related to COVID-19 has been a major concern for production companies (particularly independents with large-scale live-action projects) since mid-March, when most insurance companies added COVID exclusions on coverage for new productions. The exclusions potentially allow insurance companies to dodge billions of dollars in business-interruption claims during to the pandemic.
But productions need COVID insurance to protect against the high cost of a delay or shutdown caused by a cast or crew member testing positive for the virus. According to data released in September by the Canadian Media Producers Association (CMPA), as many as 200 camera-ready projects—the equivalent of US$769 million (CAD$1.09 billion) in production volume—were stalled in Canada because producers couldn't get this type of coverage.
Though studios have still been able to get standard insurance, without COVID coverage, they've had to decide if taking on more risk and additional cost to comply with new health and safety rules is worth it when budgets are already tight. For most cash-strapped independents, the outlook has been particularly grim in the US, where the government has yet to implement a solution. (Major American media companies including ViacomCBS and Sony Pictures Entertainment are currently working with US org Business Continuity Coalition to propose a public-private insurance solution.)
Kickstarting Canada and the UK
Canada and the UK are among the first countries (along with France and Australia) to offer insurance support to their TV and film sectors.
To help Canadian productions secure COVID insurance, the federal government's US$38-million (CAD$50M) Short-Term Compensation Fund for Canadian Audiovisual Productions (STCF) opened on October 30.
Administered by federal cultural agency Telefilm Canada and the Canada Media Fund, the STCF is available on a first-come, first-served basis exclusively to independent Canadian-owned production companies with full rights to projects that lack insurance against COVID-related delays or stoppages. The fund provides up to US$1.2 million (CAD$1.5M) in compensation per project in the case of a temporary interruption, and US$2.3 million (CAD$3M) in the case of a complete production shutdown.
Across the pond, the UK government launched its US$667-million (£500M) Film and TV Production Restart Scheme on October 2 and is taking applications until the end of February.
Spreading the wealth
Mark Bishop, co-CEO of Toronto-based production company marblemedia and regulatory vice-chair of the Canadian Media Producer's Association (CMPA), says he's pleased the STCF is finally in place, but worried about its future.
"I am concerned about the fund possibly running out of money," says Bishop, noting that the CMPA initially asked the government for a US$77-million (CAD$100M) backstop in June. "A renewal of the fund will likely be necessary because I can't see how the amount of money that's been put in will be sufficient for all of the productions that need to apply."
According to a Telefilm representative, the agency had received 90 applications as of November 24, and none of the projects have had to stop either on a temporary or permanent basis. (The number of applications for kids projects is unknown because the fund doesn't collect information by genre.)
The fact there have been no claims is good news for the industry's commitment to the health and safety of cast and crew, says Shaftesbury CEO Christina Jennings. If the trend continues, she hopes the fund will roll forward. "Maybe it will get a bit bigger because we all know COVID isn't going away."
Despite concerns about the fund's limitations, Jennings says it will be a massive lifeline for people without coverage and with projects that can't move forward otherwise.
Back on track
Jennings says Shaftesbury has applied to the fund for a yet-to-be announced kids series, but is still waiting on STCF approval.
The company also intends to apply for season two of its kids puppet show Miikshi (pictured below) once the last pieces of financing are pulled together.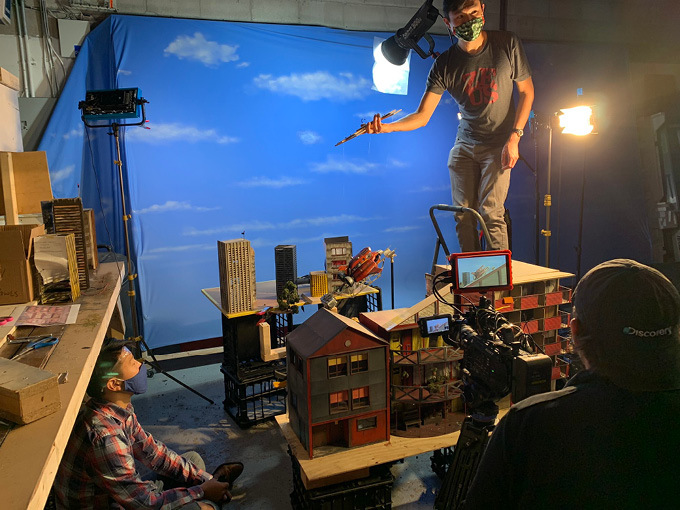 "There was a moment in the spring when we questioned if we could go forward on all of our shows, and Miikshi did get delayed for a bit," she says.
Marblemedia is currently covered on all of its kids projects in production, including its new BYUtv sitcom commission The Parker Andersons (pictured up top), through an annual studio policy that doesn't have any COVID exclusions. For any additional projects that could start filming next year, Bishop says the studio will apply to the STCF if it needs to.
When asked about the affordability of the fund, he says the STCF's deductible will be a challenge. "It's obviously meant to ensure that people are only triggering it when they really need it, but we'd like it to be lower," says Bishop.
For the fund, a deductible equal to the lesser of US$77,000 (CAD$100,000) or 15% of the eligible costs will be applied in the case of a temporary interruption. For projects that are permanently abandoned before the end of filming, a deductible equal to the lesser of US$269,000 (CAD$350,000) or 15% of the eligible costs will be applied.
UK relief
According to John McVay, chief executive of UK trade organization PACT, the UK fund has been a huge boost to domestic production, but a more long-term insurance solution is still required. "We're making the case to government to extend the deadline beyond the end of February if there is no viable commercial insurance available early in the new year," he says.
The move would definitely take some of the weight off producers. TG Entertainment co-founder Ken Anderson says his Edinburgh-based company will revisit its production planning and insurance strategies as it heads into 2021. When TG began production on its new Sky Kids hybrid series The Brilliant World of Tom Gates in June, the company's insurers didn't have any provisions for COVID coverage. "We secured normal production insurance," he says, "but it was a risk we were willing to take because of the safeguards we implemented on set. We adjusted the production so that everything was remote and compliant with Sky's guidelines for shooting during lockdown."
Competing for resources
On the flip side, if insurance relief does help more productions return, Jennings and Bishop are concerned this could further affect the availability of resources. This is especially an issue in Toronto, where many American kids projects are currently shooting, including Disney+ pop/hip-hop musical movie-of-the-week Sneakerella and Netflix tween/teen fantasy series Locke & Key.
"Assuming the new insurance fund will get more productions going, then that could make it more challenging to get resources," says Jennings.