This weekend, Channel 5′s Milkshake! preschool block will premiere Saffron Cherry Productions' The World According to Grandpa. This new preschool show was picked up in October 2019—a very different time from the one we're living in now. But after four years on the project, managing director and producer Caroline Roberts-Cherry wasn't going to let a little thing like a pandemic stand in its way.
The 25 x 11-minute series was created by Chris Heath, who wrote several children's stories about a grandfather who would give fantastical answers to questions from his grandkids. Heath took these stories to schools across the UK, where his captive audiences would shout out their own questions for the fictional grandpa. It's from those questions that Heath built the show, says Roberts-Cherry.
When The World According to Grandpa was originally commissioned by Milkshake!, Saffron Cherry put together the rest of the financing. With a focus on diversity (all five characters and five heads of departments are from under-represented groups), it secured funding from BFI's Young Audience Content Fund, and then landed additional financing from the fund for its planned Welsh-language version.
The series was always planned as a hybrid, blending a human grandad and kids with animated stories. This worked in the project's favor when COVID-19 struck. The stationary nature of the main character telling stories from his couch meant the production could continue under strict pandemic guidelines, while animation was handled remotely.
The filming set still had to be retrofitted for social distancing, and a health and safety advisor was added to the crew. And while studios typically bustle with activity, "this was one of the quietest sets. If you didn't need to be there, you weren't there," says Roberts-Cherry. Anyone not actively involved in the day's filming watched the process remotely from their homes via a live studio feed, providing feedback virtually.
"Obviously you want to be there, but you have to adapt," says Roberts-Cherry.
To keep distance between the actors, a puppet that helps the grandfather tell his stories was used as a buffer between the characters.
"Normally, you would have staged that really differently," says Roberts-Cherry. But it worked out because blocking the puppet elsewhere would have meant more movement between characters than was necessary, simplifying the staging of the scenes.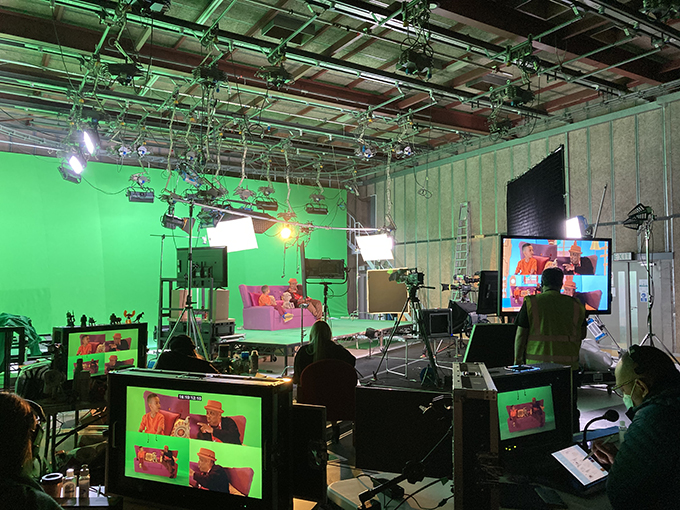 The first eight episodes were filmed in October in Manchester, which had strict pandemic measures in place. "We asked everyone not to go out the week before filming," says Roberts-Cherry. "We had no way of monitoring [compliance]. That's not something you can put in a contract." She credits her crew's dedication to the project for self-quarantining.
The production team will repeat this process ahead of the Welsh filming that's set to begin in January.