After expanding its live-action Christmas slate with new features like The Christmas Chronicles: Part Two, Jingle Jangle: A Christmas Journey and Christmas on the Square, Netflix is diversifying its holiday lineup with a format that's synonymous with the season—the stop-motion holiday special.
The streamer's latest festive flick, Alien Xmas, bows worldwide November 20 and is a co-production between LA-based stop-motion animation and special effects studio Chiodo Bros. (Killer Klowns from Outer Space), director Jon Favreau's Fairview Entertainment (The Lion King), Sonar Entertainment (The Mysterious Benedict Society) and Netflix.
Based on a children's book written by Stephen Chiodo and Jim Strain, the 40-minute intergalactic adventure tells the story of a little alien named X, who learns about the spirit of giving while protecting Earth—and Santa Claus—from an alien invasion.
Chiodo directed and executive produced the special alongside his brothers Edward and Charles, Jon Favreau, Strain, Sander Schwartz, Karen Gilchrist and Sonar CEO David Ellender.
Christmas with a twist
Stephen Chiodo says he and his brothers were inspired by classic stop-motion specials like Rudolph the Red-Nosed Reindeer and Santa Claus is Comin' to Town, but they always wanted to make a holiday special that would stand apart from rest.
"I decided to mash up sci-fi with a classic Christmas story—kind of like how we mixed horror, comedy and sci-fi in our 1988 live-action feature Killer Klowns from Outer Space," says Chiodo.
His company began pitching the special to buyers in the early 2000s. "We had a good response, but nobody wanted to pull the trigger because stop motion was expensive and out of the financial model of a lot of specials at that time," he says.
Strategy shift
Mindful to not waste their pitch assets, Chiodo wrote a book instead that was published in 2006. Despite the change in strategy, the dream of making Alien Xmas stayed alive with support from Jon Favreau.
Chiodo Bros. worked with the director on stop-motion North Pole scenes in Favreau's 2003 feature Elf. After Favreau saw the concept for Alien Xmas, he said he wanted to make it, Chiodo says. Yet the interest coincided with Favreau's roaring film and TV career (Iron Man, The Lion King and The Mandalorian), and the special lost momentum.
During production on the The Lion King in 2018, the Chiodo brothers reconnected with Favreau, who said the timing was right to take the project to a streaming platform.
Netflix notes
When they pitched the idea to Netflix, Chiodo says the streamer liked that the special had the heart of a classic Christmas story, but provided something different with its sci-fi elements.
"They wanted a holiday special that would resonate with an international audience and harken back to people's memories of what Christmas was like when they were young," says Chiodo.
While the story met most of Netflix's holiday parameters—the inclusion of Santa, reindeer, Mrs. Claus and elves—one area the SVOD improved upon was cast diversity.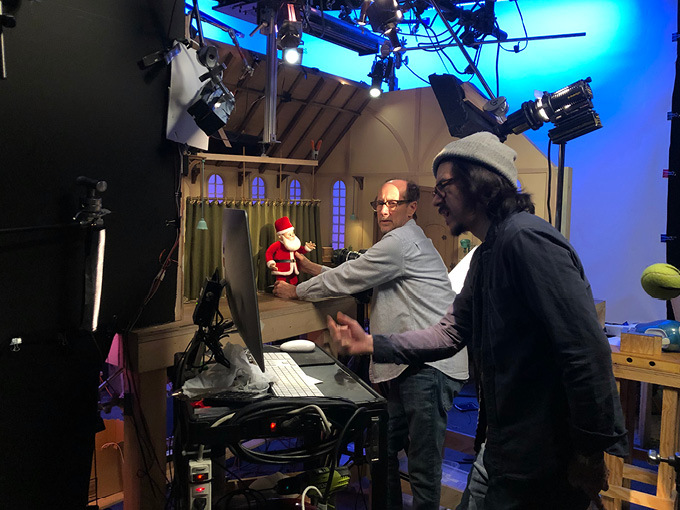 "It's kind of embarrassing and it's our ignorance, but we hadn't really considered the diversity of the cast," says Chiodo. On Netflix's advice, a consultant was hired, and the cast was broadened to include two Black characters, voiced by Kaliayh Rhambo and Michelle Deco.
Favreau also helped inform the creative direction of Alien Xmas, suggesting Santa should serve as a narrator. Stephen Chiodo says the decision helped tighten the alien backstory at the beginning of the film. Favreau also introduced Chiodo to The Mandalorian's virtual production techniques, like the use of LED projections for backgrounds and Unreal Engine for shot blocking.
Now that the special is delivered, Chiodo says he's in discussions with Favreau and Sonar to make a Halloween version, and additional alien-holiday mashups may be in the works. "There are a lot of holidays," says Chiodo. "We haven't approached Netflix yet, but I know Jon's on board."