When it comes to licensing, timing is everything. IP owners, toymakers and retailers have to strike a delicate balance when launching consumer products—they need to give kids enough time to become fans of a brand, without waiting too long and risking them moving on to something else.
BBC Studios is working to do just that, but its efforts became even more complicated when dozens of in-person events were cancelled due to the pandemic and related lockdowns.
Licensing Expo was supposed to celebrate its 40th anniversary this year in Las Vegas, but instead joined the long list of events that went virtual due to COVID-19. Brand Licensing Europe's fall in-person event followed suit.
This shift to virtual networking and digital deals meant the BBC team was forced to rethink its consumer products pitching strategy.
"The most challenging aspect [was] the tactile part," says Suzy Raia, VP of licensing and business development for BBC Studios. "In the past, we would travel with samples for buyer meetings. Now, we're shipping them directly to buyers' homes and they're looking through material books and touching swatches as they follow along with the presentation. To make that work, we have to be prepared on the front end, and that's really about timing."
The transition was anything but smooth, Raia says. In March, when global lockdowns began in earnest, the team scrambled to adjust.
"The initial obstacle was that everyone needed to get their tech buttoned up. In my household, we have three kids—we were all locked down and we all needed to be connected. We had our whole house re-cabled and increased our broadband."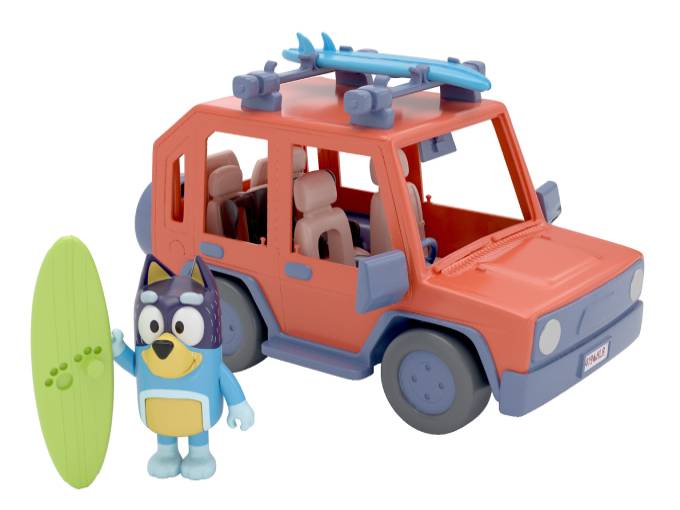 In recent months, many of Raia's meetings have revolved around Bluey. BBC Studios and ABC Kids co-commissioned the series from Australia's Ludo Studio in 2017. The animated preschool show was created by showrunner Joe Brumm and follows the daily adventures of a Blue Heeler puppy who lives with her parents and little sister.
Disney picked up Bluey's first two seasons for Disney Junior and Disney+ in 2019. Last year also saw Moose Toys sign on as master toy partner for the property globally (excluding Asia). Moose's recently launched Bluey Family Home playset (pictured at top) will be the hero item for the 2020 holiday season.
"This virtual world gives us the opportunity to connect with our buyers and clients at a pace we weren't able to before. We're not baking in time for travel or the fluffy, entertainment bits that typically come along with being in this business, like lunches. That means we can meet faster and be more efficient with our time," Raia explains. "But we've tightened up our presentations, because everyone is really suffering from Zoom fatigue."
BBC Studios is working to break up the monotony of online meetings with new content. Raia says the team is repurposing budget previously dedicated to travel to create videos that illustrate upcoming products. This content will demonstrate exactly how items look, move and feel. In addition to accurately representing what the toy is capable of, she explains this content can also be approached more creatively and used to express the tone of the brand.
"We would spend thousands of dollars traveling out to retail meetings, where we would get a buyer for maybe an hour—if we were lucky. Today it's really about building custom content that's a great representation of your product," she says. "And we can repurpose that content for e-commerce down the road. Much of what's being developed will work harder for manufacturers in the long run as the e-commerce space continues to grow."