Calling all empathetic androids—you're wanted in children's entertainment.
The "robot best friend" genre is becoming increasingly attractive for buyers and co-producers because of a higher demand for emotional intelligence-based content and advancements in the ways artificial intelligence can be used to entertain kids, particularly with voice assistants. According to recent NPR and Edison research, seven in 10 smart speaker owners who have children say they are thinking about buying another device just to entertain their kids, up from 47% the previous year. 
Among new screen projects looking to tap into that market growth, Apple TV+ is gearing up for the November 13 premiere of its exclusive DreamWorks Animation preschool series Doug Unplugs. And Spanish prodcos Mondo TV Iberoamérica and MB Producciones are preparing for production on 2019 Cartoon Forum selection Annie & Carola.
Though the two series target different age groups and are unique in tone, both have kid protagonists looking to develop a deeper emotional connection with their robot friends.
Based on author Dan Yaccarino's popular book series, CG-animated Doug Unplugs centers around a young robot who disconnects from his daily download of facts and heads out into the human world with his best friend Emma to experience all that life has to offer.
Over the course of the seven x 22-minute series, Emma helps Doug learn many things, including how to ride a bike and how to care for a pet. In other episodes, the learning flip-flops when Doug's grandparents (a.k.a. granbots) teach Doug and Emma about farming, and Emma's father shows the pair how to make errands fun. More eps are expected to launch next year under the creative leadership of executive producers Yaccarino, Jim Nolan (Esme & Roy) and Aliki Theofilopoulos (Phineas and Ferb, Hercules).
Tara Sorensen, Apple's head of creative development for children's content, says she was drawn to the ways Doug and Emma bond with each other and also with their parents and grandparents. Sorensen says the program also fits with Apple's long-time strategy of marrying technology with liberal arts and the humanities (which was championed by the media giant's late co-founder, Steve Jobs).
"When DreamWorks came to talk with us about Doug Unplugs I thought it perfectly aligned with Apple's bigger mission of the intersection of humanity and technology," she says, "and with the idea that kids and adults are so plugged in these days."
The way the series bookends its 11-minute episodes exemplifies this thinking. For example, each episode begins when Doug picks a concept he doesn't fully comprehend and plugs in to get the facts. "After doing this, Doug thinks he understands, but quickly realizes he doesn't, and sets out with Emma to more fully appreciate the concept through her emotionally intelligent lens," says Sorensen. To help Doug and the audience learn, the definition of each episode's concept is also explored in a music video that plays within the episode.
At the end of each story, Doug returns home, where he gets to teach his parents the things he has learned, like how to relax or what a hug is. "My hope is that preschoolers will mimic these sweet bonding moments at home, especially since everyone is sort of stuck there right now," says Sorensen.
Robot as teacher
As for Mondo TV Iberoamérica and MB Producciones, Annie & Carola (pictured below) is a 2D-animated kids comedy that tells the story of an introverted tween girl who has problems relating to her peers. In need of a best friend, she builds a robot clone (Annie); but after a freak accident, the android turns into her polar opposite.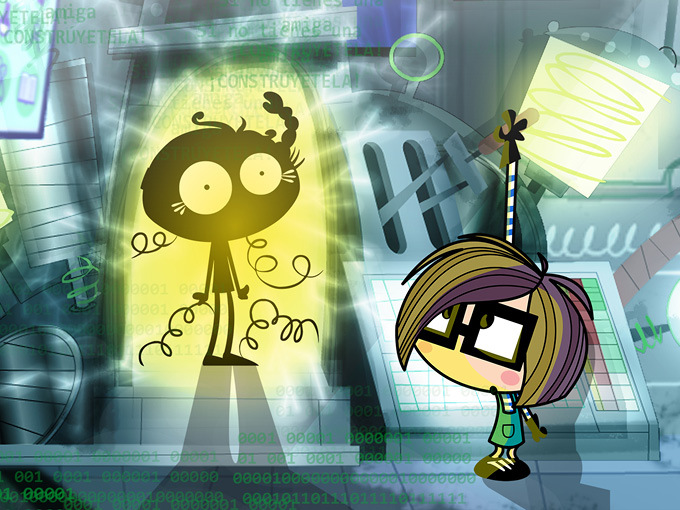 Created by MB Producciones' creative director Myriam Ballesteros (Lucky Fred, Lola and Virginia), the 52 x 11-minute series sees its cast deal with universal issues such as shyness, loneliness, frustration and friendship.
But unlike Doug Unplugs, where a robot mostly learns from a human, Carola (the human) learns from Annie (the robot) because she brings her face-to-face with all of the fears and phobias Carola has to overcome.
Ballesteros says having a strong emotional connection with a friend is crucial for today's kids. "Having a friend to help overcome your problems is the same thing our audience needs, especially in these difficult times," she says. "If you can also achieve this with a touch of crazy comedy and a bit of imagination, that's great, too."
The concept is attracting investors, with Spanish pubcaster RTVE recently coming on board as a co-producing partner. Discussions with several European public broadcasters are also underway. "We need 58% to complete the funding, and we're hoping to start production early next year," says Ballesteros.
The STEM effect
The ongoing growth of STEM learning for kids has helped drive the genre's popularity, says David Kleeman, SVP of global trends at kids research consultancy Dubit. "A robot is more 21st century than an alien, especially with the rise in coding and robotics in schools, and the rise in conversations about AI."
More robot-themed animated content is also in the works from other kids content makers. CBeebies is working with UK-based Ragdoll Productions on 2D-animated B.O.T. and the Beasties, about a loveable robot whose mission is to discover new worlds. And Disney+ Hotstar recently acquired Vir: The Robot Boy from Cosmos-Maya.