There are moments in the kids industry when the stars align and everything just clicks. The result is a show, or an aesthetic, that takes the world by storm. A number of Nordic series are currently at the center of one of these moments.
Scandinavian properties have long enjoyed global success, but animated shows from Denmark, Finland, Iceland, Norway and Sweden are now benefiting from a particular brand of wanderlust that has struck audiences around the world during lockdowns related to the pandemic.
Because Nordic brands are adept at communicating values like nature and balance in their content, both visually and through their storylines, they are being embraced by new audiences, says Ferly CEO Laura Nevanlinna.
"The nature element can never be downplayed. Being outdoors, being in touch with nature and communicating with nature is a common thread across [many cultures]," Nelvanlinna says. "And for those living in very big cities, the lack of access to nature means these calming moments are so needed."
This need has only grown in recent months, as kids and their parents have been stuck inside because of closures connected to COVID-19. Ferly is riding this wave with Momolu and Friends, a new nature-focused series that was commissioned and announced today.
Nature rules right now
In production and set for a 2022 delivery, the 78 x seven-minute series Momolu and Friends (pictured below) is about a panda helping his friends when they run into trouble on their island home. The 2D-animated preschool series will richly illustrate the animals' habitat, and focus on finding solutions through arts, crafts and design highlighting the beauty of that setting. 
Momolu is a co-production between Ferly, Canadian studio Yellow Animation and Belgium's Digital Graphics. The show was just commissioned by TVO Kids (Canada), Knowledge (Canada), YLE (Finland) and SRC (Société Radio Canada). 
This upcoming series will serve to expand the brand, building on the short-form series Momolu Minis, which includes early-learning videos, nursery rhymes and seasonal specials for young viewers. Ferly partnered with UK distributor CAKE's Popcorn Digital arm in 2018 to develop and launch the content on YouTube.
More eco-focused offerings 
Gutsy Animation's Moominvalley (pictured below) has seen significant international success, and in particular has found a dedicated audience in multiple Asian territories. Based on the classic Moomins brand created by Finnish author Tove Jansson, the series has its fair share of nature-focused moments.
In the past, the biggest fans of the Moominvalley brand in Japan were women in their 30s and 40s. In an effort to expand the IP's global fan base, however, the Finnish prodco appointed fellow Nordic studio Anima Vitae as the lead animation company for the first two seasons of its 3D-animated series Moominvalley in 2017 that premiered last year. 
The show's ethereal setting and sweet characters have connected with a younger demographic stuck at home and in search for something comforting, so Gutsy is taking advantage of the expanded viewership by focusing on licensing efforts.
"For the first time, the Japanese licensing program for Moomins is being extended into the kids and family market with toys," says Marika Makaroff, Gutsy's CEO and creative director. Initial efforts in this space from local licensing agent Tuttle-Mori Agency will include categories that play into the focus on the Japanese audience's fondness for all things kawaii (cute), including plush and figures.
The team will continue to build on this swell in demand, with plans to continue expanding across Asia. The first season of Moominvalley is now airing on JEI TV in Korea, and episodes are set to premiere on True Digital in Thailand later this year.
Broadcast deals for Moominvalley have also been inked with the likes of NHK (Japan), France Télévisions, ZDF (Germany), RAI (Italy), NPO ZAPP (Netherlands), RTS (Switzerland), Czech TV (Czech Republic), ERR (Estonia), MTVA (Hungary), RTP (Portugal), Once Nino (Mexico), Canal+ (Poland), Medialaan (Belgium), Kidzone (Baltics), Talit & Noga (Israel) and Jeem TV(UAE).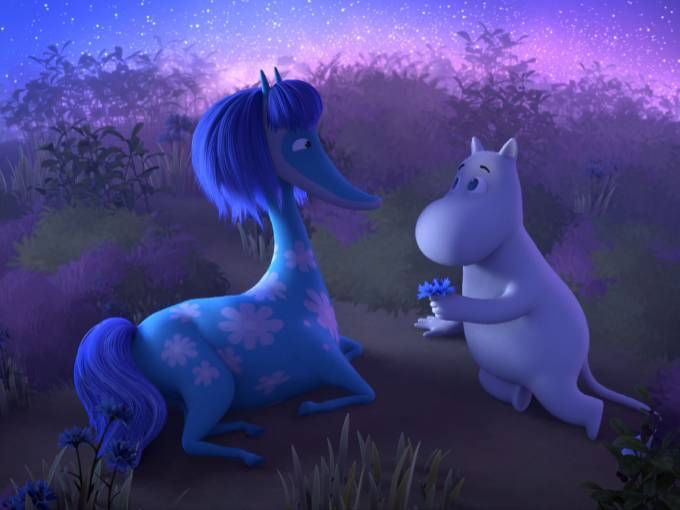 Get them laughing
Gigglebug Entertainment has also experienced global success with sweet, nature-focused shows. And now that this content from the region is becoming particularly beloved around the world, the Finnish prodco's CEO Anttu Harlin believes the Nordic region's signature sense of humor will lead to even stronger audience engagement.
Disney EMEA and YLE recently co-commissioned Gigglebug's series The Unstoppable Yellow Yeti (pictured at top). Co-produced by Zodiak Kids, the 50 x 11-minute comedy is set in a town above the Arctic Circle, where a surfer boy, his cousin and a yellow yeti become unlikely friends. Zodiak holds the international distribution rights to Yellow Yeti, which went into production this summer with an expected premiere in 2022.
Harlin expects the series will connect with kids sick of lockdowns because of its detailed depiction of Scandinavian nature (including the Northern Lights). He hopes it will stand out from the crowd, however, due to its left-of-center sensibility.
"Yellow Yeti is a very Nordic comedy in that it's a combination of laugh-out-loud funny and the odd kind of quirkiness we have here," he says. "We have really weird ways of doing things. Our idea of a good time is sitting in a sauna with other naked people and then rolling around in the cold snow. It's quite unusual."
In fact, Harlin says the team is pushing for a story on Yellow Yeti that would see the characters visit a sauna. The idea is to embrace the authentically Nordic feeling of the show, because that is ultimately what will connect with viewers no matter where they are in the world.