For most Native American children, there aren't a lot of shows that actually reflect them and their lives. There's Pocahontas, but that isn't the best example.
"She was my hero for a long time until I realized the truth of the story, and that her story was not told from a Native perspective. It was just horrible to learn all of that," says Karissa Valencia, creator, EP and story editor on Netflix's upcoming animated series Spirit Rangers.
The animated fantasy-adventure dives into the story of three Native American siblings who use their ability to transform into spirit animals to protect their national park home. It is part of Peabody- and Emmy-winning Chris Nee's first slate of animated preschool series developed under her overall deal with Netflix and production company Laughing Wild. Nee serves as executive producer alongside Valencia.
Valencia first began working with Nee as a writer and script coordinator on Disney Junior's Vampirina. Following that stint, Valencia did some freelance script writing for Thomas the Tank Engine and Disney Junior's Tiny Ones Transport Service, and was a staff writer for upcoming series Chicken Squad. 
But it was on Vampirina that Valencia really found her footing. As part of the Chumash tribe, she was often the only Native person in the room, she says, and Nee encouraged her and told her to keep going. When Nee went over to Netflix, she called Valencia and asked if she had anything to pitch.
Valencia had been developing an idea around Native children transforming into animals, stemming from a Chumash ceremony in which tribe members wear bear skins that have been passed down through generations.
"The Chumash do their bear ceremony every year when the bear wakes up from hibernation in the spring," she says, "They literally look like bears, and it's beautiful watching them. That's when I started thinking how cool would it be if this little kid found a bear skin and they could turn into a little bear."
When Nee and Valencia took the idea to Netflix, Valencia had one stipulation for the SVOD.
"It was important to me to get a full Native writing room. I wanted all of our perspectives—no matter how different they were—to fuel the DNA of the show," says Valencia. "Even I was nervous [to fill an entire] writing room. But as soon as I started searching, I found people within a week. There are so many writers out there ready to work."
The relative ease she had in filling the room with Native talent from across the US puts to bed the excuse she's heard that finding diverse talent is hard, leading to many attempts but few successes in filling rooms, she says.
"I'm really proud and happy to say they're from all corners of the country. This really is the American history class of my dreams," she says. "[In most writing rooms], people have never gone to a Pow wow or don't know what frybread is. In my room, everyone has that baseline knowledge, and it feels empowering for us to have a lot of shared experiences. It strengthens the writing."
But Valencia didn't stop at the writers room; she has also hired an entirely Indigenous voice cast, composers, artists and more. At each step of the process, there is at least one Native voice in the room, she says.
The diversity of differing Native American cultures also brings a unique angle to the series. The world of the show is set in fictional Chumash territory (Valencia's own tribe, where she grew up on and off the reservation), while the parents are from separate tribes (the mom is Chumash, while the father is a member of the Cowlitz tribe).
"Natives all look different—we all have different perspectives, and [we thought] it would be really cool to show this inter-tribal community," says Valencia. "We did a blended Native family because I think when people think of Natives, they think of one singular look—often Inuit or Pocahontas. But we actually look so different."
It was vital to Valencia that the characters were portrayed in a modern light. Feathers and leathers were largely removed from the character design, in favor of puffy vests and hiking boots—what you actually see most people in a national park wearing. The family also lives in a house (not a teepee or igloo), and uses technology, just like everyone in 2020 does.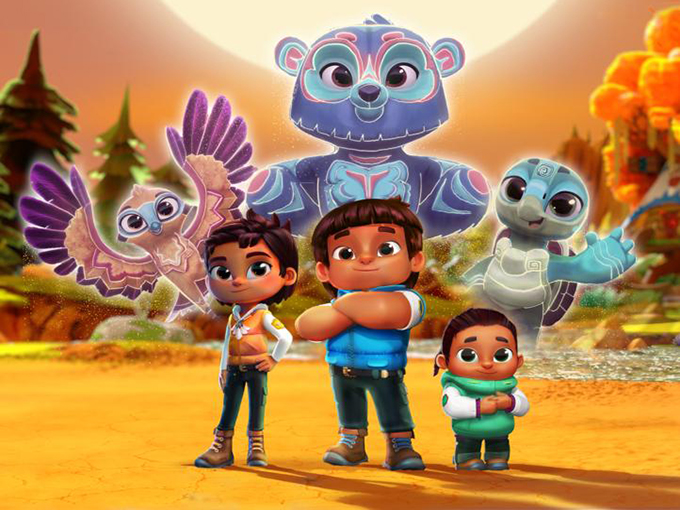 Now, with the show in the design phase (it was pitched in 2019, greenlit earlier this year) with a release in the next few years, Valencia is feeling mounting pressure to get the portrayal of Native kids right.
"It keeps me up at night, but also motivates me because I know that we sorely need it," says Valencia. "I just know even if we don't get it right, at least there's another Native show on TV, and the next Native show that comes after me will be even better. But we have to start somewhere."