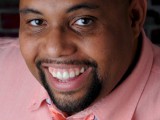 Creatives usually dream of making their series popular enough for a spin off. Anthony Farrell, meanwhile, is trying to figure out how to make a spinoff before his first episode even airs.
As EP and showrunner for The Parker Andersons and Amelia Parker, from Canadian prodcos marblemedia and Beachwood Canyon Productions, Farrell is tackling two interconnected, yet separate shows at once. Both following the life of one newly blended family. Each 10 x 30-minute show is a single-camera sitcom, and while they will work as standalone series and focus on independent storylines, they will also be connected by larger plotlines and feature the same characters and actors.
"The project appealed to me because it's like having the show and its spinoff at the same time," Farrell says.
The Parker Andersons follows the comedic adventures of a bi-racial, blended family after a British father of two marries an American mother of two. Amelia Parker, meanwhile, focuses on the family's quietest member—a tween girl trying to figure out her new life. Amelia became selectively mute after her mother's death, but is working through her hopes and fears through virtual conversations with her late mom.
"You get a full story watching just one of the shows, but if you watch both it's like you're getting bonus content," Farrell says. "If one of the characters isn't really seen in an episode of The Parker Andersons, for example, they might have a storyline in Amelia Parker that explains what they were up to."
Because the stories run concurrently, the shows are being shot at the same time. As a result, Farrell says the team was tasked with finding ways to differentiate the two series. To create a distinct visual language for each, he focused on more traditional shots for The Parker Andersons. Amelia Parker, meanwhile, is faster-paced with flashbacks and direct-to-camera confessionals. Farrell says the writing team also broke stories for The Parker Andersons and Amelia Parker simultaneously, and then found the connective tissue between the two plots.
The shows were commissioned by BYUtv in the US and are set to hit screens in 2021. A Canadian broadcaster will be announced soon, with an expected premiere there in late 2021.
Frank van Keeken is the series creator and executive producer. Executive producers for marblemedia include Mark Bishop, Matt Hornburg, Carrie Paupst Shaughnessy and Donna Luke. Yolanda Yott is executive producing for Beachwood Canyon, while Michael Dunn, Andra Johnson Duke, Melissa Puente and Jim Bell will EP for BYUtv.
Farrell is likely best known as the creator of CBBC series Secret Life of Boys. He previously contributed to content for Disney Channel and Cartoon Network, and wrote and produced on Nickelodeon's The Thundermans. He also boasts a long history in comedy—including sketches and stand-up. He cut his teeth as a sitcom writer for The Office, and says that many of the lessons he learned on that show informed the making of these new series in order to appeal to both parents and children.
Truly hitting the mark in terms of co-viewing is difficult, Farrell says, and realistically it's impossible to create one show that will appeal equally to kids and adults (let alone two shows). As a result, he is leveraging his experience to create moments in each episode that kids can connect to, as well as moments that appeal more to parents.
And as a Black man, Farrell says his experience as a person of color in North America has informed many of his choices for the shows—including the push for a diverse team, which he says was crucial to doing each series justice. Writers on board include Jay Vaidya, Amanda Joy, Murry Peeters, Ian Steaman and Sadiya Durrani.
Each one pulled from their own lived experiences to make the characters authentic, Farrell says. Amelia Parker's first episode, for example, features a dance recital and highlights Amelia's struggle to find stage makeup that's right for her skin tone—ultimately leading to a bonding moment with her step-mom. 
"I have a certain point of view. But I want to make sure all of the characters are taken care of. And to get the characters right, we had to make sure we had as many difference voices in the room as possible. Representation matters," Farrell says. "We've had a lot of conversations with broadcasters about issues in Black America. People are just not talking about these issues, but there are ways to tell these stories that will connect people."