Future Bros. - six to 11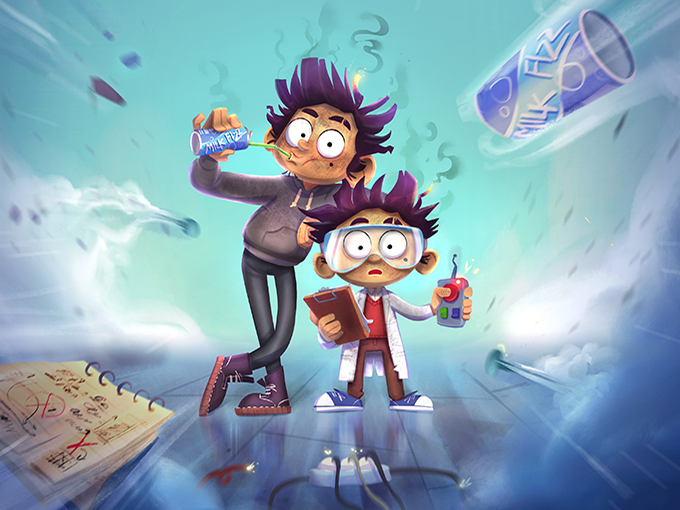 Producer: One Animation (Singapore)
Style: CG animation
Format: 52 x 11 minutes
Budget: US$5.3 million
Status: In development, with a pitch deck available.
Delivery: 18 months from greenlight
When a time-traveling teen ventures into the past, he meets his far more impressive seven-year-old self. Created by Chris Karwowski and Joe Wong, this buddy comedy tags along with seven-year-old genius Andy as he discovers he ages into a lazy, moody and sophomoric 13-year-old. Young Andy creates new inventions and takes his older self on exciting adventures in the hopes of be- coming the person he wants to be when he grows up. Focused on finding yourself (and not just literally), as well as the struggle of figuring out where your life should go, the series is executive produced by Richard Thomas and Michele Schofield.
Rodney Raccoon - four to eight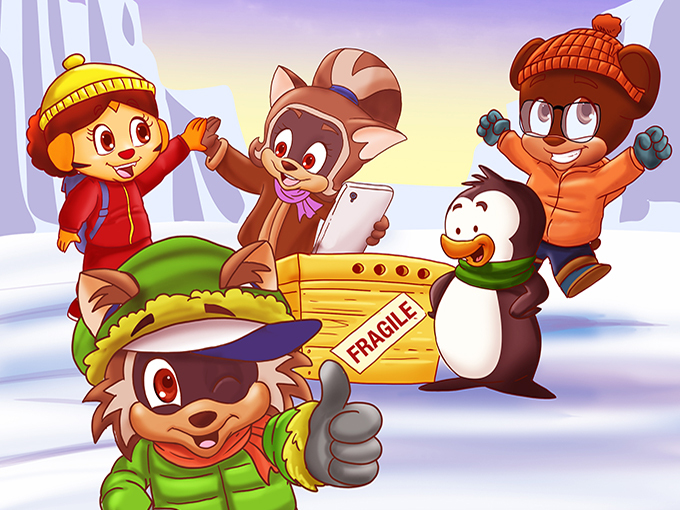 Producer: WayOut Kids (US)
Style: 2D animation
Format: 78 x seven minutes
Budget: US$5 million
Status: A pilot episode and a bible are complete. WayOut Kids is seeking broadcast, distribution and finance partners on the series.
Delivery: 2021
Tapping into the trend of going green, a group of young animals embark on missions to protect their city and learn more about nature in this new series from WayOut Kids president JD Davis. From helping a gecko rebuild his home, to rescuing a dolphin, each episode begins at a local museum where the young creatures get a new environ- mentally focused mission. Rodney Racoon got its start as a musical stage performance, and the animated series will be supported by an educational program that teaches families how they can become more eco-conscious.
Bobble the Little Witch - six to nine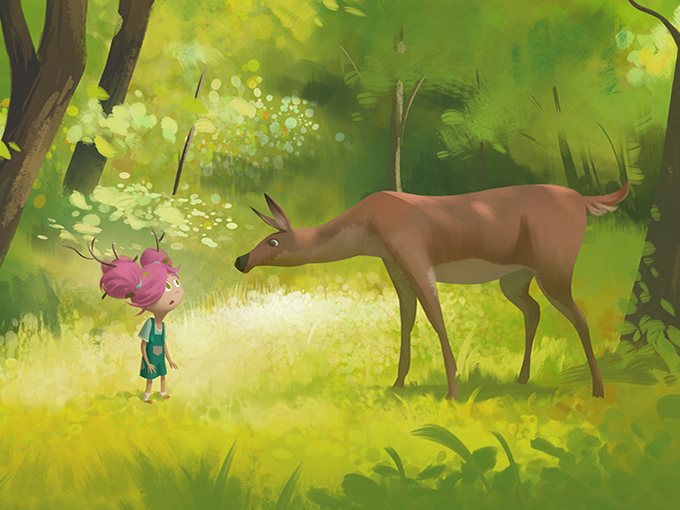 Producer: Gutsy Animations (Finland)
Style: 2D animation
Format: 26 x 11 minutes
Budget: US$5.3 million
Status: In development, with animation tests underway. Gutsy is looking for pre-sales and animation studio partners.
Delivery: 2023
In this ode to nature, a young girl learns to communicate with the world around her after her family moves from the bustling city to a house in the country. Bobble, with a little help from a great aunt, learns how to use magic to turn the rubbish around her into new and exciting things. This marks the first environmentally focused series from the Finnish studio, and it combines Nordic visuals and mythology to encourage kids to connect with the natural world around them.
Royals Next Door - seven to 12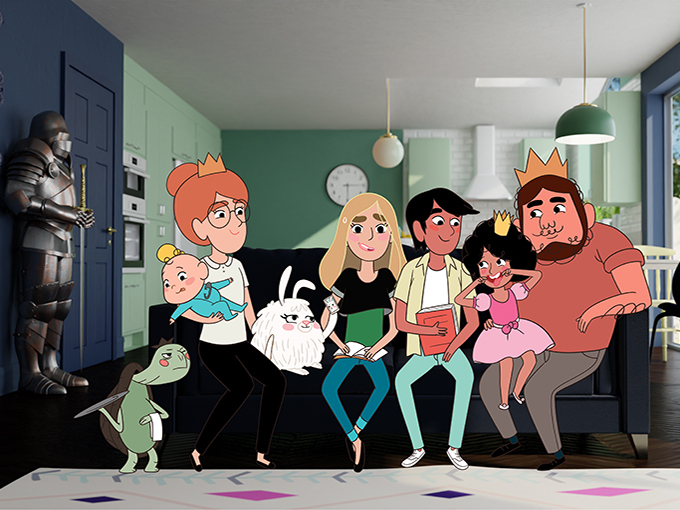 Producers: Pikkukala (Finland/Spain), Lunanime (Belgium) and Ink and Light Film (Ireland)
Style: 2D animation with photographic backgrounds
Format: 52 x 11 minutes
Budget: US$5 million
Status: Starting production, with a bible, scripts and animation tests completed. Looking for pre-sales.
Delivery: November 2021
Created by Veronica Lassenius (Fungi) and distributed by Dandelooo, this fantasy/comedy follows a royal family that ditches their majestic castle for a normal home to be closer to their subjects. The youngest princess starts a vlog to document her new life and all the amazing things she discovers. The show, which explores the challenge of adapting to change and retaining your identity, has already been picked up by a handful of European broadcasters, including YLE, RTVE, Ketnet and RTE.
Meet the Walkerz - six to 11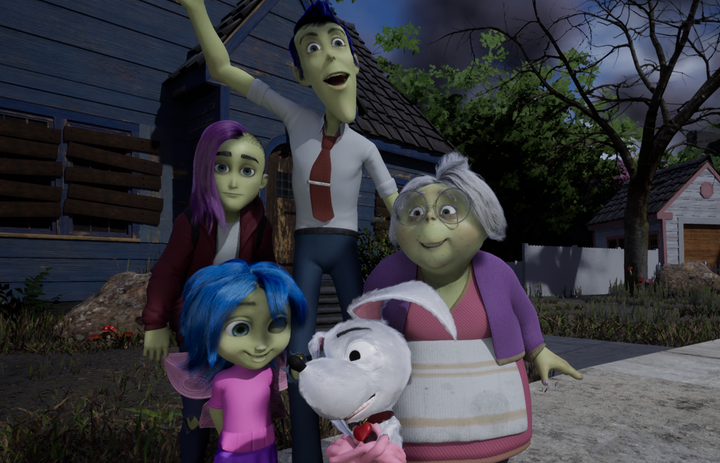 Producer: Shadow Valley Productions (US)
Style: 3D animation
Format: Four x 22 minutes, with an additional 16 x 11 minute
episodes planned.
Budget: US$15 million
Status: Shadow Valley has completed a three-minute teaser, a bible and several episode synopses. The prodco signed Firefly Brand Management as the North American licensing agent, and is looking for broadcast and distribution partners.
Delivery: Fall 2022
Meet the new neighbors—they're a totally typical family…a totally typical zombie family, that is. In this comedy series, the Walkerz get a chance to become the first (vegan) zombies to live in human society after winning a game show. But the undead have to go up against their zombie-hunting neighbor, who sees danger in those without a pulse. This family-friendly show is based on a series of comics by Jonathan Sanborn, with Shadow Valley execs Jeremy Christensen and Saber Christensen leading production.
Cub Squad - four to six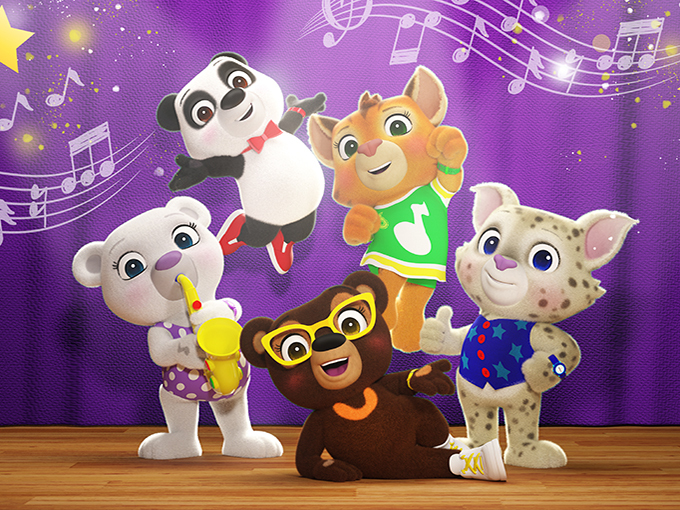 Producer: CAKE Entertainment (UK)
Style: CG animation
Format: TBD x 11-minutes
Budget: US$7.8 million
Status: A bible, an animation test script and the first draft of a song demo are all completed. CAKE is seeking broadcast partners.
Delivery: Fall/Winter 2022
Sometimes you want to go where every cub knows your name. For a group of bears and cats, that means gathering at the Paws & Claws after-school club to sing, dance and paint. The furry friends support each other and work to put on musical shows, despite the many comedic problems that ensue, such as forgotten lines and crumbling sets. The series showcases the importance of friendship, believing in yourself and how, through teamwork, the curtain can rise and the show can go on.