Moose Toys is ready to conquer. "We're known around the world as the king of collectibles," says Ronnie Frankowski, CMO at the Australian toyco. Its Shopkins brand bowed in 2014, passed the US$1-billion mark in 2016, and has since expanded into multiple categories and licensing partnerships. Now, the toymaker is setting its sights on the youth electronics category.
This isn't the first time Moose has made moves in the world of electronic companions—the company launched its Little Live Pets youth electronics range in 2014. But Frankowski says the toymaker is ready to make the category a priority.
Squeakee (pictured, at top), an interactive pet that's part dog and part balloon, launched on October 1. Targeting kids five and up, Squeakee features more than 60 sounds and movements, as well as multiple touch sensors. The toy does everything a regular dog would do—like play dead, for example—but with a fun, balloon-themed twist.
"Squeakee comes with a little pushpin, so you can pop him—he'll make a deflating sound, and that's how he plays dead," Frankowski says. "Then we have a feeding bottle that looks like an air pump, and you can feed Squeakee and puff him back up. It's a magical moment that's only possible with a balloon animal."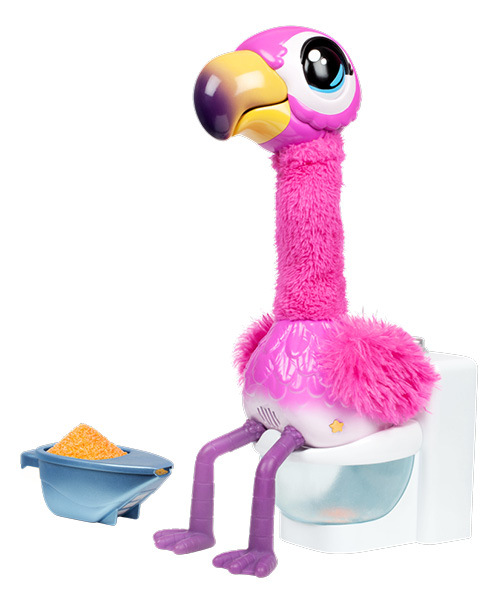 Gotta Go Flamingo (pictured, above), meanwhile, is the newest addition to the Little Live Pets family. Moose consistently updates the range with new puppies, kittens, birds and even fish, but Gotta Go Flamingo is packed with personality and represents a more whimsical direction for the brand. Kids ages four and up feed the flamingo his special food and then watch him wiggle as he eats. He'll tell them when he has to go, and then it's up to kids to get their feathered friend to his toilet in time to catch his squishy, neon poop. Gotta Go Flamingo also hit shelves on October 1.
"Focusing on youth electronics came from a strategic decision to grow in that category, but it was also opportunistic in that we happened to have two breakout ideas in that line this year," Frankowski says. "This category really allows us to try something new." More than just an increased focus on youth electronics, Moose Toys is using these launches to expand into new play experiences. Electronic companions are all about nurturing and interactivity, Frankowski says. And while Moose's upcoming efforts absolutely incorporate those play patterns, Squeakee also focuses on learning and training, while Gotta Go Flamingo is about entertainment and humor. Both items are gender-neutral and aimed at younger kids, but future efforts in the category could target an older demo or have a stronger gender skew.
"The general perception is, because of our long success in collectibles, we have a lot of equity with parents," he says. "But it's a very competitive industry, and it's important for us to continue to grow the brand. This year, companionship and comfort are especially important, and the youth electronics category is a great way to deliver that."
Moving forward, Moose plans to take key learnings from its collectibles success and apply them to youth electronics.
The biggest lesson Moose took from Shopkins is the commitment to do something differently, says Frankowski. When Shopkins launched, collectibles were generally seen as boy-skewing and for a younger demo. The toyco decided to market to older girls with a shopping play pattern (also generally associated with younger kids), and the rest is history.
"The most important word in this industry is new, and new often means different," Frankowski says. "But different can be scary."