Never has back-to-school generated so much news. The commencement of the 2020/2021 academic year is creating newsworthy conflict between school boards and parents, teachers and administrators, unions and taxpayers, politicians and tweeters. Emotions surrounding education are running deep, and everyone seems to have a solution…or at least an opinion.
The primary source of conflict is between physical health and mental health. Should kids return to their peers and classrooms and risk infection? Should they adopt a hybrid at-home and in-person solution that means fewer children and reduced hours in shared spaces? Or should they learn remotely with lower infection risk but greater potential for social isolation and unmet supplementary needs? The debates rage on as families and communities consider how each scenario (and its numerous iterations) can and will play out on a practical level. It's a lose-lose saga that leaves out those who matter most…the kids.
If you ask most six- to 12-year-olds, they'll tell you a few truths. They miss their friends, their favorite "subjects" are lunch and recess, and they don't want their parents to be their teachers. Most want to return to the fun parts of school. Their minds are focused much less on the pandemic and much more on getting out of the house and tackling one another on the playground or collaborating on a cool science experiment.
Overall, kids are hungry for normal. The extended break has taken its toll. And unfortunately—but perhaps not surprisingly—kids simply are not doing well on an emotional front. New data from Smarty Pants confirms that young people feel more "lost," less confident and more anxious than ever.
Worrying signs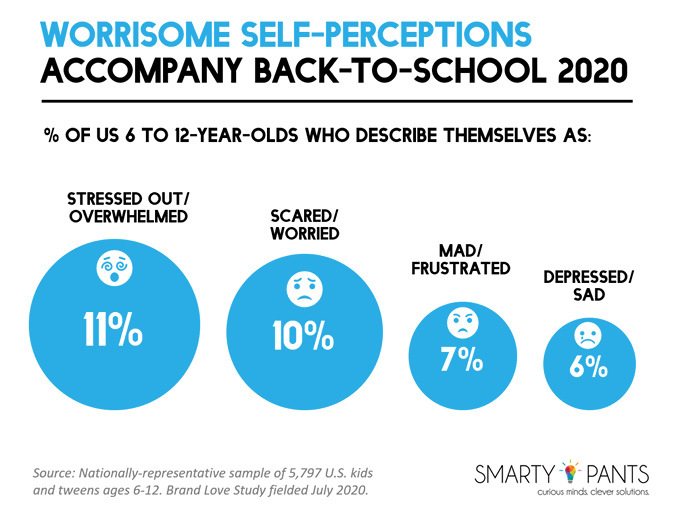 Our July findings reveal several emotional insights about kids in 2020. The first is that they do not feel as good about themselves as they have in the past. Each of the leading attributes that kids have historically used to describe themselves—smart, funny/silly, kind and creative— have declined significantly. For example, only 62% of kids ages six to 12 are returning to school this year feeling "smart," down from 69% last year. Likewise, just 58% have described themselves as "funny/silly," down from 70% from 2019. These losses are sad no matter how you slice the data, but among girls, the declines are even more acute. Girls posted a 14% drop in "funny/silly" (versus an 11% drop among boys) and a 9% drop in "creative' (versus a 6% decline among boys).
In addition to academic insecurities, fewer kids are confident in their social skills after six months of life without playdates, parties and regular peer interactions. In 2020, they are less likely to describe themselves as cool, social, talkative, confident or popular. Just 37% of kids will enter school doors (or their laptop screens) as "talkative/outgoing" kids, compared to nearly 50% who said the same one year ago.
A third truth emerges when we look at the way all self-descriptors perform in 2020—nearly all self-descriptors are down this year, a sign that the pandemic has suppressed kids' understanding of who they are. In the absence of peers, teams, coaches, teachers, and others that help them calibrate and self-define, they are less likely to describe themselves as…well, anything. This makes sense from a kid lens. After all, are you really "sporty" or "outdoorsy" if you don't play on any teams or do any structured outdoor activities? Are you really "smart" if there are no tests, grades or nods of affirmation from teachers? Can you be creative if there's no art class or after-school crafts?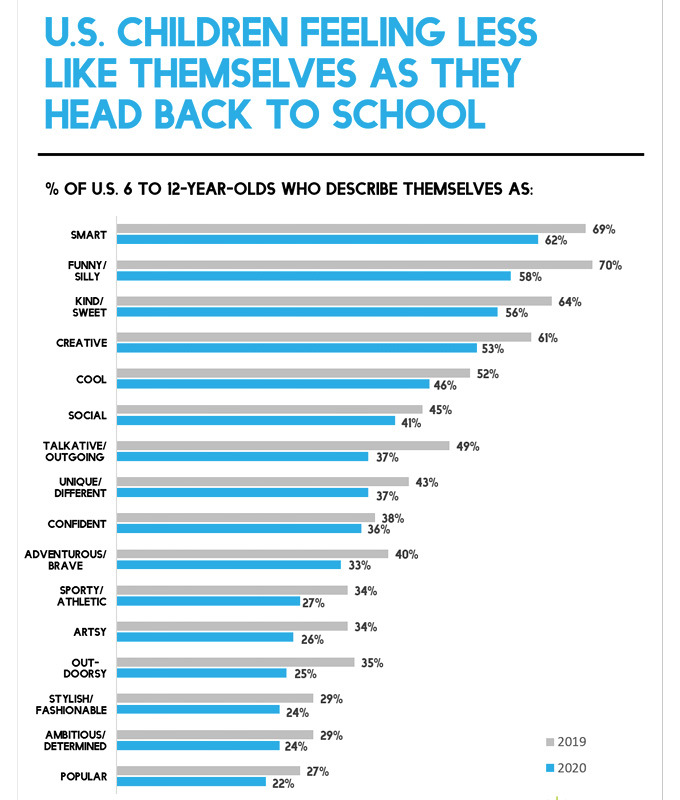 The fourth—and perhaps most worrisome—emotional truth among kids and tweens today is that a growing number are anxious, depressed and mad. They don't just describe their feelings as sometimes stressed, scared, mad and sad; they choose these troublesome words to describe who they are. One in nine identifies as an "overwhelmed/stressed" kid, and one in 10 says she or he is "scared/worried." Roughly one out of every 15 kids now uses either "depressed/sad" or "mad/frustrated" to describe themselves.
A bright spot 
It's not all bad news. Black kids appear to be the most emotionally ready to return to school. Their self-perceptions are the healthiest of any racial/ethnic group in 2020. On an academic front, they are most likely to describe themselves as smart, confident and determined to have success. Socially, they are most likely to self-define as cool, outgoing, popular and stylish. And they are also most likely to say they are an "activist," while being the least likely to report being stressed/overwhelmed, scared/worried, depressed/sad or mad/frustrated. These findings are consistent with qualitative work with Black families we have conducted in recent months that suggests Black parents consistently empower their children with positive and resilient messages and strategies.
So, are kids ready for back-to-school? If we listen to kids, yes. And if we look at data on how kids are feeling about themselves and their place in the world, the answer again is yes. Much like adults, the pandemic and its resulting loss of academic/social activities and the absence of the structures that help kids navigate the world has wreaked emotional havoc on a life stage that is defined by curiosity, play, laughter, adventure and living in the moment.
Wynne Tyree is the founder and president of Smarty Pants, a market research and strategic consulting firm known for its youth and lifestage expertise. Based in the US, the company leads custom research initiatives across 60 countries. It also conducts syndicated and trend research, including the Brand Love study of US youth ages six  to 17 and their parents. Fielded in July 2020, the 12th wave surveyed 9,572 US families.