By: Gyimah Gariba
In life, character-building exercises are generally tolerated as unpleasant or boring activities that will make us better people in the long run. When it comes to literally building characters, though, the process is delightful. And while dreaming up the kid detectives, talking animals and superheroes that populate children's entertainment is exciting, it can also be done with a focus on strategy. So follow along as Guru's Gyimah Gariba walks us through the development process of creating a character.
Who is your audience?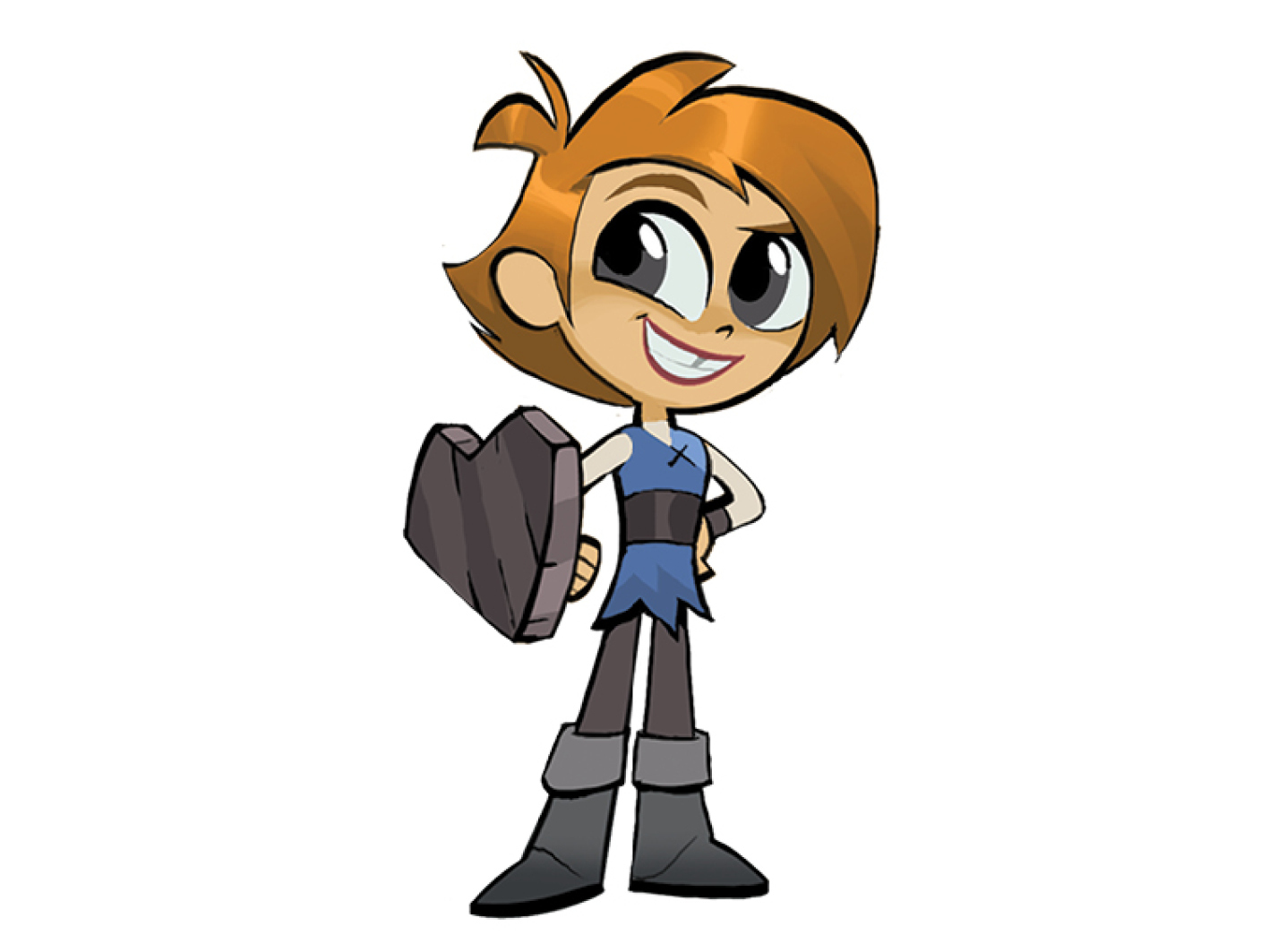 The more specific you are in establishing your target audience, the more information you'll have to build your character. Here, the prompt was to design a character for kids ages six to 10 in a fantasy setting. In addition to knowing your audience, it's also crucial to have a detailed character description in order to create a design based on their personality, lifestyle and habits.
This character is a warrior with a huge heart—a wood shield and simple tunic communicate their willingness to jump into action, while a round head and large eyes hint at vulnerability and guarantee the character can be expressive from a distance.
What is your budget?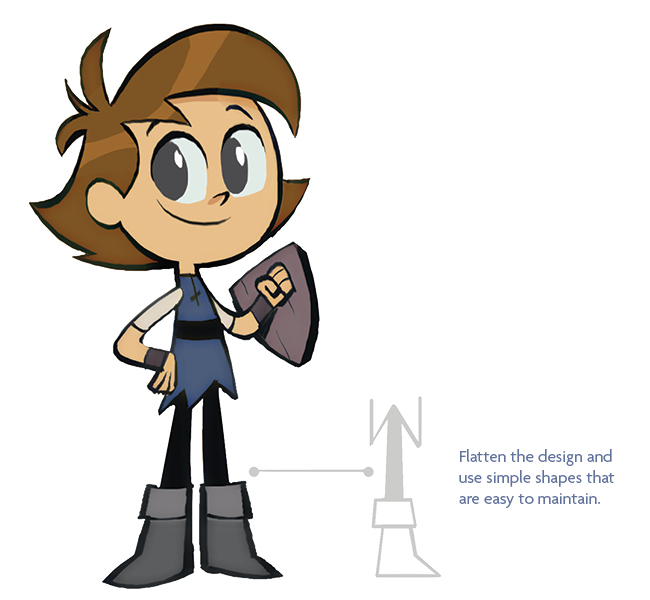 Your show's budget will likely determine everything from how many main characters you create to how many settings you feature. But rather than keeping track of how much money each detail might cost, focus instead on creating a design that will look good without work from anyone else in the production pipeline. When designing with a lower budget in mind, the responsibility should simply be to create a silhouette that can't be broken.
Is age just a number?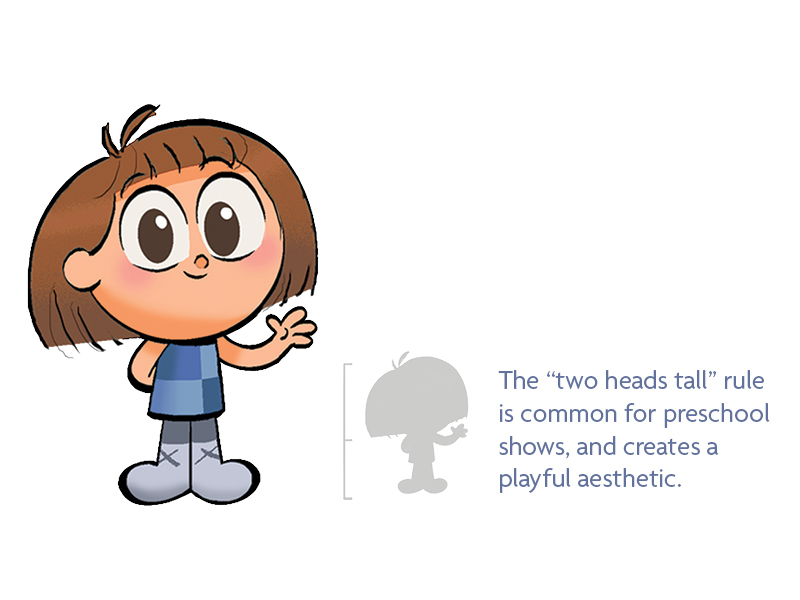 Design elements like scale and color can immediately broadcast a character's target age demographic. By downsizing a character and enlarging the eyes, for example, you can appeal to broadcasters targeting preschoolers. And while toddlers have trouble registering and connecting with complex designs, shows targeting preteens can include characters with more nuanced details.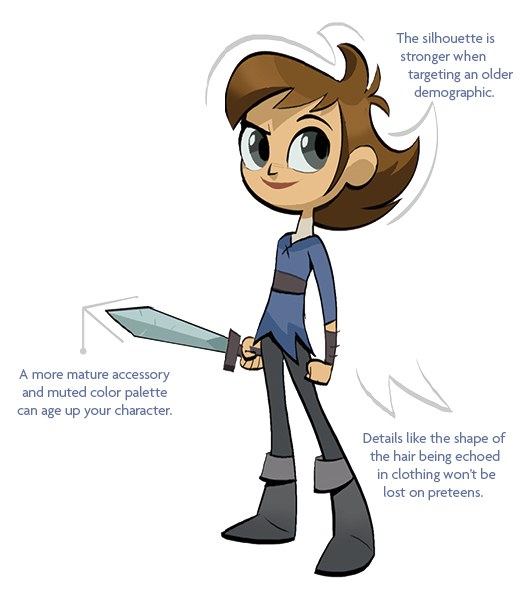 Why are you creating this character?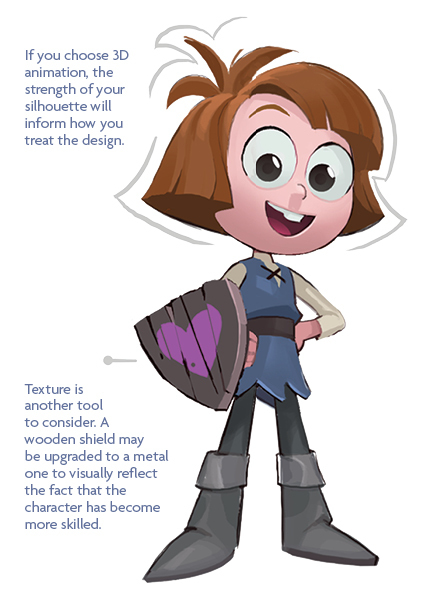 Your character should immediately clue in kids—and their parents—to the type of show you're making. But that doesn't mean your design has to be a physical representation of all of the elements of the show. Distinguish what the job of the character is, and what the job of the character's environment is. This character's job is to propel the story through action, and as they become more skilled that will be reflected visually.
Information overload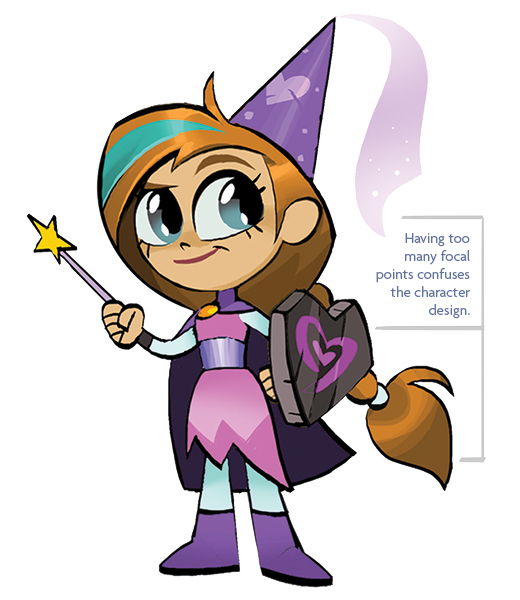 Research is an incredibly helpful tool, but if you employ it too early—or lean on it too much—it can crush creativity. If you drew a magician or knight from memory, what aspects would you exaggerate and what elements would you include? Maybe a hat, or a wand, or a cape? All three?
The point is to create your character, and then use research to focus that design. (For example, researching medieval clothing can help you narrow down which fabrics make sense for a knight.) Characters really do come to life, and they will evolve from the board to animation to compositing. It's your job to make sure the design can maintain its integrity through each step.