Little kids have a lot of big firsts. There's the first day of school, the first night away from home, and the first trip to the dentist. Few could have predicted, however, that a big milestone for lots of children in 2020 would be their first pandemic.
When COVID-19 began to spread internationally in January and February—and even when the World Health Organization officially declared a global pandemic in March—guidance around the personal use of masks was conflicting. Early on, consumers were warned to avoid purchasing face coverings in an effort to alleviate the shortages faced by healthcare professionals. As quarantine wore on, however, recommendations changed to encourage masks in public. The Centers for Disease Control and Prevention now recommend face coverings for people ages two and up. Requirements for masks include covering the nose and mouth, fitting securely under the chin and against the sides of the face, and featuring multiple layers of a tightly-knit fabric that can be washed in hot water.
And as hard as it is to convince some adults of the importance of face coverings, it can be even harder to get children to wear masks. But the answer, for those in the kids industry at least, was obvious—branded masks that feature kids' favorite characters.
"We started to get a lot of requests from partners and retailers about masks, and realized we needed to act quicker than we normally do because of the fast-moving nature of the situation," says Jose Castro, SVP of soft lines, global fashion collaborations and specialty retail for ViacomCBS Consumer Products. "As part of a big company, things tend to take time. But this became top of the pile for our legal team to get things up and running."
ViacomCBS announced in late May that it had entered into agreements to create face masks featuring characters from brands like Blue's Clues & You!, PAW Patrol and SpongeBob SquarePants. All of ViacomCBS's proceeds from the initiative will be donated to the non-profit organization Save the Children and its COVID-19 Global Response.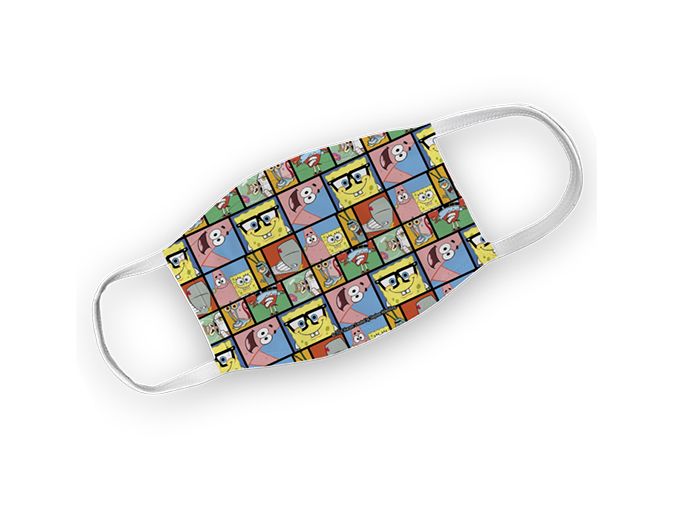 In an effort to keep up its fast pace, the consumer products team at ViacomCBS inked agreements with multiple licensing partners. It was important to work with several licensees to reach different tiers of retail (such as big box, specialty and e-commerce). The team focused on e-commerce first in order to get up and running quickly, though Castro says the company's retail strategy will expand as restrictions roll back and more brick-and-mortar stores re-open.
"We also chose multiple partners because the volume of masks we needed very quickly felt like it would be too much onus for one partner," Castro says.
Something that is consistent across all of these partnerships, however, is that the company is approaching face coverings almost like an extension of its existing costume efforts. The idea was to make the masks feel fun and even empowering for kids in an effort to counteract any anxiety they may have about the pandemic. This is significant, he says, because while wearing a mask is about safety, it's also an opportunity to help kids cope with the very scary situation they're in.
"There's not really a model or a formula around [making masks]. It's one of those anom- alies, and every day we check in to see where we're at. With everything in the world changing on a daily basis, we just have to keep monitoring it. The longevity of the category remains to be seen—this could be something that lasts forever, or it could be a moment in time."
ViacomCBS wasn't the only company that had to speed up its normal processes to take on the emerging category of personal protective equipment (PPE) for kids.
The House of Mouse introduced a range of non-medical face masks featuring Disney, Pixar, Marvel and Star Wars characters at the end of April. The first run sold out almost immediately, leading Disney to announce a second batch.
The conglom donated a million masks to children and families in underserved communities across the US, and is also donating US$1 million to the aid organization MedShare using profits from mask sales.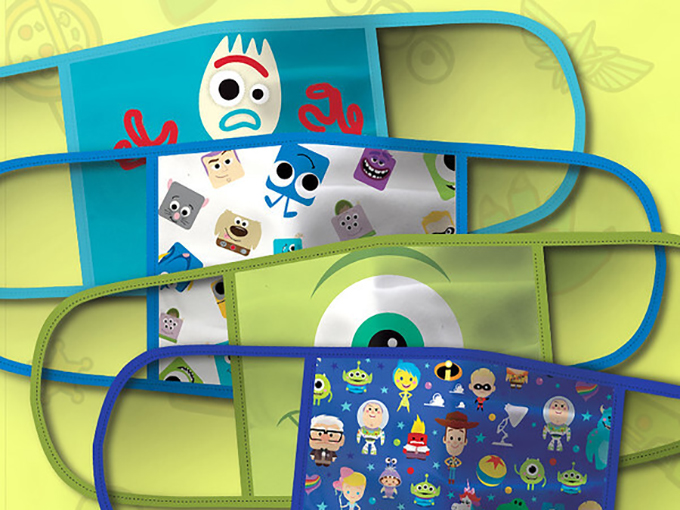 Before the pandemic, Trevco made t-shirts and accessories for partner brands including Transformers, Jurassic Park, My Little Pony and Harry Potter. Sales plummeted in the weeks following quarantine, so the Michigan-based licensing company launched MaskClub. Customers pay US$9.99 monthly and receive a new mask each month.
Masks are available for adults and children, and can also be purchased individually. For each face covering purchased, a medical-grade mask is donated to the First Responders Children's Foundation for distribution to firefighters, paramedics, emergency medical technicians and medical personnel treating COVID-19 patients.
To get the subscription service off the ground, the Trevco team had to figure out how to manufacture masks at scale, create an e-commerce site, establish a donation supply chain and contact brand partners. All of this was accomplished in less than a week.
Convincing licensing partners to get on board with the project may have been the easiest part, according to Trevco CEO Trevor George.
"We started with brands we already worked with for t-shirts and accessories," he says. "But, ultimately, about half the brands we're working with on the masks are new. A lot of partners came to us [specifically to ink deals for face cov- erings], and we've signed dozens of agreements to get their characters on our masks."
New partners include Genius Brands (Llama Llama) and Nickelodeon (JoJo Siwa and PAW Patrol), while existing partners that made the move to masks include Sesame Workshop and Warner Bros. (Superman and Wonder Woman). At press time, PAW Patrol masks were the most popular, followed by JoJo Siwa, Peanuts, Batman and Wonder Woman.
And while convincing partners to sign on was simple enough, actually making those branded masks proved to be significantly more complicated. First, George had to choose between sourcing the masks or manufacturing them. Sourcing would require long lead times unless the company committed to air freight, which, at the time, was in shambles. Sourcing the products also involved significantly more risk up front, as Trevco would have had to sit on the SKUs and hope they sold. Instead, George decided to manufacture the masks one at a time, using a print-on-demand model.
The company used materials it already had on hand for its apparel and accessories business to make the masks, and sourced elastic to create the loops that fit around kids' ears. Elastic is currently difficult to find, George says, but it was crucial for the mask design Trevco ultimately decided on.
"In the US, there's a standard for an adult's large, medium or small t-shirt, but there are a million ways to make a mask. There's no real standard for that in the US," George says. "What we learned is that it doesn't matter if you make a mask six inches wide or eight inches wide, there will be someone in the world who can't fit into it. The way you address that is with the proper elastic. The elastic adjusts around someone's ears and makes it universal."
With 50 people working in two shifts to sew the face coverings, George says the team has the capacity to make as many as 10,000 masks a day. This investment in the new line made sense considering the business is growing, and George doesn't anticipate much in the way of a sales decline, at least in the short term.
"We've seen an increase in orders because people are now looking for their second, third or fourth mask," George says. "People are thinking differently about health and safety, and I definitely think this will continue into the long term—certainly, over the next 18 months."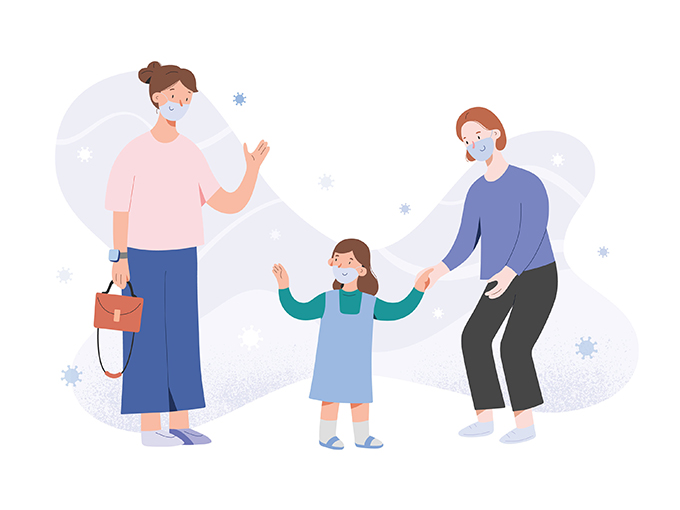 California's Genius Brands International definitely believes kid-focused face coverings and other PPE are officially an emerging CP category. The company is pushing forward full steam ahead after partnering with Trevco to launch masks inspired by its preschool brand Llama Llama in late April.
"The partnership with Trevco addresses a need that's out there, and it's a need that isn't going away any time soon," says Lloyd Mintz, Genius Brand's SVP of global consumer products. "This is our new normal for the foreseeable future."
This is important, Mintz says, because in addition to making masks for children, the company also wants to corner the market on kid-friendly masks for adults who will be in close contact with children, such as teachers and daycare workers. It will be hard for the younger set to recognize the grown-ups in their life when they're face is covered up, and the Genius team hopes that seeing their favorite cartoon characters on masks will make the situation less scary.
Genius plans to donate part of the proceeds of its mask sales to Save The Children. The team chose the organization in part because actress Jennifer Garner, who voices Mama Llama, is a longtime supporter of the charity. And while Genius is currently focusing on e-commerce in its partnership with Trevco, Mintz says conversations with retailers are ongoing. "In the future, the bulk of purchases will still occur in stores," he says. "We need to work with partners who have proven capabilities—not in the category, obviously, since there weren't a lot of companies in masks prior to the epidemic— and distribution in place."
Taking time to find the right retail partners is crucial because Mintz believes that, no matter how many restrictions are lifted, there will be a portion of the population that will continue to wear masks while in public. Additionally, there will be continued opportunities globally as many customers around the world regularly wore masks before the COVID-19 pandemic.
"If you're selling hats and mittens, not everyone wears them, but enough people do that it's a business worth pursuing," Mintz says. "Masks is a brand-new, incremental business. I think it's certainly significant in the near term, and who knows how big it will be long-term."
And speaking of kids and mittens—anyone with children can tell you that it's a matter of time before one of those mittens goes missing. Mintz argues that because non-medical masks aren't prohibitively expensive (usually less than US$20), and because children are prone to losing anything that isn't nailed down, the category will be highly replenishable.
While Mintz is optimistic about the viability of the category, there are concerns. He believes a saturation point will soon be reached because so many companies are looking to enter the market. Additionally, knock-offs are already starting to crop up online, and Mintz says staying on top of those counterfeits will be a full-time job of whack-a-mole. But Mintz believes the opportunities outweigh the category's obstacles and uncertain ties. And with schools potentially reopening in the fall, the kid-focused PPE category could continue to grow.
"There's just an overall awareness now of potential threats to our health, and people will be taking more precautions," he says. "Hand disinfectants, wipes and portable soaps will be something we'll see more of at retail, for sure. This is going to be an important category moving forward."