Usually when the call comes from Disney Channel looking for a producer on a new original movie, Resonate Entertainment partner Susan Cartsonis is the one who takes the project. But Cartsonis, who has worked on the adaptation of Freaky Friday, Descendants 3 and Invisible Sister, was unavailable for upcoming original movie Upside-Down Magic. So her producing partner Suzanne Farwell stepped in instead.
Farwell had worked on Disney films before—but it's been more than two decades since she served as Nancy Meyer's assistant on the 1998 remake of The Parent Trap. To date, her career has largely been focused on movies for adults, but Farwell was ready to hop in and try something new.
Upside Down Magic, premiering July 31, is adapted from the New York Times bestselling book series of the same name written by Sarah Mylnowski, Lauren Myracle and Emily Jenkins. There are seven books out, with an eighth in the works. They were first optioned by Disney in 2015 and Farwell joined the project in February 2019.
The Disney Channel Original Movie (DCOM) will use the setting and characters from the books to tell a new story about Nory Boxwood Horace (Izabela Rose) as she enters the Sage Academy of Magic Studies. While there, Nory discovers her magic is wonky, which lands her in the class for Upside-Down Magic.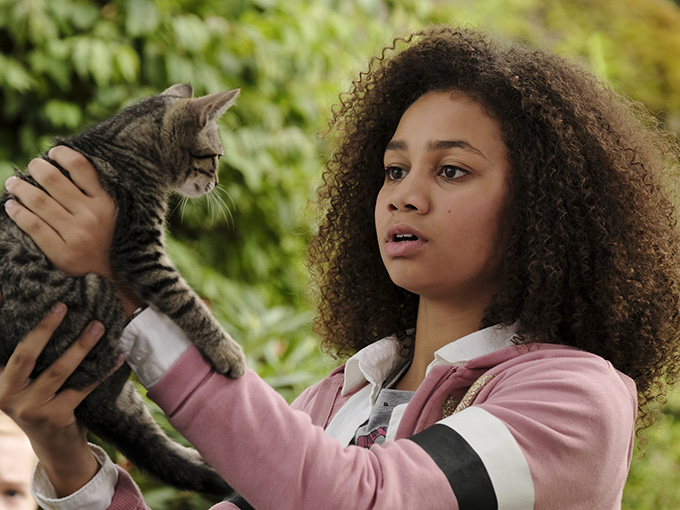 Much of what Farwell knows about producing movies comes from her time spent working with Meyers, first as a writer/director's assistant, and then eventually as president of Meyers' Waverly Films production banner at Sony Pictures Entertainment. At Waverly, Farwell produced Something's Gotta Give, The Holiday and It's Complicated. 
Farwell used some Meyers-inspired learning for her work on Upside Down Magic. Along with director Joe Nussbaum, Farwell was heavily involved on the creative side of the process, and she relished working on the casting and visual elements the most. She collaborated with costume designer Barbara Sommerville to create the magical school uniforms, and also had a hand in design and set decoration.
Though Meyers was known for her beautiful kitchens, Farwell spent a lot of time working with the production design team to make the magical world feel a little bit different, while still inviting to kids.
"I learned a lot from Nancy in terms of paying attention to the details, and the cumulative effect of  how those details add to warm, rich and beautiful environments that people want to live in for two hours. I definitely took a page from that playbook and applied it here," says Farwell.
It was in 2017 that Farwell paired up with her future producing partner Cartsonis on indie film Carrie Pilby, a "scrappy film on a low budget," and received a bit of a shock going from Meyers-level budgets and beautiful interiors to the constraints of an indie film, though it was a lesson that  taught Farwell the lesson that "creative has a cost." 
Alongside Cartsonis and fellow Carrie Pilby producer Brent Emery, Farwell launched Resonate Entertainment, which focuses on films for the female audience.
"It's a very underserved, hungry and passionate movie audience," says Farwell. "And it's very frustrating for me—as an audience member and as a filmmaker—that only 16% of movies are made for women and the female audience when women are responsible for 50% of the ticket-buying in a household."
The studio's first production, Feel the Beat, was released on Netflix in June. Upside-Down Magic will be its second project.
There's a lot more in the works, though many projects were put on hold due to the pandemic. Farwell and her partners are ready to start shooting one unannounced live-action project as soon as filming can pick back up in a more meaningful way.
And even though this was her first DCOM, it likely won't be her last. Farwell enjoyed the experience so much that she can't wait to go back and work on more kid-focused projects in the future.
"I'll always make something that I love and feel passionate about. That's my barometer," says Farwell. "So much work goes into making a movie, you have to feel passionate about the material and know that you're going to feel really proud of it in the end."