For the majority of 2020, kids around the world have been out of school due COVID-19 lockdowns. In lieu of a traditional classroom, kids—and their parents—have been seeking out educational content. Yet despite the surge, entertainment programming continues to dominate digital demand, according to Parrot Analytics.
In the US, Parrot's proprietary algorithm tracked 56 series that Common Sense Media lists under its "Educational TV Shows" category and found that the popularity of educational kids content had risen significantly year over year. In June 2020, demand for educational kids content was up by 23.3% versus June 2019.
However, demand for educational kids shows didn't grow as quickly as demand for kids shows in geberal in the US over the same time frame. That metric was up 24.3%.
What's more, demand for educational series has declined year-to-date, which could be chalked up to the end-of-year school slump. Between January and June 2020, the popularity of learning-based TV content dropped 4.6%. In comparison, all kids programming saw only a slight 0.7% drop in demand in the same time period.
The most popular educational kids series in the US in June 2020 included Sesame Street (42.6 times more in-demand than the average show), Blue's Clues & You! (16.3 times more in demand), MythBusters (12.3 times more in demand), Bubble Guppies (pictured, 12.2 times more in demand) and Planet Earth (11.4 times more in demand). Daniel Tiger's Neighborhood, Doc McStuffins, Wild Kratts, The Octonauts and Sid the Science Kid rounded out the top-10 list.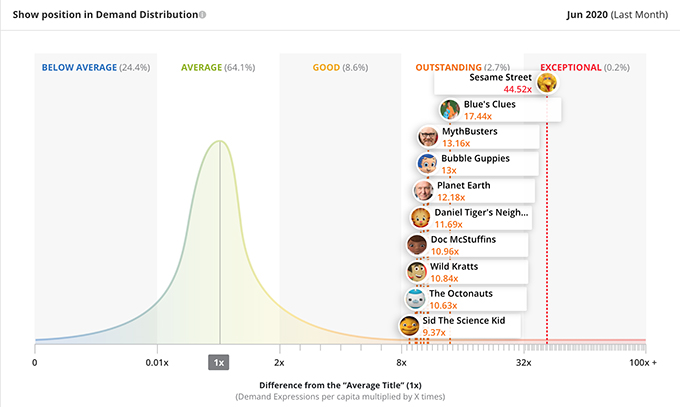 Parrot calculated demand growth by measuring social media interactions, social video views, online research for the shows and piracy numbers. Parrot then used a proprietary algorithm to figure out what the demand was for the average show, and weighted the individual series against the average to determine ranking.